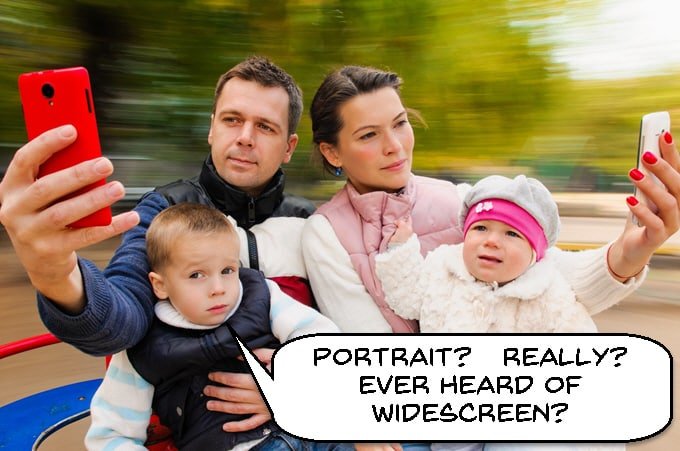 Smart Phones Getting Better at Video
OK then! I guess we should all start to begin thinking in terms of smartphones when it comes to shooting video these days!
Of course the footage mentioned in this article was shot by a pro with his accompanying eye for correct lighting and shooting technique so in that sense the future is not here just yet!
However the clear trend has been that the technology in this field of smartphone video is being driven by some pretty powerful market forces and who knows where it will end up.
At the moment the internals of these devices are more than up to the task of capturing and compressing data from the sensor into very good quality video files.
And right now probably the only things that are holding them back are the lenses and the cost of the sensors both of which are being kept too small.
I honestly think that if you give it a year or so (maybe less!) you are going to see some amazing phones come out that address the shortcomings of the current batch of phones that are occurring because of those physical problems.
The prices on the sensors will start to drop and somehow, some way some manufacturer is going to come up with a solution to the lens restrictions that are currently in place and you will find smartphones ruling the video world.
Copyright on YouTube
If you have ever been involved in any kind of bureaucratic with the Government you will know how frustrating it can be trying get something that seems so simple done.
Well imagine that scenario ten times as worse and you will now have an idea of what it is like to have YouTube flag one of your videos for copyright violation… even though you think there is no violation in the first place.
It's like dealing with a bigger, dumber and less responsive public servant who has the tendency to just stop communicating with you on the subject based on how he or she feels at the time.
By far the best way to avoid this altogether is to not get into copyright violation territory in the first place. Check out the video below for some sensible tips.
Remember to Shoot Video Horizontal with your iPhone
One tip that seems to get absolutely no traction despite its simplicity is that of shooting horizontally when using a smartphone.
I am not sure if it is a convenience thing or a carry over from the days of taking snaps on a phone of people.
In that case the tendency to use portrait mode makes more sense so as to include more of the people in the image but when it comes to video it is a whole different ball game.
The chances are that if you are using a phone to take video then you are going to immediately upload it to Vine, Instagram, YouTube or even Facebook.
The harsh reality is that if you don't turn the phone to the side and get the action in widescreen then all of those services will crop your video and add big black bars to the sides so as to fill out the space they leave for a video.
Those two big black bars violate just about every rule known to mankind regarding video (OK maybe that's overstating it) and will make the original video seem too small and the subject of the video seem somehow squashed.
So get into the habit of turning that phone on its side to take advantage of the full widescreen, high definition glory that it has to offer.
How To Backup your YouTube Channel
I wanted to mention something this week on the subject of YouTube Channels and the possibility of being lulled into a false sense of security regarding them.
Once you have had a channel for a while you tend to get into the mindset of that channel and the associated videos simply always being there.
That the reliability of the service is so good that the idea of them having a problem or shutting down makes it seem that your work is somehow permanent.
In all honesty YouTube as a part of Google is incredibly reliable and even the most disastrous occurrences could possibly be recovered from by Google's own backups anyway so what's the problem?
Well I guess the real crux of this issue comes down to the fact that having your channel or videos disappear from YouTube could be caused by a number of events and not just YouTube having some kind of failure.
The concept you have to keep in mind when dealing with any online service with which you are entrusting your data is that you have to plan for a complete loss at any time and the degree to which to prepare for that depends on the value you place on the assets you have uploaded.
There is always the possibility that YouTube itself has a fatal breakdown resulting in the loss of your videos or channel and there is also the possibility of Google then employing their backups only to find they too fail.
A complete failure on the part of YouTube would never happen but a partial one that includes your stuff could.
On top of that there is the possibility that your channel or videos receive some kind of complaint and are removed permanently as well as the possibility of the YouTube algorithm flagging your account for whatever reason resulting in a loss.
As I said the ends to which you go in loss-proofing yourself depends on the value you place on what you have uploaded but in any case a backup plan is always a good idea.
In the video below Tim goes over a not so well known aspect of Google that allows you to "en mass" download all your videos at once.
This is not the only solution you can use but the video is worth taking a look at.
Backups are one of those subjects that completely lack any sense of excitement or interest for most people (me included) but you really don't want to be that person thinking to themselves they should have done it after the need arises!