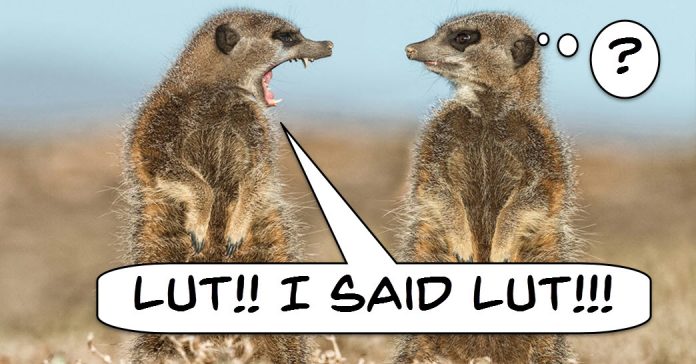 LUTs 'n' Stuff
For those of you that have LUT capable software but are uncertain about what to actually DO with that here you are!
Everything you ever wanted to know about getting started with LUTs but were afraid to ask!
For those of you who don't know what we are talking about, here's the deal.
LUT is short for "lookup table" and is really a set of preset adjustments to the color settings of footage.
A LUT is sometimes designed with the known attributes of a particular camera in mind or sometimes is a general range of settings designed to achieve an overall look.
If you have a bunch of clips and you want them to all have the same look you could adjust one, make a note of all your adjustments and then repeat and repeat until they are all done OR you could take those original settings and save them to a file that software can understand.
Then just load that file and apply to the rest of the footage and you are done… that's a LUT.
At the moment within the consumer level of video editing you can use LUTs in CyberLink PowerDirector, ColorDirector, Pinnacle Studio, Video Studio and Wondershare Filmora of all things!
7 New YouTube Updates you May Have Missed
As Google continue to fight off competition from FaceBook for the online video market through their YouTube property there have been a number of updates to the service.
Unless you are closely following the YouTube Blog it is pretty easy to fall behind with all the changes.
If you are trying to create or maintain a presence on YouTube then you have to be aware that you ability to grab and retain your share rests very much with the YouTube algorithms.
Yes, of course there are things you can do to attract viewers to your videos outside of the YouTube ecosystem but for the vast majority of people this doesn't really add up to much when compared with the mammoth traffic numbers you can get from the inside.
Check out the video below from Tim Schmoyer where goes through most of the latest updates and gives some great insights as to what they are and how you can take advantage of them.
Shooting Around the House
This week I was asked to undertake one of the most dangerous of tasks available to the home video enthusiast.
My wife asked me to shoot and edit some footage for her showing various cleaning techniques for her cleaning business.
So apart from the minefield of trying to explain to her what was and was not achievable and still maintain domestic peace.
I also entered a world of shooting that I had not been in for quite some time.
What I quickly discovered was that most of the shooting in larger spaces like living rooms and bedrooms was pretty straightforward however there were a few places that became a bit of a challenge.
A lot of the shots I needed to get required they be taken fairly close up and often I was restricted in the position or angle I could adopt to get that shot.
This very often led to bad lighting situations that would have resulted in poor footage that showed nothing in particular to anyone watching.
So, to fix this I used a reflector in a lot of the shots and was quite surprised at how easily an awkward shooting angle from a lighting perspective became no problem at all.
Of course a pro reflector will cost you an arm and a leg but there are heaps of tutorials out there on the interwebs showing how you can make a cheap one for yourself at a fraction of the cost and just as effective.
The other thing I was running into especially in kitchen and bathroom shots was annoying reflections.
They were sometimes distracting but most often were from reflective surfaces throwing glare all over the place so the other link below goes to some tips for taming reflections.
Audacity: Improve your Voice TUTORIAL for Commentary & Podcasts
As I continue to run this website and keep my ear to the ground on the latest and greatest in the world of video one thing is very easy to do.
That is to forget the stuff I had previously found and when you have a mind like a sieve like I do that happens a lot!
In fact one of the driving forces behind my starting this website was to be able to keep all sorts of resources I had come across in one place.
So here I am a few years later and I am discovering that despite my best intentions I am still forgetting things!
So this week I was reminded of one of those things I had forgotten which is the Audacity audio editing program.
If you are unfamiliar with it, Audacity is a free audio editing program that has been undergoing active development for years now and is an incredibly powerful piece of software.
On top of that because of its open source basis there is a strong community that has formed around the software that has not just helped develop it but has resulted in hundreds of special effects and filter type plugins that work with the program and again, most are free.
Now I do have a couple of pages on this site that show how to use Audacity to clean up a voice track especially if it was recorded on a computer or with a less than professional microphone which you can see by clicking this link. Audacity Tutorial
I thought this week I would add someone's else's method for doing this which had a slightly better explanation for using the Equalizer and the Compressor than mine.
I prefer to just go with the presets for a down and dirty solution but this one adds a little more detail in how these features work when you are operating manually.
Cell Phone Audio
With more and more video being shot on mobile devices like smart phones these days there is one part of that equation that is clearly not keeping up with the image quality part of it.
Let's face it these days you can shoot some pretty high quality footage on an IPhone or other type of smart phone art the moment.
Yes the lenses are tiny and yes the sensors are tiny but given sufficient light you can still get incredible results.
So incredible in fact that last year there was a full feature length movie included for showing at the Sundance Film Festival that was shot entirely on an iPhone.
The serious downside to this footage still remains and that is the problem with audio.
Audio is not really the easiest of subjects when it comes to recording video even with perhaps a high end dedicated camcorder with an onboard mic.
Even under those circumstances you are still going to get a lot of dubious sound.
So when you take the specs of everything audio on a device down to the level of a smart phone things start to sound seriously bad, seriously quickly!
Three Cell Phone Audio Recording Hacks
---
---