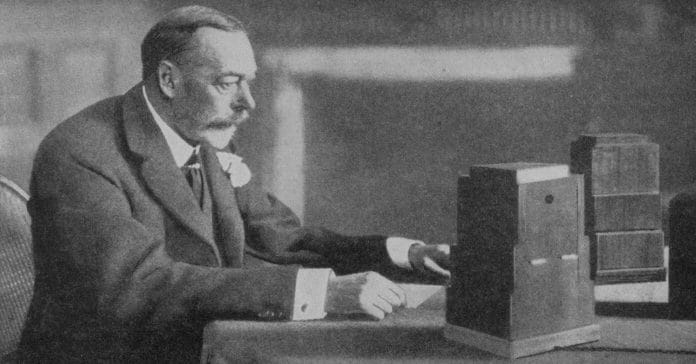 So let's kick off this week's Roundup with a freebie!
This week that venerable British broadcaster the BBC lifted her skirts and showed us everything!
Well not quite because that would be very un-British!
What they did do however was launch into beta a website offering over 16,000 free downloadable sound effects from their archives.
Each of the effects is covered by the RemArc Licence which basically allows you to use the effects for personal, educational or research purposes but you should check that out for yourself first.
Unbelievably the Licence itself is written in plain English that even a real person can understand… go figure!
The website itself has a simple to use interface with an effective search function so off you go!
Vintage Voice Effect in Audacity (Old Radio Effect)
Sometimes, when I am trying to do some fast down and dirty work on audio tracks my go to software is Audacity.
In fact if the video editing software you are using is a bit limited in its audio editing capabilities I would highly recommend Audacity over forking out big money for something high end.
It has been under development for many years now and for a free audio editor it is incredibly powerful.
In fact even though I have dedicated (and Paid for) audio editing software on my computer I still tend to use Audacity most of the time especially when I am cleaning up voice tracks.
Speaking of which there is a tutorial on using Audacity to clean a voice track HERE.
The tutorial below is just a quick run through on how to use Audacity to get that old time radio sound and introduces one of the hundreds of free filters you can use with Audacity for your audio editing.
10 Filters to Make Better Videos
The reality at the consumer level of video editing software is that most prepackaged effects and filters that come with those programs are as cheesy as a triple cheese pizza with extra cheese.
However the reason for that is that they come preset at specific parameters to kind of satisfy a "one size fits all" scenario.
The vast majority of these filters and effects have settings that you can adjust and if you take the time to go in and do that, they can be quite effective.
The other problem with them is that just grabbing an effect and slapping it on to a clip, because you can, is no reason to actually do that!
Check out the video below for some interesting uses of filters in Filmora that can actually make your videos look better.
PowerDirector Update Released
This week CyberLink published a new patch for anyone running PowerDirector 16.
Most of the fixes are concerned with handling 360 degree footage better and setting the program up to handle a new plugin they have release called AI Style.
It also adds stability to the multicam editing module that for some was being a bit flaky.
The key fix is for an occasional strange green line that was appearing in the audio section of the interface that affected some users.
The link below goes directly to the download page.
Creative Filmmaking Tips And Tricks
Every few weeks or so I tend to stumble across a news item or tutorial that prompts me to get up on my soap box and engage in an all out rant.
Strangely enough this week it is not on the subject of transitions… woohoo!
This week it is on the subject of that endless search for another piece of equipment or another software upgrade to make better videos.
The bottom line is that to make better videos you need to make better videos.
It it not the equipment and it is not the editing software you are using, it is nearly always how well you are using what you have.
The best camera is the one you have and the best software is whatever you are using now.
Of course I am not stupid enough to never acknowledge the fact that at some point people grow beyond what they have and need to expand their tools.
However what I have clearly observed over the years is that in order to help someone achieve some effect or some technique in their videos projects, I have rarely (if ever) needed to recommend to that person they need a bigger, better, newer camera or software tool to do it.
So in light of that I am posting the video below which goes into excellent detail on a whole range of things you can do to make your projects far more interesting and enjoyable for you audience.
Almost none of the tips involve added gear or anything beyond what most people have at their disposal. If you have a device that captures video (any device) and software (any software) that allows video editing you are good to go!
Pinnacle Studio 21.5 Update Videos
Last week I reported on the fact that Pinnacle Studio had released their mid-year update of Pinnacle Studio Ultimate 21 to the 21.5 version.
This is part of their regular mid year release schedule that generally contains all previous patches and fixes hard coded into the core download.
On top of that they also tend to throw in a couple of new features just to sweeten the pot.
As I mentioned, in this release they added two new features.
One was the Selective Color Module and the other was the Seamless Transitions Module.
You can check out that previous blog post for all the juicy details as to what those new modules do or…. you can check out the videos below that Pinnacle finally posted that show you what it is all about.
And if you want to see my full Pinnacle Studio 21 Review Click Here
Pinnacle Studio Selective Color
Pinnacle Studio Seamless Transitions
How to Add Audio Effects to Video
This is another simple but quite effective tutorial from the folks at Filmora on adding sound effects to your projects.
Now in all reality, adding sound effects is not exactly rocket surgery these days.
You drag a clip on the timeline, you drag a sound effect to the timeline and hey presto, you have just added a sound effect to your project!
It is exactly the same regardless of the editing software you are using right?
The real value in the tutorial is certainly not that, it is in the examples of where and why certain effects have been used and how they affect the overall audience perception of what they are viewing.
The Big Food Video Page
A few weeks back now I posted a video on the blog that gave some great tips for shooting overhead shots more effectively.
The main subject being discussed in that video was food videos or cooking videos. This week over on Premiumbeat they have added that same video plus a few more offering a great little one-stop page for food videos.