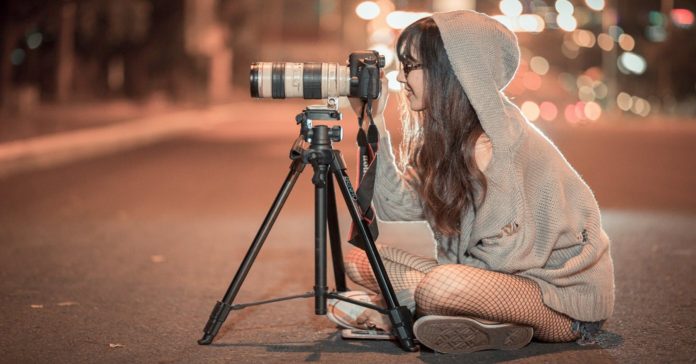 How to do Quick Cut and Zoom Shots
A large number of talking head videos you see on YouTube are shot the same way.
A camera is set up into one position with the talking head lined up correctly and away we go.
The YouTuber then speaks to the camera and gets the whole thing done and we are finished.
Given that most videos like this are informational or possible "conversational" that style is probably enough to get by with.
The only real downside to it is that you end up with just one continuous shot that never changes throughout.
A lot of people don't have a second camera to shoot from another angel nor do they really have the presentation skills to shoot shot after shot from different angles and distances.
So one way to break up a seemingly endless single take is by the use of zoom cuts.
A zoom cut is where you wait for a little break in the dialogue and make a cut.
Then in the next part you zoom in just a little and wait for another break.
Cut, zoom out to normal and continue.
It's not really a dramatic effect but can break up those long continuous shots very well.
At the basic level you can cut and zoom without thought but to make those cuts really look good and not be distraction there are some tricks… check the video.
DaVinci Resolve 16 Editing Workflow for Beginners
Those danged internets are just jam packed full of tutorials for all kinds of video editing software doing all kinds of things.
However one area where there is probably a lack of material is when it comes down to the really basic, getting started stuff.
An advanced tutorial on how to execute motion tracking in your editor is not really all that useful if you don't know how to load a video into the timeline!
So in light of that I was pretty pleased to come across this new video from Casey Faris.
For those of you who don't know him he is my "go to" guy when it comes to dealing with DaVinci Resolve.
He runs an awesome YouTube Channel on the subject for advanced users but every now and then he posts something for the learners.
The video below is one those and is a great introduction to Resolve as well as an excellent newbie friendly walk-through of all the spaces within that software.
How To Create A YouTube Channel – 2020 Beginner's Guide
YouTube as a video distribution service has been evolving at a rapid pace ever since it was first launched back in 2005.
Every year without fail the platform has undergone huge changes and whether or not they are good or bad is always open to debate.
Anyway, one of the problems this causes is that you can write a comprehensive guide to setting up a YouTube Channel only to find that by the the end of the year it is totally useless!
So in light of that here is a solid, technically correct and hopefully up to date guide to what you need for you YouTube Channel… today… and possibly next week.
5 Tips for YouTube Success in 2020
I haven't posted much over the past few months on the subject of YouTube and running a YouTube Channel.
There has been a lot going on over there and believe me there have been tears before bedtime all 'round!
Anyway, things seem to have settled down since then so I thought it would be a good idea to post this video from Derral Eves who is one of the few guys I follow when it comes to that space.
It also builds on the previous video tutorial on the subject of setting up a YouTube Channel in the 2020 version of YouTube.
Motion Trail Effect – Filmora 9
This is an excellent run through of creating the Motion Trail effect in Filmora9.
Once you see how it is actually done you can tell that you don't need to use Filmora9 to do it.
It is basically a matter of offsetting copies of the track you are using and setting up some transparency on those offset copies.
Polish your Edit! Cut on Beat, Crop/Zoom, Transitions
This is Part 7 in the music video series being put out by the guys at Filmora.
At this stage of the production they are at the point of taking the final "draft" version of the video and adding some polish.
In this video you can see some great information cutting to the beat (intelligently!), using crop and zooms (tastefully!) as well as transitions.
How to Make the Text Reveal Effect – CyberLink PowerDirector 18
Just a simple text reveal effect where the text appears from behind something moving in the video.
In this example it is text appearing from behind a baby as the baby walks across the screen.
You can use this in all sorts of situations as long as you get the whole concept down pat.
PowerDirector – Using PIP to Display Video on Another Object
This is a fairly simple and straightforward effect to make a video look as though it is being played back on something inside another video or image.
The main reason I have included it is because it points out a few more advanced controls inside CyberLink PowerDirector that allow you to fine tune effects like these to make them look realistic.
How to use Blending Modes and Add Blending Effects to your Videos
This is another "How to" video from the folks at CyberLink that is truly breathtaking in its difficulty to watch and replicate what is being shown.
Yes, you read that right!
Man, these guys make very good video editing software but some of their tutorials are really hard to follow!
So here's the deal.
The effect they are trying to demo here is the use of blend modes to stack up a few different videos and textured backgrounds to create a kind of dreamy effect.
Now don't get me wrong here!
The effect itself is quite pleasant and it is a technique that is well worth learning.
However the video makes it pretty hard to work out!
So if you want to learn this technique, first open up the video editing software.
Then have this tutorial ready to play.
Just start and stop your way through the tutorial video while doing the actions as you go until you get to the end.
Theoretically by then you will know how to do it, if not, lather, rinse and repeat.
Beauty Lighting: On Any Budget
Well I don't know about you but when it comes to lighting I have one of those heads that needs all the help it can get!
Anyway even though I most likely will not be either shooting or appearing in any kind of beauty shoot in the near (or distant future), I thought this video was worth a look.
The main reason is that regardless of the style of shoot they are demonstrating the lighting of, it is a great tutorial that shows how the light is being used and the effect it has on the final product
---
---