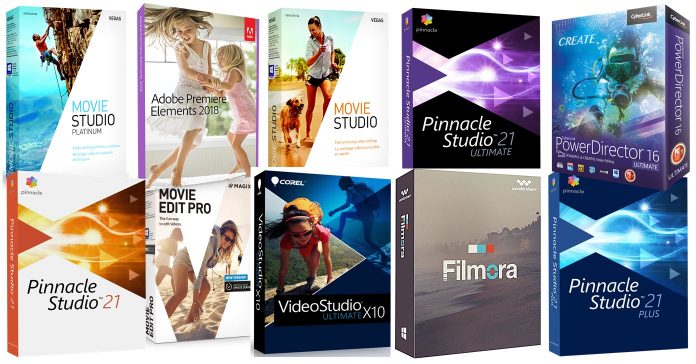 Answering the question as to which is the best video editing software is a difficult task given that everyone will have different requirements as to what they want that software to do.
So at a bare minimum here's how I see the answer to that question.
What is the Best Video Editing Software?
Imports files from a wide range of devices and sources into a flexible library system for effective file organization.
An intuitive user interface that matches the user's skill set providing easy access to all features.
Efficient editing and compatibility with a wide range of digital file types.
Effects, transitions and correction tools depending on user requirements.
Renders to all common video files types for distribution or playback.
So with that in mind, these are my current (2023) choices for the best video editing software solutions at the consumer or home user level through to prosumer.
A more comprehensive review for each one can be found by following the links next to each one or just look to the menu on the right of the page for a link.
The order in which they are presented is based on my own experience in both using and reviewing each one on a standard "run of the mill" Win 10 computer that I also use for other things.
In other words, not a single purpose computer used for editing or testing software but more likely a computer that looks a lot like yours… although I hope for your sake it is not as messy!
I have also included lower on the page, my recommendations for easiest to use video editing software although there are some other choices for easy video editing software here.
If you are looking for best prosumer product at a reasonable price then Magix Video Pro X is my choice and you can read about it here: Magix Video Pro X review.
Finally if you are looking for a great video editor for Mac then take a look at these pages: ScreenFlow Review or Filmora Review
Obviously there are many other brands of video editing software out there and maybe the one you are looking at is not here.
It is not my goal to complicate the selection process for the best video editor for you any more than it already is so I have only included those ones I feel very confident in recommending.
What I do know is that within the software on this page you can get an excellent video editor to suit your needs and the differences between all of them are quite small.
I don't mean to go on and on about it (OK, I do mean to go on and on) but please… use the free trials.
————————————————————–
#1 CyberLink PowerDirector 2024 / 365
Cyberlink PowerDirector 2024 / 365 was recently released and has continued to build on the success of the previous versions.
It remains the fastest kid on the block when to comes to rendering time and its ability to scrub through the timeline even when dealing with new highly compressed high definition video formats.
It's overall speed and computer resource management abilities remain unmatched.
This year they have added a range of A.I. driven modules to make editing faster and easier.
On top of that it is equipped to handle 360 degree footage "end-to-end."
They have also added separate and advanced Adorage work spaces to deal with and remove unwanted shaky footage or camera shake, a vital tool in these high definition times!
Of all the mainstream software producers Cyberlink have continually set themselves apart from the rest by not only keeping pace with the changes in the files and file types they have to deal with, but in many cases being one step ahead.
This program has been my first choice for users at the consumer level of editing for a number of years now and although this year the competition has closed the gap to some degree, PowerDirector still offers the biggest bang for your buck.
It boasts a huge feature set, can do anything that the others can do and more, offers a relatively pain free introduction to the world of editing and is backed by a great online support community.
CyberLink PowerDirector 2024 / 365 Review
Click Here to See Cyberlink PowerDirector 2024 / 365
#2 Corel VideoStudio 2023 Pro and Ultimate
The latest version of Corel VideoStudio Pro 2023 has added some great new features and they have built on their already excellent user interface making it fully customizable even across two monitors.
Time and effort has been well spent on improving the software's performance and utilization of available computer resources resulting in a faster, smoother editing experience.
The easy to use "Wizards" for the beginner or the "not that interested in editing" have been retained and tweaked as well as many powerful features being added for those of you who wish to expand your creativity and technical prowess.
If you are considering a purchase of video editing software you certainly would be well served by VideoStudio Pro 2022.
Corel VideoStudio Pro 2023 Review
Click here to take a look at Corel VideoStudio Pro 2023
#3 Pinnacle Studio 26
It is only in the past few years that I have begun adding Pinnacle Studio as a recommended software for editing.
This is one of the original editing software packages that came to light when digital video at a consumer level was first becoming a reality.
The software has had over the years, times of being very good and times of being… well not so good!
Fortunately Corel bought the software back in 2012 and have finally tamed its little idiosyncrasies and gotten in onto a firm and stable footing.
Feature for feature it is probably the most powerful piece of software on this page in terms of what it can do and the level of control it offers.
It only sits down at number 3 because this site is aimed more at the beginner so let's not fool ourselves here, Pinnacle is a complex program that requires some effort to learn.
Of course once learned it will reward you for the pain, but still, you have to go through that learning curve!
Click Here to Take a Look at Pinnacle Studio 26
#4 Magix Movie Studio 2024
Magix have impressed with further consolidation of their already feature rich editor, Movie Studio.
Movie Studio is not another version where they have added a multitude of new features to the software, and that's a good thing!
The already impressive feature set represents just about everything the home user would ever need so endlessly adding new half baked tricks for the sake of marketing is pointless.
With this latest version they have worked hard on stability and user friendliness that was perhaps lacking in some earlier versions.
To achieve this they have completely redesigned the user interface to make it easier to use and far more intuitive as well as completely rewriting the code of the program based on 64 Bit architecture.
With this release they can't really go to town listing all the new features because as far as new stuff goes there aren't that many.
However it is vital to note that many of the so called "new features" the competition are touting have been present in the Magix product for years.
With this latest release Magix Movie Studio could very well become the new darling of the Windows based video editing software world.
They have increased the size, range and customizability (OK! I KNOW that's not a word!) for their existing video transitions, video effects, audio control and photo editing and have added some new features that have me very seriously considering jumping ship from my current video editor.
Magix Movie Studio Full Review
Click Here to Take a Look at Magix Movie Studio
Best Easy to Learn and Use Video Editing Software
#1 Wondershare Filmora
In Filmora, Wondershare have really put together a package that I would wholeheartedly recommend to absolute beginners or those who want to just do some editing and be done with it.
The program offers everything you will need to put together video without the complications of the larger programs.
To be honest, although people say they want all the bells and whistles, they rarely use them!
Filmora handles everything from import to export and it all happens via an interface that is simple, elegant and extremely intuitive.
The program is being very actively developed and despite its simplicity it still provides the user with an impressive array of features.
Click Here to See the Full Filmora Review
Click Here to See Filmora for Yourself
#2 muvee Reveal Encore
Muvee Reveal Encore is not really a fully fledged video editing software program when compared to the others on this page BUT!
It is a specialized home movie making solution that almost totally automates the production of your video project.
It does what it does very well but is not for the enthusiast.
If you are not interested in too much editing then this one is well worth a look.
Based on proprietary technology the program can take a collection of videos, images and audio files and by using that technology, arrange them all into a pretty decent final video project.
It does offer the ability to intervene at any point so you can fine tune, but it's strength lies in the auto features.
To really understand and appreciate the program it is best to check out the review linked below before you go any further with it.
Click here to read the full muvee Encore review