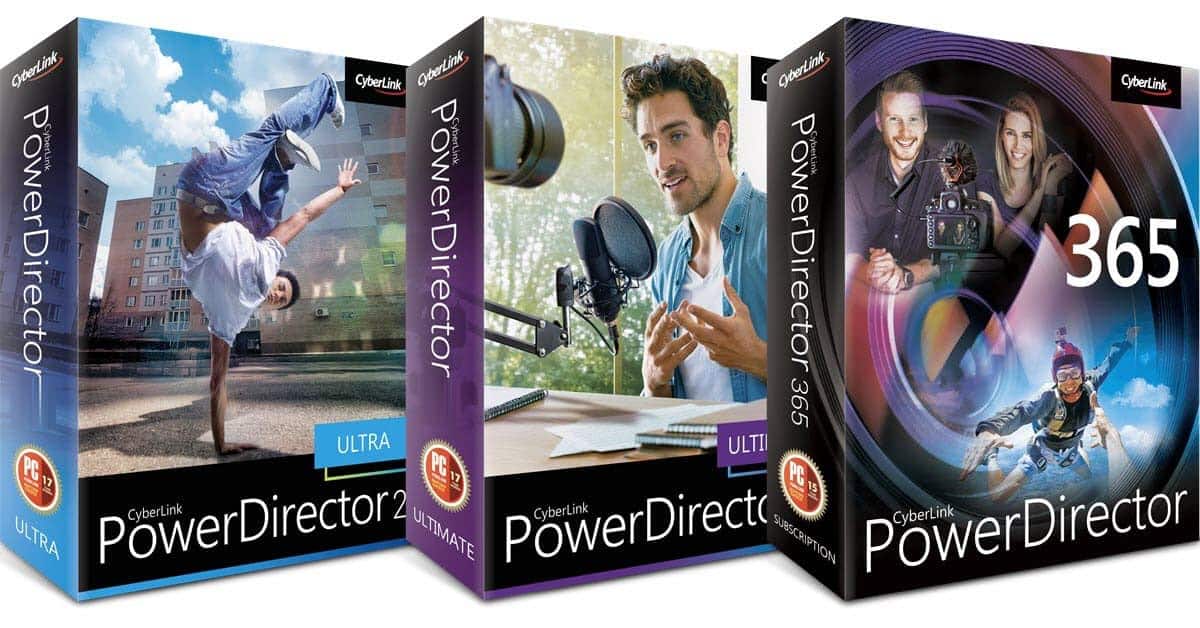 On this page you will find my CyberLink PowerDirector 2024 / 365 review covering what's new and improved in this latest release plus some general overall observations.
I try to restrict these reviews to just the important points but each year as the software develops, that task becomes more and more difficult.
Consumer level video editing programs like PowerDirector now pack so many features and functions that going through them all can turn into a career instead of a review.
So if you are a complete newbie or an existing owner hopefully you can find the information you are looking for here.
If you have almost given up on trying to work out which editing program is best for you or simply can't bear reading another review then relax!
You are totally safe with PowerDirector 2024 / 365, it still the best in its class and has been for years.
If you have a current version and are trying to decide on upgrading or not then keep reading this page of the review to see the new features.
Remember to keep your emotions in check and ask yourself whether these new features are something you would actually use and not just things that look really cool and awesome!
So before we get into the PowerDirector 2024 / 365 review itself let's just cut to the chase.
My Overall Take on the Program
CyberLink PowerDirector has been my top choice for editing software for many years now and with this new release nothing has changed in that regard.
Everything you could possibly want in a video editing suite (and probably a bunch of stuff you never thought of) is available in PowerDirector and I find it hard to imagine anything they have left out.
It is somewhat pointless to review the actual editing capabilities of the software because the program does it all and does it all very, very well.
It cuts, slices, dices and chops with ease and eats up the modern highly compressed video file formats effortlessly.
About eight years after shooting to the lead in the speed stakes PowerDirector still comfortably occupies first place.
That being said, these days however, no-one is expecting a video editor to just edit videos!
PowerDirector is a complete and self contained end-to-end multimedia solution that would serve anyone perfectly well now and into the future.
My CyberLink PowerDirector 2024 / 365 Review
Let's get things rolling by checking out the promotional video from CyberLink to get a feel for the new software.
Keep in mind that it is a promotional video so get get too worked up just yet!
User Interface Update
The biggest change in this new version of PowerDirector has been to the user interface.
This will inevitably be the cause of some angst for existing users because regardless of the software, whenever you change the interface… there will be tears before bedtime!
Having checked it out for myself and I have to say that the new design is a welcome change and was beginning to become overdue.
Over the years PowerDirector has been adding more and more functionality to the program and every time that happens there has to be some way to access that new feature.
This inevitably leads to complexity in the user interface especially when it applies to "add-ons" that came after the initial design phase.
At some point in time every software brand that is being actively developed has to call a halt to proceedings, prepare for the backlash and trash the existing design.
The last big update for PowerDirector was many years ago so that time has come.
They have not discarded any feature that previously existed but simply reorganize everything into a more logical arrangement and I personally think they have done a great job.
The main reason I think it works is because new users will have a much easier time working the whole thing out and getting themselves up and running from the start.
Rather than have separate (and kind of confusing) "Rooms" for the various editing, color, effects and animation settings and controls there is a simple "Tools" section that allows for easy access.
You now just click the clip or track you want to adjust, click the Edit button above the timeline and you can edit and enhance videos, photos, and audio, remove unwanted video/audio noise, and perform other fixes.
PowerDirector Launcher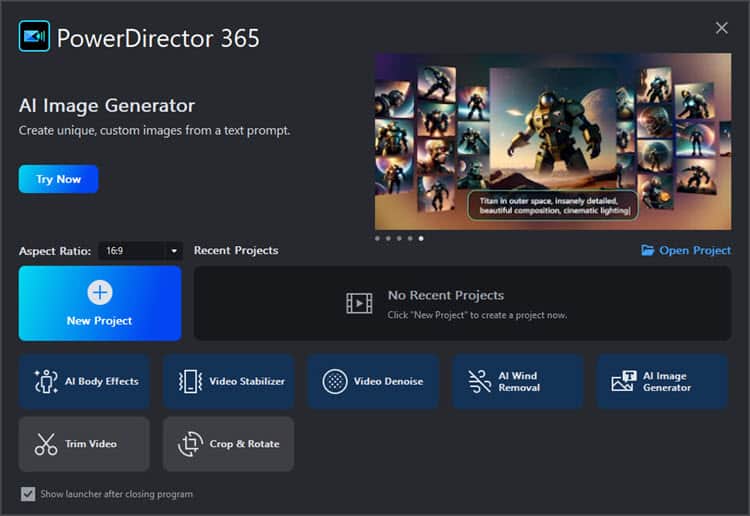 The new launch screen allows you to start a new project just like the old one but now you can also bypass the full editing program and directly access some of the other tools available.
Some of these tool like the A.I.Image Generator, the video stabilization module, the quick video trim etc. are not tools that you actually need the full program to be loaded for.
You can complete those tasks as is or then go to the full editor.
Speaking of A.I….
A Quick Note on A.I.
Most editing programs at the moment are touting their new A.I. features and CyberLink PowerDirector is also at that party.
So it is probably best to get a more realistic understanding of how A.I. could possibly be applied to video editing software before we go any further.
No software can actually "see" an image and know what it is, "watch" a video and know what it is about or "listen" to a non-verbal audio track and enjoy the music so let's not pretend they can.
Anything that claims to do that comes from the marketing department, not the technical department.
What software CAN do is analyze millions of images or videos or non-spoken audio tracks then have a human tell it what many of those things are.
The software can then identify what is the same and what is different between an enormous number of files and begin to predict what something is likely to be.
As it continues to process more and more data and receive human correction, it can begin to "learn" what things are to a very accurate level.
So the new A.I. driven features in PowerDirector 2024 / 365 and other editing software use that "learning" to make very accurate decisions as to what things are in a video, image or audio file.
Based on that they can then carry out quite advanced functions within the software.
Examples of this in PowerDirector are:
A.I. Sky Replacement
This module uses millions of sampled files so as to be able to accurately work out what part of the file is the sky or background and allow for that part to be replaced by another sky or background.
Night becomes day, city becomes country… very cool!
A.I. Background Music Smart Fit
This one is particularly awesome especially for those who are wanting to make videos faster for sites like YouTube.
Fiddling around with audio is always going to be one of the longer and slower processes in video editing.
Getting music tracks to start and continue is easy, it's the stopping that will kill you!
Trying to find a track of the right length or a track where you can end it at a logical point is a royal pain in the butt!
The Smart Fit feature takes a track and using the A.I. learning I already mentioned, works out how to make that track fit perfectly to you project or section of you project.
A.I. Wind Removal
Using this feature you can remove wind noise or background noise from videos that suffer from this.
Bear in mind that random, uneven or fluctuating background noise is going to be more of a problem to deal with and will require more intervention by you.
A.I. Image Generator
In the A.I. Image Generator you can create a custom image for your project by describing what you want in a prompt.
A.I. Speech Enhancement
This is an A.I. driven module that identifies the existing voice characteristics in an audio file and automatically enhances it based on what it "knows" from millions of other samples.
Particle Effects in Overlays
As part of the interface spruce up the old Particle Effect generator has moved to the Overlays section of the Tools tab.
Makes sesne really becuase that's what Particles are… overlays!
So that's about it for all the new stuff
Which PowerDirector 2024 / 365 Version?
PowerDirector is offered by CyberLink at 3 separate levels on both a perpetual license model or as an annual subscription.
A lot of people seem to get confused about the whole Lifetime License versus Subscription thing.
So let's address that potential elephant in the room first right off the bat.
Lifetime or Perpetual License:
One time payment with the offer to upgrade each year to new versions at a discount.
Regardless of which version of PowerDirector you choose (Except for Director Suite which is Subscription only) you get to install the program and keep it forever.
Support for the program in the form of updates, bug fixes etc. generally runs for about three years.
You do not automatically get new features as they are released or access to resources beyond what is packaged in the software at the time of purchase.
Subscription License:
Annual or Monthly payments but no charge for upgrades beyond the annual subscription.
Regardless of which version of PowerDirector you choose you get to install the program and keep using it as long as your subscription is up to date.
Support for the program continues as long as the subscription is current.
Automatically get access to new features as they become available rather than waiting for a new version release.
Added access to advanced third party plugins, effects and other resources such as Shutterstock and iStock background music and audio clips, images and videos.
Director Suite 365
At the top of the heap PowerDirector comes as part of an overall specialist package called Director Suite 365 which is aimed at the serious enthusiast through to the professional level.
Director Suite 365 is is only offered as an annual subscription service.
This is CyberLink's complete suite of high end tools and programs that go beyond just video editing into audio production, image editing and color grading.
For a more complete look at this you can see my overview of it here. Director Suite 365 Review
Ultra, Ultimate and 365
Ultra and Ultimate are the standalone versions of PowerDirector 2024 with the 365 version being the Ultimate version as a subscription offering.
At the top of the heap we have the 365 subscription version which comes with everything and the kitchen sink.
Included are all the new features as well as the ability to handle the new HD formats such as 4K HD, H.265, XAVC-s, 3D, DTS audio and Blu-ray discs authoring and more.
With this one you also get the full complement of third party add-on effects and filters.
The Ultimate (Lifetime License) version is pretty much the same as far as features go but you do miss out on a few added plugins and the benefits of subscribing.
As you drop down to the Ultra version you basically get all the same features except that you lose some of the ProDAD and third party add-ons.
The PowerDirector Ultra is only offered as a Lifetime license and not a subscription.
Bear in mind that as you move down the versions you are not losing any editing capability, you are just forgoing some of the more advanced features and extras that some people may not use anyway.
PowerDirector 2024 / 365 Version Comparison Chart
In part two of the review I will go over the existing features, functionality and performance of the program.
Click Here to See CyberLink PowerDirector 2024 / 365 for Yourself