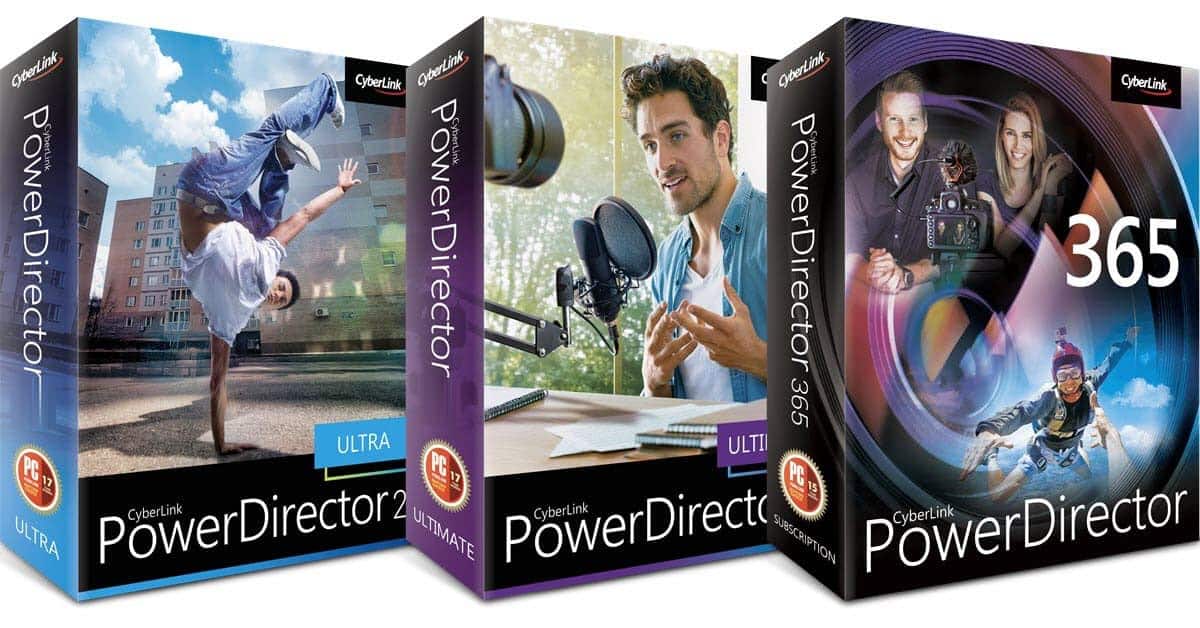 Now that we have all the shiny new stuff out of the way let's get into CyberLink PowerDirector review for real.
Before we go any further I must make a point that you need to keep in mind regarding just about any top end consumer video editor these days.
We are no longer looking at software that just imports video, edits it with maybe some basic effects and then burns it to a disc or creates a file you can upload to YouTube.
The current batch of editors like PowerDirector are jam packed full of features and if I am going to be honest (and I am… just in case you were wondering), most modern video editing packages of the caliber of PowerDirector 2024 / 365 would take pages and pages of text to go through all their features one by one.
The full user manual for this program is over 470 pages long because that's what it takes to cover every detail of every feature PowerDirector 2024 / 365.
All you really need to know is that this program has just about everything you would ever need to produce high quality videos at home.
All the core editing tools you would expect are here including frame accurate cutting, image cropping, reverse video, video speed control, overlays, transitions, filters and on and on.
Seriously, if this software doesn't have it then you can be pretty certain no-one else has it either.
It has space for 100 tracks in the working area allowing you to overlay as many layers of video, audio, effects, titles, subtitles and heaven knows what else you may want to pile on there as you want!
If that's not enough then I have no idea what it is you are trying to do and if you did manage to fill them all I dread to think what it would look like when you had finished!
Getting Started with CyberLink PowerDirector 2024 / 365
The program opens up by offering a Multi-Mode Start Up screen that gives you the choice of going into Full Mode, Storyboard Mode, the Slideshow Creator or Auto Mode.
Here you can also choose the aspect ratio of your project (note the new 1:1 aspect ratio for social media footage.) although there is a handy button on the user interface that you can also use later to set the aspect ratio.
If you are always going to be using the full editor you can also check the box on the bottom to skip this screen in the future.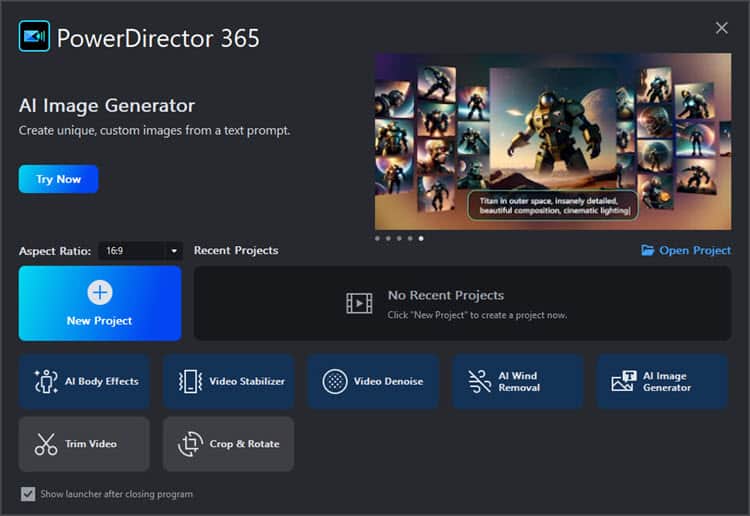 Once you have started a New Project you can choose either Full Mode or Storyboard Mode in the full editing module and can perform every function and use every feature that is available in each version of the program.
From within either of these you can then switch to a 360º project.
The other labels refer to tools and modules you can directly enter and use rather than having load the full editing program.
Regardless of which module you go into at first you can always switch from one module to another at any time in the editing process from within whatever module you are already in.
Editing Features
Whilst this could go on forever here are some of the highlights and keep in mind I haven't listed most of the new features here as they have already been covered on the previous page:
Frame Accurate Editing
Frame accurate editing allows you to get down to the "frame-by-frame" level of a file ensuring that your edits are executed with absolute precision.
The "frame accuracy" doesn't just apply to where you happen to be making cuts or beginning and ending clips.
It also applies to the use of transitions, filters, effects and overlaying other clips or objects.
It allows you total control over any aspect of the editing process.
Motion Tracking
This is a dedicated module that allows you to track motion by matching image data from a selected area in a frame to image data in each succeeding frame.
You can isolate an object and accurately track its movements automatically and then use the "motion path" that has been created to attach other objects to it.
You can also use the motion path created to add objects like arrows, labels, speech bubbles or any other image file to "follow" the selected item around as the video plays.
That same motion path can also be used to apply effects, change the color of the video selection or portions of it, enhance the color or apply filters.
Here's a demo of it:
Customizable Design Tools
There are a number of standard tools that form part of most video editing software programs these days.
CyberLink have taken these most commonly used ones and created kind of mini-programs around them so that instead of having to use preset features they can be fully customized and saved for later use. They are:
Transition Designer
Can be used to either redesign an existing transition or to create your own unique transition from any logo or image file you may have.
Title Designer
Beyond the usual ability in most title modules like backgrounds and fonts, PowerDirector allows you to add motion, gradient color, border, blur level, transparency and reflection.
PiP Designer
This can be used to overlay animated objects on your videos and use simple transforming tools.
Theme Designer
Create animated slideshows by just adding your own assets to the existing templates.
MultiCam Designer
A specialized tool to overcome the difficulties presented by footage from different sources.
It assists in syncing all the footage together and allows a "switching" type of editing process to put a project together.
This can be used to sync and switch between up to four video sources on the fly but if you want to use it for PiP type collages it will go up to 100 tracks.
Menu Designer
Allows you to create fully customizable disc menu layouts, menu structures, font styles and chapter points for disc projects.
Mask Designer
This module separates out the concept of adding masks to an existing video on the timeline and raises it to a new level.
Masks themselves can be used to overlay an existing video on the timeline.
They can be used to change the appearance of the underlying video or just a part of it and are one of the things you can attach to a motion path as mentioned previously.
Usually editing software at this level will offer a set of commonly used masks with reference to their shape and what you can have them do.
In PD 2024 / 365 this is not the case with it now having a dedicated designer you can use to create your own custom made masks.
Subtitle Room
Subtitling is not just for foreign languages and can also include the creation of closed caption type displays in your projects.
Something (especially with kids) in the audio may be a little unclear so a subtitle can really help.
PowerDirector's dedicated Subtitling module makes this usually tedious task very straightforward and a whole lot less painful.
On top of that this module also features a "Speech to Text" tool that automatically transcribes dialogue into subtitles.
Video Blending
OK this one is kind of hard to explain but simply put it allows you to vary the way clips, filters or effects are displayed on the video you are working on by choosing a different setting.
Each of these settings, Normal, Darken, Multiply, Lighten, Screen, Overlay, Difference or Hue give you a different result in how the overlaid video appears in the final product.
This is another feature that offers control over the way the video looks and behaves resulting in special effects that aren't just run of the mill "canned" effects.
Screen Recorder
Let's be honest here, a good quality screen recording program with full editing capability and all the bells and whistles will set you back around $300.
PowerDirector 2024 / 365 comes with its own integrated screen recorder so you can record whatever you are doing on your computer screen to make DIY videos, demo videos or record game play.
You can record the system audio at the same time as well as a running commentary then have the video file that is created saved or sent directly to PowerDirector for editing.
The recorder runs as a standalone program so you can use the PowerDirector screen recorder to record video of you using PowerDirector!
You can capture everything on the screen as it is happening, a specific application only, or a custom section of your screen in either 16:9 or 4:3 aspect ratio, as well as highlight mouse clicks in a range of colors.
Chroma-Key
This has been a feature of PowerDirector since I can remember and is a well developed part of the overall program.
Bear in mind that good chroma-key starts with shooting the footage correctly but the included capabilities of the chroma-key feature are quite excellent.
PowerDirector 2024 / 365 stands out from the crowd with this module in that it offers more than one "key" that you can use to key out backgrounds.
That means if your green screen has been shot with an uneven green background you can choose multiple shades of green for the key.
Content-Aware Editing
Pretty cool feature really, it can scan and analyze your footage and detect scenes, faces etc. to make scene selection easier.
Another aspect to it is that it can also identify scenes that seem to be visually incorrect, imbalanced or have some kind of error.
Once that has been done those scenes can be automatically sent to the appropriate correction tools (Magic Tools) for re-processing.
By the way, the Magic Tools are yet another complete set of automated tools for correcting video, images and sound files.
Action Camera Center
The Action Camera Center is a purpose built video editing toolkit which gathers into one place all the most common tools needed for editing this type of footage.
It has direct access to fish-eye distortion and stabilization filters as well as the most commonly used effects for these types of projects.
This year they have added the ability to create stop motion clips and some quite advanced "pan and zoom" effects.
Pro-Quality Video Effects
There are around 500 special effects available across the various modules of the program.
All of these can be customized to perform exactly the way you want them to and your adjustments can be saved as presets to be used over again.
By the time you add the ProDad tools included as well, I just cannot imagine what else you could possibly want!
Paint Animations and Time Lapse
The program has ability to add Paint Animations to your projects and a tool for either creating or dealing with time lapse videos.
This tool can also be used to create stop motion videos as well which is accessible through the editor interface or the Action Cam module.
Effective Library
The library is hardly the sexiest of features but believe me, it is vital.
It takes little to no time at all to find yourself drowning in a sea of video clips, audio clips and images from old projects, incomplete projects and stuff you have been meaning to get to for a while!
If all that stuff does not start out being stored in an orderly manner then you will be lost before you know it.
The PowerDirector 2024 / 365 library provides easy access to a well organized library for the sorting and storage of all your assets broken into various sub-headings such as video, audio, images etc.
It also offers the ability to add "keywords" to your assets so that finding or retrieving files can occur quickly and efficiently.
Import/Export High Frame Rate Video
In response to the proliferation of action type cams that are dominating the market at the moment I think it was last year that CyberLink added this.
Most action type cams can capture high definition footage at very high frame rates with the purpose of this footage being played back in slow motion without losing any quality.
PowerDirector 2024 / 365 can import, edit and render out these files at the same high frame rate they were taken at.
Beat Marker
Analyzes any music track you have on the time line and places visual markers at the points of the beat of the music.
At face value that hardly sounds world changing but when put into use it is a hugely useful tool.
One of the most powerful ways of creating an effect on your audience is by having the visuals of your production match the music. When you can get your cuts right on the beat of the music this effect is magnified.
One of the most tedious processes of editing at this level is getting those cuts synced with the music just right.
Up until now you generally had to rely on looking at the waveform of the audio file to take a stab at getting it in the correct place and even then every cut could take a few tries.
The Beat Marker takes all the guesswork out of that process by providing a clear marker as to exactly where the beat is falling.
Sound Normalization
A one click solution to making a final adjustment to your project's audio file which ensures a constant volume level throughout.
3D Editing
Of the current crop of consumer level video editors offering 3D editing and features PowerDirector 2024 / 365 still appears to be one of the best in its class.
This is mainly due to the rendering abilities I have already mentioned earlier so although I have no particular use for it, if you do, then PowerDirector 2024 / 365 is about as good as it gets at this point in time.
The program provides for a complete end to end 3D workflow and can handle all current 3D input and output formats as well as 2D to 3D conversions.
Input / Output, Sharing and Distribution
It used to be that in a review you could quite easily name the input files the software can handle as well as the output files and methods.
These days the list is endless!
As far as I can see you can safely assume PowerDirector 2024 / 365 handles just about every video, audio and image file you can imagine and the same goes for output!
You can check out the full list of System Requirements & File Format Support here: PowerDirector System Requirements and Specs
For sharing online you can upload directly to YouTube and FaceBook and for YouTube it also supports direct uploading of 3D and 360º files.
TrueVelocity Engine
True Velocity is a technology developed by CyberLink and is one of the features that helps it stand out from the crowd although it's not really all that sexy!
It is their own software code that enables the software to more efficiently muster the resources of whatever computer it is housed on.
Simply put it is a system of working out what processing is available, where it is and how to use it more effectively.
It really comes into its own on 64bit machines but you don't necessarily lose out is you are on a 32bit one.
The real value of True Velocity is a smoother and faster experience when you are rendering your projects or previewing the timeline.
Version 7 of True Velocity is the latest update of this feature.
DirectorZone, Learning Center and Forum
Finally I need to mention a feature of PowerDirector that is not actually part of the software itself but brings immense value to it.
CyberLink has had two active online communities for quite some time now in the form of a dedicated portal called DirectorZone and their CyberLink user forum.
DirectorZone as of last year had around 400,000 individual customized effects, Projects templates, objects, frames, menus and all sorts of other stuff created and uploaded to share by users.
It also contains about one hundred detailed video tutorials showing you how to use PowerDirector to do all kinds of different things as well as what are called Timelines.
Their forum is both active and extremely well run with a wide number of people with varying interests and levels of expertise ready to share and help each other.
And finally something new they added this year was a dedicated learning website called Learning Center that has hundreds of tutorial videos laid out in a logical sequence to get you started and on to more advanced editing in short order.
CyberLink PowerDirector 2024 / 365 Summary
In my opinion CyberLink PowerDirector 2024 | 365 is clearly as good as it gets as far as consumer level video editing software goes at this point in time.
In fact to call it "consumer level" is too wildly understate the program's capabilities.
It's not just good because it has "a bunch of cool stuff" in it. It is good because CyberLink continue to try really hard to make it that way.
They very clearly seem to follow a development philosophy of how to make the software better from the user's point of view rather than from a sales point of view which results in each version being better than the last.
If you are looking for a fully loaded video editor with everything you need to create your video projects from the very basic through to a special effects masterpiece you would be well served by this program now and well into the future.
Click Here to See CyberLink PowerDirector 2024 / 365 for Yourself
Previous Page: CyberLink PowerDirector 2024 / 365 Review Part 1