MultiCam Editing
With Magix Video Pro X you can synchronize up to four camera recordings of events with just a single click of the mouse.
I personally love this feature. Any event these days like weddings, concerts or even graduations are going to be covered by a number of people with their own video cameras.
Trying to incorporate all the different footage in different formats and having different time codes previously made this impossible for the average video editor at home.
With this feature the editing of such events become a total breeze and this point alone makes the purchase price worth it.
This will save you so much time on painstakingly trying synchronizing video recordings using visual and sound events by hand.
Video objects can be synchronized using their sound tracks and quite literally all you need is ONE audio event that is common to each file and you can snap them together.
A More Comprehensive Overview
The real problem in reviewing software at this level of the market is the sheer number of features on offer.
Any comprehensive review is going to drag on and on forever and even then may still not cover the exact feature or features you were looking for.
So to save a little time here is a video made by Magix that gives quite a good overview of the programs full feature set.
DVD Authoring with up to 8 Audio Tracks
You can author your DVDs up with up to eight audio tracks which is especially useful for creating multi-lingual DVDs or DVDs with different sound formats (5.1 Surround, stereo etc).
Magix Video Pro X can create DVDs using a number of included templates that you can manually customize. The menus that you do customize can be saved for later use and the extended MPEG-2 settings provide full control over the video/audio quality as well as file size.
Export to Blu-ray Discs™
Video Pro X can burn movies on to Blu-ray Disc™ is just as simply as burning DVDs with animated menus and 6-channel PCM Surround Sound with the same range of functions offered for DVD.
Compatibility with Post-production Programs
You can import AVI file sequences from compositing programs like Jahshaka or Adobe After Effects™ via integrated alpha channel support.
Inserting .psd (Photoshop) files with multiple layers can be done without converting them in any way, directly into your project.
Support for Video and Audio Plug-ins
Magix Video Pro X's extensive range of effects can be augmented with numerous video effects plug-ins and it supports the plug-in format of VirtualDub, as well as the "VitaScene" and "Adorage" by proDAD.
Tested VirtualDub plug-ins can be downloaded as an installer-package directly from Magix.
With DirectX plug-ins, audio effects of other manufacturers may also be embedded. The included VST-DX adapter light" makes it possible to embed VST plug-ins as well as DirectX plug-ins.
Broadcast-quality Audio Editing
Magix Video Pro X supports High Definition audio formats which correspond to the standard from Intel. This means that stereo signals at a sampling rate of 192kHz with 32-bit and 8-channel signals at a sampling rate of 96kHz with 32-bit may be used.
It includes professional broadcast-quality effects such as DeClipping, DeNoiser, DeHisser, equalizer, compressor, stereo effects, echo, reverb, pitch-shift, and more to help you exercise full control over your audio.
Real-time Audio Mixer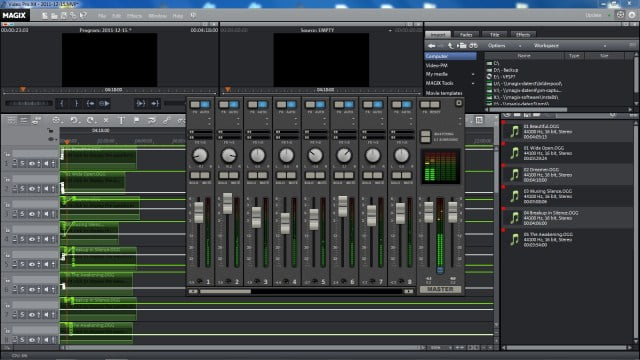 The software includes a real-time audio mixing desk with a master effects section as well as a separate effects rack with equalizer, reverb/echo, compressor and plug-ins for each mixer track.
The master audio level display is integrated directly into the timeline indicating the total volume at any given point to help avoid clipping or distorted audio sections in your project.
Dolby®Digital 5.1 Surround sound
You can use the Dolby® Digital 5.1 Creator to create real Surround sound with full channel control while mixing live with the audio mixer.
3D Title Effects
The integrated Magix 3D Maker can transform text and shapes into high-quality 3D graphics and animations.
There are a number of designs and templates in different styles, plus intuitive real-time editing and easy-to-understand tools will quickly help you produce professional results.
The integrated title editor allows you to change the size and position of text at any location in the image to create impressive title animations. Scrolling and blending effects is especially easy with the help of a range of practical presets, e.g. for captions or subtitles.
Multi-processor Support and GPU Hardware Acceleration
Magix Video Pro X uses the advantages of the most modern processor architectures to shorten the rendering times of complex projects on multi-processor and multi-core systems. Magix Video Pro X 1.5 uniformly scales HDV material on up to eight CPU cores to produce results faster than ever before.
The optimized real-time architecture uses not only the resources from the high-performance processor, but also those of your graphics card to decode HDV video, calculate transitions and effects, and to mix video tracks, overlays, and titles as effectively as possible.
3-way Color Correction and Secondary Color Correction
You can use color wheels with shadows, median values, light, and professional exposure control according to the lift, gamma, and gain principles. Smooth out color errors, produce a "special look", or highlight naturally present colors.
Edit shadows, mids, and brights separately for the foreground, background, and in an extra master layer. The foreground layer features an easy to use eyedropper tool.
Change, highlight, or understate individual colors – the blue of the sky, the green of a field, or the red of a dress. This also helps you apply the "Leave color" effect: e.g. red remains and all other colored objects in the image are displayed in black and white. (think Schindler's List)
All in all Magix Video Pro X is a pretty impressive package and for the price blows just about everything else out of the water.
To get this feature set in another video editing software package will easily require you to go up to $600 minimum so if this is the level of video editing software you are looking for then Magix Video Pro X is a great buy.
Click Here to See Magix Video Edit Pro X for Yourself
Previous Page: Magix Video Pro X Review Part One