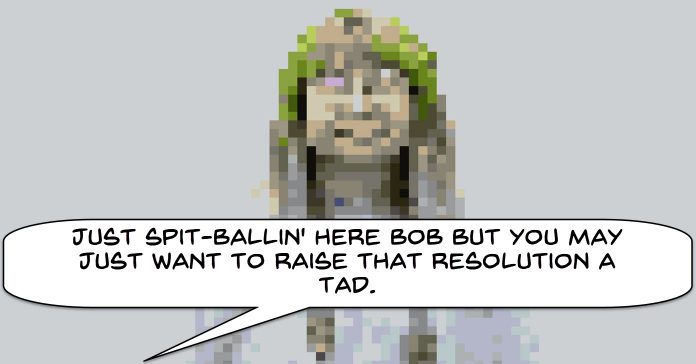 Can You Really See The Difference 1080 Vs 4k?
Last week I referred to a few articles on the subject of the latest and greatest in video making from the point of view of chasing resolutions.
I often see people talking endlessly about the absolute need for 4K or whatever resolution or standard "de jour" as being THE answer to better videos.
To some degree the reason subjects like this come up as a solution is that they offer hope by means of buying something which after all, is something many of us can do!
It encourages a sort of laziness in that forking out some cash seems far more appealing than sitting down and learning the technicalities of video then practicing those technicalities in the real world.
That's why I was very happy to come across the video below this week because it blows all of that out of the water in one go.
So the next time you feel the marketing of equipment is beginning to take hold of you and you are strangely feeling the need to upgrade from your perfectly good cam or whatever… check out this video for a dose of reality.
Map Zoom Effect – Breakdown/Tutorial
Two weeks ago I posted a video by Aiden Robbins a well known YouTuber and video maker on the subject of travel videos ruining video.
The general gist of it was that there seems to be a growing idea that a "good" video must include exotic locations showing luxury lifestyles and a smattering of bikini clad models/influencers.
He then went on to make an excellent video displaying the beauty of his own location, Charlotte North Carolina.
At the beginning of the video he included an excellent sequence beginning with an overhead drone shot that zoomed out continuously to a shot from space of planet earth.
The video below is a walk through of how he did it.
Google Earth Studio Animations
At the moment I am sure you are all familiar with Google Earth which can allow you to take either screen recordings of Google Earth actions on your screen or snap shots of its output.
However at the moment Google are developing an animation work space within Google Earth that video makers can use.
Now the system itself is still in the development stage but if you follow the link below you can go over there and sign up to use it.
I am not sure how many people they are accepting but if it is something you might be interested in then it costs nothing to apply!
5 Filmmaking Tricks
The video below provides some great examples of using a few editing and shooting tricks that most of you have probably seen before… the tricks I mean… not the examples, otherwise why would I included this one.
But I digress.
From the video you can get an idea of how the tricks are done or at least what they are called then a quick YouTube search should guide you to more specific how to videos on each.
Free LUTs
These are some free LUTs that you can download from the site at the link below.
These ones are specifically for the purpose of turning day footage into night footage.
First up, remember that the results you get will depend on the footage you have in the first place so it is far better to color correct and balance that footage before go applying a LUT to it.
Secondly you will obviously need to be running video editing software that can handle LUTs!
And finally.
In order to get the LUTs you will need to sign up for the weekly newsletter offered by that site.
That in itself is no big deal because you may find the newsletter interesting or if you don't you can always unsubscribe.
10 Ways To Make Your Footage Cinematic
Here are 10 specific things that you can do to make your videos seem more cinematic.
These are not all the things that go into something looking cinematic but they are at least ten things you could probably do now or at least begin to work on now.
The important thing to keep in mind here is that very often when we say, "Cinematic." what we really mean is professional.
3 Tips on How To Film Yourself Better
In keeping with the other article this week on getting more comfortable on camera I thought I would include this one on shooting yourself solo.
Not having anyone else around to set up and work the camera, organize and test the audio and all the other little things can be a bit challenging.
However if you get your basic stuff together it doesn't have to be all that hard.
Cards Go Bad! Tips and Tricks to Avoid Losing Video and Audio
Last week Kevin from the Basic Filmmaker came online to one of our communities to pose a question regarding a very strange problem he had encountered with a video clip.
Like most people in that situation he was looking immediately at the most expensive part of his setup (the camera) as being the cause and was already sweating on the cost of repairs.
Fortunately cooler heads prevailed and it was suggested that maybe his cards were on the way out or were having some kind of problem… a MUCH cheaper solution!
Sure enough he discovered that this was in fact the case and made a quick video to remind us all about some good practices when it comes to storage cards in our devices.
The Joys and Sorrows of Interlacing
OK Warning! This is a total geek out on my part but I can't help myself. I just love getting into the technical stuff even if it is historical.
On-camera Comfort (Crazy I know!)
As a person that particularly detests being in front of the camera I am probably the last person that should be giving advice on the subject.
No matter how much I try I always look like a death row prisoner being led off to the gallows for the last time.
So, rather than pretending I know anything about the subject or even understanding why anyone in their right mind would do it, here are some great tips on improving your on-camera presence.
Incredible Hollywood Camera Moves!
Another great reaction video from Peter McKinnon over on his YouTube Channel.
Every now and then he will pull together some amazing "behind the scenes" type footage to show just how crazy complicated and creative some pro's are when making video or movies.
This one is no exception and some of the shots shown are simple nuts in their complexity.
How To Add Unique New Fonts For Your Titles – Powerdirector 17
This is a simple tutorial on how to add new fonts to your video editing software.
The demo is done in PowerDirector but all video editing software operates on the same principle when it comes to fonts.
When you install any video editing software, part of the process is that the software locates the existing fonts in the Windows system.
From that point forward as part of the software's start up procedure, it will go straight to the fonts folder in your computer and re-check the fonts there so if there are new ones, they immediately become available.
The trick is to know where to find extra fonts online and how to install them on to your Windows system which is covered in the video.
Original Image: Woman Pixel Art by ST_ph/Shutterstock