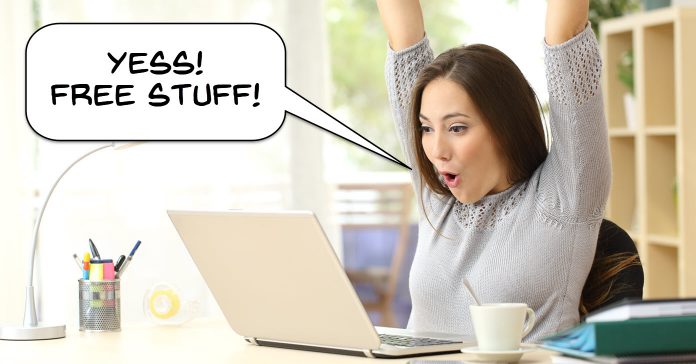 FREE Filmora Meme Maker + iPhone XS giveaway!
Filmora just announced a new feature on their website offering the ability to instantly create your own memes in image, GIF or video formats and the best part is that it is totally free.
I just checked it out myself and it works very well especially when you want to create something simple and fast.
On top of that they are celebrating the launch of the meme maker with a giveaway competition with the main prize being an iPhone Xs.
You can check out the meme maker here and details of the giveaway are on that same page.
Space Textures and Elements
Yay, more free stuff! This week the nice people over at Premium Beat are providing a free download of over 40 Space Themed Textures and Elements you can use in your projects.
They are all high definition MP4 files so they can be used in just about any video editing software you care to mention.
Just bear in mind that they are packaged together as an individual .zip file and that file comes in at around 1.3Gigabytes.
If you do want to download it then it is probably best to do it when you have a good internet connection.
I have been to the link below to check it out and go through the download and there is no sign-up required, just a direct download button.
If you scroll down to the bottom of that page there is another link to some more spacey type background freebies over at RocketStock.
Tips & Tricks – Three Over One Rule
One of the key elements that will bring any video project to life in the eyes of the viewer is the use of "story."
This is a term and a concept that gets bandied about on a regular basis and although absolutely true, it is sometimes difficult to put into practice.
The concept of story usually conjures up images of Gone with the Wind or perhaps the entire Harry Potter series!
A story in our minds tends to be associated with longer pieces of work like books and feature movies rather than a 5 minute video of what I did on the weekend!
So in terms of video creation we have to look a little more closely at what "story" actually means.
At its very bare bones a story has a beginning a middle and an end and the overall length of any of those parts or the entire thing really has nothing to do with it.
A video story can run from a few seconds to two hours, it all depends on what story you are (or at least think you are) telling or showing.
There is on top of that, the added idea that even down to the scene by scene or shot by shot level in a video you are telling tiny little stories as part of the whole.
To get a more practical picture of this in use check out the video below for some great tips on how to think about story in even the most unlikely video projects.
Google Pixel 3: Cinematic 4K Video
OK I am not really much for geeking out about new gadgets and stuff like that.
My philosophy is that the best video editing software in the world and the best video camera in the world right now is whatever you have… right now!
So please don't take this entry as any sort of recommendation to go out and buy something…but!
Below is some 4K footage taken on the the new Google Pixel 3 phone by some pro video guys and honestly, it looks amazing!
To get the full effect it is probably not a good idea to view it on this site as YouTube will most likely dumb it down for the purposes of streaming.
If you really want to go and see how good it looks then follow the link in the video and view it directly on YouTube on a desktop with a good internet connection.
And by the way, if you do go and check it out don't bother reading the comments.
It's just a morass of geeky camera/video guys going on and on about minute differences in this and that and whatever!
How To Make Smooth Scrolling Web Pages for Videos
Ah it's always the little things.
I have mentioned many times before how bad audio can kind of subconsciously cause your viewers to click away from your videos.
That's because audio is one of many almost hidden things that can affect the way any audience is receiving your video.
Very often the people you are losing as far as viewing times go are probably not even aware that it is the audio that has a problem.
They just lose interest or "somehow" feel the video is not what they want to watch.
There are in fact many little things like this that can be not so much annoying but just enough to turn people off what they are watching.
Another one of these is jerky motion.
The obvious example of this is camera shake occurring at the point of the video being captured but there are other ways jumpiness or a lack of smoothness can be introduced.
One of these is through either the capturing or rendering process whereby the compression of the original or final video has been set too aggressively to get the file size down.
We as humans see motion in the world in a sort of analogue way and not a digitally compressed way!
So when motion is presented to us on the screen, any slightly unnatural look to it will again turn us off watching that thing even if we are not really sure why.
The video tutorial below gives an excellent tips on how to avoid jerky motion specifically when you are trying to display scrolling down a website page as part of a video.
It's only a little fiddly and any video editing software that allows key frames will let you get it done.
Permanently Split Video in PowerDirector 17 Precut Tool
One of the new features in PowerDirector 17 that seems to be turning out to be a bit of a hit with existing users is the Pre-cut Tool.
As some of you may know when you are working on projects that involve large amounts of video footage, images and audio, things can get a little complicated pretty fast!
It very often doesn't take too long before you are yearning for a little breathing space to concentrate on just what you are doing rather than having the entire project loaded up and staring you in the face.
Enter the pre-cut tool.
You can take any video in your library and use that tool to trim it in it's own individual little module then go back to where you were with those cuts already made.
Using it and the new nested projects feature have really made things much easier when it comes to larger projects in PowerDirector.
PowerDirector – Designing hollow letters and using 4-color gradient in Title Designer
This is a simple run through of some of the new controls that have been added to the titling module of PowerDirector 17.
How To Blow Yourself Away – Effects, Sound, and Masking Tutorial
As the creator of this video points out this is not a definitive lesson on attaining perfection in the effects being demonstrated.
It is however an excellent tutorial on how you can use some pretty basic capabilities of most video editing software to achieve some fun and different sequences in your videos.
The tutorial itself is done using Adobe Premiere Pro but again, just like he says, the only capabilities your editing program needs are the ability to use multiple tracks and the ability to work with the most basic functions of masking.
PowerDirector 17 – How To Create A Hologram Effect
This is a pretty good tutorial using PowerDirector 17 to create a kind of hologram effect that seems to be coming out of a mobile phone.
Whilst the effect itself is pretty cool the real value with this video is the process.
Just about any video editor out there these days that has at least some legs with offer comparable features that are used in the tutorial.
What it really shows are the processes of working with tracks, adding masks and overlays as well as using transparencies all as tool to achieve a final result.
So as you are watching it by all means look at the effect but more importantly look at how the features of the program are being used to get there.
Original Image Credit:
Surprised Winner Online by Antonio Guillem/Shutterstock