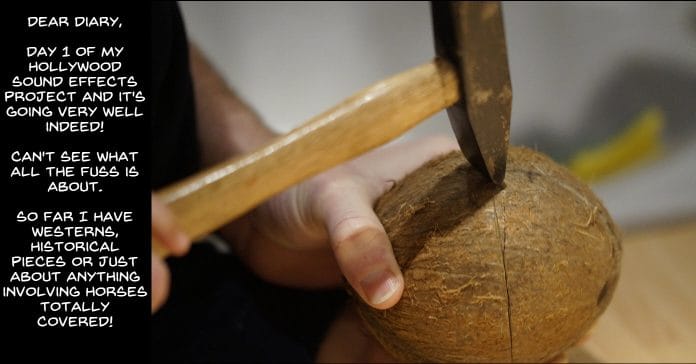 Foley: How Hollywood Sounds Effects are Made
When you look at the differences between an amateur video and a professionally produced one you would get the idea that those differences are because of big things.
Big things like pro file formats, pro cameras and sound recording and more.
What isn't so obvious are the million and one "little things."
Tiny little actions that add up to a professional look and feel.
Foley is one of those things and if you are the sort of person that actually reads the credits at the end of a movie you may have seen "Foley" or "Foley Artists" listed there.
Interestingly enough foley is not really all that technically difficult to achieve and the work of foley artists hasn't really changed much over the years.
For a good look at what foley actually is and how you can use it in even the simplest of projects to lift them up remarkably check the video below.
Video Lighting Tutorial for Beginners
I came across this great lighting tutorial this week and just had to include it in the Friday Roundup.
Most lighting tutorials tends to cover the three point lighting system which in itself is fine.
After all it is the basic lighting set up that is used most frequently.
The problem with it is that if you don't have three lights to use then any tutorial with regards to it becomes a tad useless!
More often than not most people will be shooting in circumstances that offer one source of light only such as the sun or a bright sky or even a ceiling light.
Even in these situations there are some things you can do to tame the light and get it working for you.
For example in a room with an overhead light you can place a desk lamp somewhere to get a secondary source working.
Anyway the point is that what you need to be able to envisage is the effect that various lighting positions have on how the video looks.
For that, the video below offers some great visual examples.
How To Record The Best Audio – Audio Basics
This is another excellent video in addition to the one you can find HERE on the subject of audio and more specifically microphones.
The whole subject of microphones can get very complicated very fast and it's pretty easy to get confused on which type for what kind of shooting you are doing.
Editing Like a Boss
Generally speaking most people begin editing videos from the point where they get hold of some kind of video editing software.
In most cases by hook or by crook they manage to work out loading stuff onto the timeline and then through a mish-mash of actions begin to edit.
This can involve asking questions on forums, finding demo videos or even god forbid… reading the manual!
Some time after having repeated this all over and over again they get to the point where they are able to load assets, edit a project and get it all created roughly how they want.
The upside of this is that modern video editors are pretty good at providing the information you need to get going.
The downside is that because the entire learning process has been all over the place, most people will have developed horrendously inefficient workflows and habits.
More often than not they are using a technique that gets the job done but not the exact technique which gets it done the easiest way.
This is probably one of the major causes of you getting the feeling that editing can at times seem to be a bit of a grind.
A person pursuing a professional pathway to learning editing will definitely not be doing it like that!
There will be a logical sequence to what is taught and at what point it is taught.
So to get yourself moving a little more towards a smoother workflow, check out the video below on some of the key tools used for editing.
For even more basic editing tips go HERE.
Why Filmmakers Should Learn Photography (Filmmaking Tips for Beginners)
So let me first of all say that I like the video below… a lot!
I get lot's of questions from people on how to do this or that effect or create some kind of wizzbangery (yes! It's a word!) in their videos to make them pop or look better.
More often than not what they are really trying to do is compensate for the fact that the footage they are working with is poorly shot or is completely boring.
It is very easy to get involved in or become dependent upon all the tools inside the modern video editor to lift your videos up a level.
The problem with that is if your videos are at a low level to begin with and even though the only way is up, you are not going to go up very far!
On the other hand if you work to improve the quality of the footage you are getting even the simplest of editing processes will will give you a far better looking end result.
For some basic tips on shooting better footage go HERE
CyberLink PowerDirector 16 – Magic Style Tutorial
So on this one let's start off with a full disclosure.
The video below is a walk through of using the Magic Styles feature in CyberLink PowerDirector 16.
Corel VideoStudio Pro, Magix Movie Edit Pro, Adobe Premiere Elements and I think, Vegas Movie Studio all have a similar feature.
In a nutshell they work on the concept of templates.
You add your own assets (video, images and audio) then apply the template and voila… movie magic… sort of.
Generally they add an opening sequence for some titles as an intro, apply certain transitions and maybe add some music, add effects to some parts like motion to images then finish it all off with end credits.
For a quick down and dirty solution to producing a finished product they are all not too bad.
So here's my full disclosure part.
I NEVER use these tools!
The only time I even go near them is when I am doing a review of the software.
For many people they are just fine, for me what generally happens is this.
I add assets, I apply the template then I spend a heap of time removing, changing or adjusting everything until pretty much all of the presets are gone!
In the end I find it faster to just do it my way from the beginning, but that's just me.
You can also find my CyberLink PowerDirector Review HERE
Is 4:3 Coming Back?
Not that I actually think that 4:3 Aspect Ratio videos are really going to make a comeback but I thought this article was pretty interesting in itself.
Given the fact that I have a bunch of 4:3 video sitting in my archives from back in the day my heart did jump for joy a little when I saw this headline but reality soon came crashing in!
LUTS: Get a Cinematic Look in 1 Click… sort of.
OK so first a little disclaimer on this video.
One, and I mean JUST ONE of the ways a professional editor or colorist will achieve a "cinematic look" in a major motion picture will be through the use of LUTs.
LUTs (LookUp Tables) are simply presets of color adjustments that can be applied to footage to achieve an overall effect (Color Grade) or even to correct a known color problem that appears over a number of clips.
The idea that a LUT is going to get you a cinematic look all by itself is just silly.
However LUTs can be awesome tools to use in your projects if your video editor can handle them.
These days many video editors have the capability of using LUTs and even a pretty simple editor like Filmora is set up for them.
So, check out the video below on what you can do with LUTs but keep your expectations in check!
PowerDirector 16 – Binocular Effect Tutorial
This is a simple editing tutorial that demonstrates using a preformed .png mask to emulate looking through binoculars at the subject of the footage you shot.
Not exactly rocket surgery in the world of video editing but worth a look to see how it is done.
The technique is the same for any video editor.
PowerDirector 16 – Create your own LUTS Tutorial – YouTube
So it's all about the LUTs these days!
Anyway, given that a lot of video editors can handle LUTs at the moment and the fact that the pro's have been using them forever, there are a lot of free ones out there on the internet.
Just Google "free LUTs" and you will end up with a whole bunch of them.
If your video editor can handle LUTs you probably have ten to twenty of them loaded already and a search for free LUTs provides about 2.5 million results so for most people that's probably enough!
However for those that have developed an insatiable need for more and more… here's a way to make your own.
It does involve downloading and installing a copy of DaVinci Resolve 14 but the upside is that the video below offers quite a good walk through of color correcting and grading some footage inside Resolve which can be a bit complicated if you have never used it before.
Oh! And in the end you get to save your very own LUT which can be used in other editing programs.