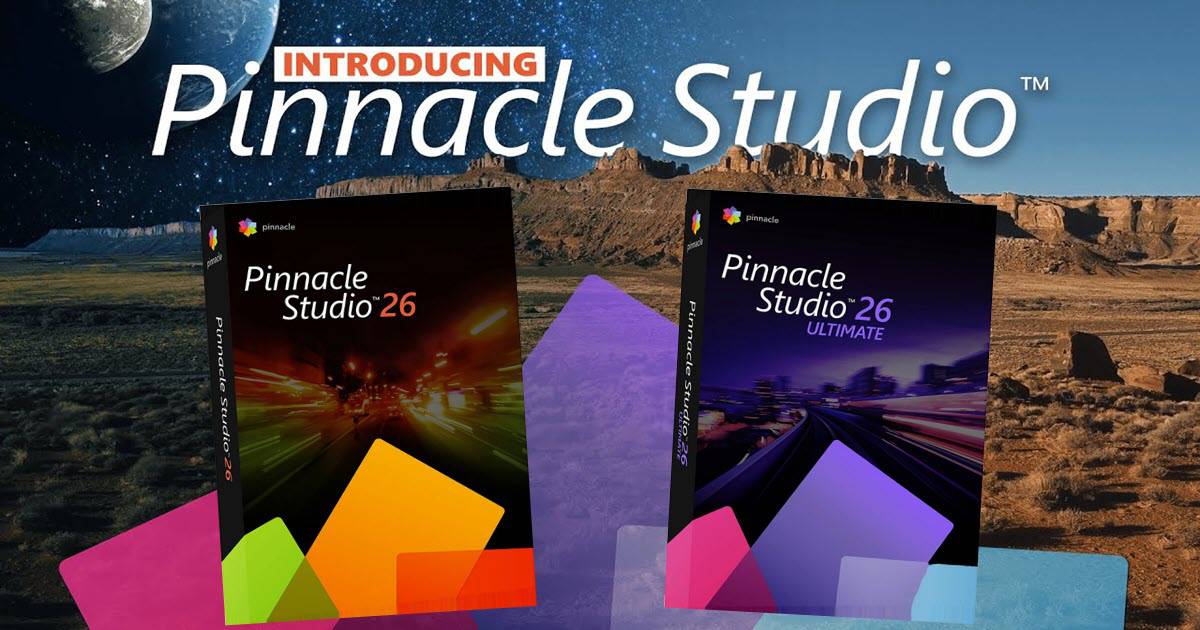 Pinnacle Studio 26 Update News
This week Corel announced the release of the latest version of their top of the line video editing software Pinnacle Studio 26.
The really big news about this is that this new version boasts pretty much no new features at all and from my point of view I think that's a really good thing!
When Corel first purchased Pinnacle Studio from Avid way back they spent the first three or four years just taming the beast and getting it to run reliably.
Once that was achieved they then embarked upon the mission of bringing the software's feature set up to what would be expected at this level of the market.
As it stands Pinnacle is about as close as you are going to get to a fully professional video editing solution but still at a reasonable consumer price range.
In the meantime… codecs evolve, file types are developed, operating systems move forward and hardware improves.
Whilst all that is happening every software program will get to a point where a line has to be drawn in the sand and the software needs to be completely overhauled to keep up with the latest.
That's exactly where we are with this release of Pinnacle Studio 26.
No new bells and whistles just a bunch of changes under the hood.
The focus here has been on product stability based on tracked user behavior, product performance and responsiveness and significant improvements to streamline the user interface.
From what I have seen so far it all looks pretty impressive.
My new review of Pinnacle Studio 26 should be up by next week.
In the meantime you can check out the existing Pinnace Studio Review at this link. 
How To Film and Edit Fast Paced Videos
We all should know by now that there is a pace of editing that needs to be set depending on the style of video being created.
In the video below you can get some great tips on editing a fast paced video for sure but bear in mind the actual video you are creating.
I have seen tutorial videos recently done by guys who are hugely talented editors when it comes to action packed, fast paced entertainment videos.
The problem is that when they apply that same editing and cutting style to a tutorial it all becomes almost unwatchable. Why?
Because you are trying to absorb information… not entertainment.
---
How to Edit Videos (Beginner's Guide to Video Editing)
This is a presentation of a complete end to end editing round trip from starting a project all the way through to exporting the final product.
There are lots of videos like this on YouTube and the key here is having a pattern to follow and always following that pattern.
Easily one of the most common causes of time wasting for editing comes from repeating or going back to re-do things that you should have already addressed.
Having a strict sequence and sticking to it almost entirely eliminates this problem.
---
Hyperlapse Tutorial Made Easy in VideoStudio 2022
The title of this tutorial uses the word Hyperlapse and it is probably best to establish from the start that this is not strictly correct.
This tutorial is actually showing two "down and dirty" methods of creating a Time Lapse video in Corel VideoStudio.
The first example is based on you having already recorded a video of some kind of action and then using the software to cut out a bunch frames.
The second method is based on the idea of having the software run your time lapse camera for you while you engage in the action.
Just to clarify, a "Hyperlapse" is when you record a time lapse but the camera's position moves at a set rate as well to add even further motion to the final video.
---
How to Make a Travel Video
OK so right off the bat here let's set some expectations!
Aidin Robbins is a young and very talented YouTube video creator who regularly posts exquisite videos on his channels.
Sometimes they are just there to enjoy and sometimes they are tutorials.
This one below is a tutorial.
The thing to bear in mind here is that what he is showing, teaching and advising is coming from a very high technical and artistic point of view.
So if you understand that you can better enjoy the content and more importantly, evaluate what you can do or not do in your own videos.
---
How To Make A Text Bubble Effect – PowerDirector
Just a simple tutorial here to add text message bubbles to the screen to simulate a text conversation occurring in real time.
---
Sound like an Old Radio – Audacity Tutorial
Just a quick trick in Audacity (Free to Download and Use Here) tip for applying a preset EQ to get an old time radio sound.
You can also do a search online for other free EQ presets you can add to and use in Audacity.
---
10 Talent Tips In 10 Minutes – Make Great Videos
Some timely tips this week from Kevin on how to appear in front of the camera effectively.
What I particularly like about Kevin's tips videos is that he comes up with stuff no-one else ever mentions and when applied, really makes things better and easier.
---
Filmora 11 Editing Trick: Copy Project
This is a handy little tip that a lot of people are not aware of in Filmora 11.
Basically it is how you can copy and save part of a project then load it into another project altogether.
In Filmora it is saving as a template but in other software there will probably be a different method.
---
Learn DaVinci Resolve 18 at One Hour A Day – For Free!
This is a really good plan of attack from Casey Faris this week on how to learn to use DaVinci Resolve.
The reality is that this plan will actually work for anyone learning any piece of video editing software.
Given the range of questions I get asked on this site and on various forums I go to, this is almost exactly what I do to keep up with things.
---
---