And we're back!
So you may or may not have noticed that there has been no regular Friday Roundup for a few weeks now and the reason for that is pretty simple.
Around this time of year every years all the major players in the video editing software market release their updates for the year.
For me it means that just about every review on this site just became to some degree obsolete so I have to do them all over again.
If I was a lazy person I guess I could just do sort of cookie cutter reviews but the problem with that is that if a brand featured on this site releases a total clanger, I end up looking like a complete tool.
So for the past few weeks I have been diligently subjecting my long suffering computer to all sorts of video gymnastics but the good news is twofold.
First, my computer survived and secondly it seems that the flood has abated and we are back to normal transmission.
So given this is a roundup let's first of all roundup the software updates.
CyberLink PowerDirector
Most recent is CyberLink who released the update to their core video editing program PowerDirector taking it to version 15.
As far as upgrading goes if you have PowerDirector 14 I wouldn't think it would be one that the average person would be inclined to jump all over.
Their big addition for the year is the 360º editing module.
Most of the majors have now introduced at least something to deal with this footage and it seems that PowerDirector is probably the pick of the bunch.
My problem with this is that the average user having access to or the capability of capturing 360º footage is hardly mainstream yet.
In fact 360º may very well go the way 3D has gone so far with most of the consumer market registering as way less than interested.
Most of the other new features were upgrades or improvements in existing ones and generally in the area of offering more fine control over processes.
You can read the full PowerDirector 15 Review here
The release of the new PowerDirector coincided with updates for their other connected suites such as Director Suite which now goes to version 5.
PhotoDirector 8, Audio Director 7 and ColorDirector 5 form the basis of Director Suite along with the Ultimate version of PowerDirector.
Pinnacle Studio
Pinnacle Studio moved to version 20 and with that I thought it was probably time to add it to this site.
I have written before on the history of Pinnacle Studio and whilst it certainly has had its ups and downs in the past I think it is safe to say Corel have now tamed it enough to interact with humans.
They too led off with a 360º footage thing but in the case of Pinnacle it is probably pretty hard to introduce new features to a software that has been around since the dawn of time!
I mean really, the thing is the beast of features so what are they going to add to make it more feature rich?
You can read the pinnacle Studio review here
Magix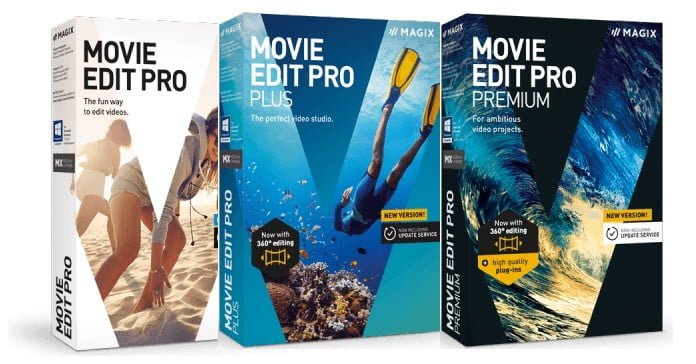 Interesting days over at Magix at the moment.
They released an updated version of Movie Edit Pro and Video Pro X which is the professional editor.
What was different about them apart from, yes they introduced the ability to edit and render 360º footage, was that they have changed their version numbering system and pricing module.
Both Movie Edit Pro and Video Pro X do not now carry a version number or even a year designation like Movie Edit Pro 2016 had.
They have essentially dropped the concept of initiating patches and updates throughout the year followed by an annual version upgrade.
They have replaced that with the concept of just continuously upgrading and updating the software and personally I think it is not too bad an idea.
What it means is that through the year as new features are added or refined they are automatically included in the software.
Anyone purchasing for the first time will always be getting the absolute latest version.
Existing owners will have those updates pushed out to them automatically for a year as part of the original price.
At the end of the initial year if you don't renew the "upgrading" licence (at a discount to the original price) you still get updates that are essential to the operation of the software like security patches etc. and will continue to get them for the life of the software.
This same model has been introduced for most of their products.
The other news from Magix was in reference to their purchase of the Sony Creative line of video editing and audio software.
I can only imagine the logistical nightmare that must have ensued from this purchase in trying to get everything converted over to Magix from Sony but it seems they have just about finished it.
No updates so far at the consumer end but they have just released the first updates to Vegas Pro taking it to version 14.
Magix are keeping the development of these products separate to their own branding and have adopted the Vegas Creative name for the range.
Form the general buzz around the forums it seems that Magix have already made the Vegas crowd happy with their first upgrade so well will see how it goes for Movie Studio when that update comes out.
And now to other news!
How I Make Money on YouTube (and you can, too!)
One of the most obvious yet least discussed aspects of wanting to garner success on YouTube is the money!
Let's face it, it is all very well wanting to communicate your message to the world, make people's lives better or do whatever it is that you want to do on YouTube but like most things in life, it comes down to the money.
If you can't generate income from it, you can't continue it at a level that will have any effect.
So even though the money should not be your driving force, you may very well have to consider it as one part of the equation that can't be left out.
Pinnacle Studio 20 Ultimate | Track Transparency Tutorial
Pinnacle Studio is probably one of the most complex videoeditors at the amatuer level and really fits into a more "enthusiastic amateur" or even "prosumer" category.
Like most things this complex they only seem that way until you put in a little time learning them and then you wonder what all the fuss was about!
The video below is a quick "down and dirty" tutorial on how to get started with the motion tracking feature and is a pretty good introduction to the subject within Pinnacle Studio 20.
Easy Time-lapse Solutions (ft.5Diii, LX100, Qlippie Live)
One of the most effective ways to "move" a video along in either time or location is by a series of short cuts that kind of jump the viewer forward to the point where you want them to be.
This can be achieved a few ways but one of the most effective is with a time lapse sequence.
I have covered most of the ins and outs of shooting time lapse sequences in many other posts but one thing I realized I have never covered is the available equipment you can use to do it.
A few years back your options for shooting timelapse were pretty limited and realistically it boiled down to you, standing with a camera and a watch, manually clicking the shutter button!
These days all of that has changed with most cams coming with an inbuilt time lapse function but it doesn't end there.
Most smartphones can now do it and if they can't you can install an APP that will make them do it.
On top of that action cams are mostly equipped with time lapse an now there are even tiny dedicated cameras that have been specifically created to do the job.
Taking time lapse is one of those things that although pretty easy to set up, very quickly reveals the inherent problems when using certain methods.
Check out he video below which covers a lot of the problems (and their solutions) when trying to choose what device you want to use for shooting time lapse sequences.