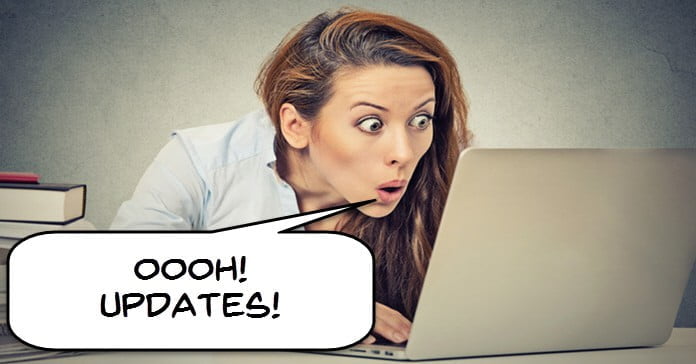 Ok, I am a bit stressed out this week so if there more typos in this post than the usual (which I know is usually high) then please forgive.
I was happily piecing together the Friday Roundup at my usual lazy pace when I received emails from both Corel and Magix that caught me a tad off guard.
VideoStudio Pro and VideoStudio Ultimate Upgraded
Corel have announced the release of their annual upgrade to VideoStudio which takes it to version X10.
They have retained the two tiered version system with VideoStudio Pro X10 and VideoStudio Ultimate X10.
This looks to be a "consolidation" type of update with not a lot new being added but don't let that fool you though.
I have never been a fan of new releases packed with a bunch of half baked whizz bang features included solely for the purpose of getting a sale.
What I can say is that in this update they have added some really smart usability features to existing ones that make the editing process far more pleasing.
As an example there is a new module for speed control.
Now in the past you could always speed up or slow down your video by right clicking on a clip on the timeline and selecting Variable Speed but this applied only to the one selected clip.
The new system is called Time Mapping and by hitting the little button the timeline opens into a completely separate module that allows you to use keyframes to speed up or slow down the action.
It is mainly these types of little tweaks that suggest this will be a pretty good up so hopefully I'll get that review done next week.
Vegas Movie Studio New Release Coming
Magix are about to release their first upgrade under the Vegas Creative banner of Movie Studio taking it to version 14.
This will be the first time the software has been upgraded under Magix' supervision after their purchase of the Sony stable of video editing software last year.
I have a pre-release version on my computer now and although I haven't had a chance to put it through its paces, so far it is looking pretty good.
Speaking of looking good the very first thing that is noticeable about the new version is that the absolutely awful looking user interface that Sony left on it for years has been given a refreshing make over.
I mean seriously, that thing looked like a bad example of eighties software at its worst.
Even better news is that Magix have retained the excellent interactive learning system built in to the software which in my opinion is the best around for getting up to pace with new software.
Hopefully I will have the full review of Vegas Movie Studio published early next week.
Teleprompters
One of the best tips I know of to make presentation style videos is by making use of a teleprompter.
Just about any video requiring someone on camera to "present" anything can be improved by this simple device and these days there are numerous cheap or even free systems you can use.
You may have seen the high end versions of teleprompters being used in live events where the text of the presentation is being projected continuously onto a screen at a lectern or dais.
In the world of TV the teleprompter actually fits over the lens of the camera so that the effect of the presenter looking directly at the audience is made complete.
Both of those are fairly high tech and high end solutions but they are not the only ones.
For the home user or amateur you can get scrolling software that will display the text of the presentation onto a tablet or Smartphone type of device and if used correctly can achieve the same result.
Of course it is more than just loading up the text, starting the scroll and recording your way to success!
There are a few things to keep in mind in order to get the professional effect you are looking for.
The first of these is the position of the screen itself especially in relation to the position of the camera.
You can't plant a 9 inch tablet in front of the camera as that kind of defeats the purpose!
What you can do is lengthen the shot and use a little zoom so that the "sight lines" between the presenter and the camera and the presenter and the tablet are not accentuated to the point of being noticeable.
It is well worth the time to experiment a little to see how close you can get them.
Aside from the physical aspect of it there is also using the prompt itself.
Check out the article below for some in depth tips on using teleprompters well.
Pixar Goodness
I recently stumbled upon an absolutely wonderful resource for budding film makers or videos artists over on the Khan Academy site.
The Khan Academy is a website that delivers for free a host of different educational courses and resources.
Its goal is to make a full education accessible to anyone, anywhere regardless of economic circumstances.
Now although it started off as basically a guide to maths it has expanded incredibly over the years and is well worth taking a look at.
About a year or so ago they teamed up with Pixar and began delivering a free and complete course in animation called "Pixar in a Box."
It really is an incredible resource for anyone interested in the animation process and this week they added a new module.
That module which is linked below, goes into the art of storytelling in a very detailed way.
The interesting thing about it is that it doesn't just apply to animated videos.
The principles remain the same regardless of what video genre you are interested in and even for the mature videographer, there are some lessons to be learned on keeping an audience engaged.
Tips on "How to" Videos
This week I was searching for some "how to" videos on how to set up my electric guitar correctly.
I don't know if you have ever done a search for something like that on YouTube but boy! It's a real eye opener!
I did a few searches for similar videos in other areas of interest like fishing and gardening and the thing I had noticed in the guitar genre was pretty widespread.
So what I noticed was that there are thousands and thousands of really bad video out there!
I just looked at most of them and wondered if the person who made them had any clue as to how bad their videos were or if in fact they even cared.
Now I have to assume here that most of those people must have had some kind of desire at some point to show what they know and share it with others.
Unfortunately for most of them the whole idea was going very well as long as it was kept strictly as an idea.
Once it got down to the execution stage…. things went downhill very fast!
So, instead of continuing my guitar setup search, which truthfully I had forgotten by then, I went in search of a good reference for making "How to" videos.
Part one is below.
Lighting Tips
I occasionally add an article to the weekly roundup on the subject of lighting and although they are often the same, the reason I do it is because it is such a key point.
Now I totally understand that many people (if not all!) reading this blog or visiting my site are definitely not going to be setting up lights.
But you see that's not the point of understanding lighting with regards to video.
The point I am making here is that unless you understand how light is working and what effect it is having, you are doomed to be constantly looking at video you shot and wondering.
What are you wondering? Glad you asked!
You will be wondering why sometimes things look rather good yet on the same day in the same location with the same people… it all looks rather bad.
If you are like most amateur shooters you will be operating in auto mode and to gain access to that mode you generally flick a little button or switch to "A."
So let's be clear here.
The "A" does not stand for Awesome!
It stands for "auto" and it means that your cam is going to be setting itself based on the available light and conditions at a mean average that should "probably" give an acceptable result.
Here is something else to consider.
The "auto" is a shortening of automatic NOT autonomous!
Even if you are in auto you can still help it by understanding how lighting will affect such things as auto-focus, auto white balancing and auto exposure.
So learn to look at the light and understand how it is going to be affecting things and more often than not you CAN change that auto to awesome!
25 Airbag Rainbow Explosion in 4K
OK this video is totally pointless and has absolutely no educational value whatsoever.
It just a cool thing that they did and video'd in extreme slow motion.
In fact the pointlessness of it makes it so wonderful!
FaceBook Video Updates
This week FaceBook announced a few updates to their video features as further testament to their interest in the area.
Previously when you started a video on FB you had to tap the video to get the audio working, that has been changed so that the audio is automatically presented as "on."
They have added to the player capabilities so that you can now upload and playback vertical videos.
This makes sense in that many of the videos being uploaded by users are shot on the fly with little or no thought given to screen orientation!
They have also changed the viewing behavior so that you can now drag a playing video to any corner of the screen and have it continue playing while you keep working your way through your newsfeed.
And finally they released a new Video App for TV to be released soon that will allow you to play FB videos on Apple TV, Amazon Fire TV and Samsung Smart TV.
Advanced Editing
So fair warning here the link below goes to quite an advanced tutorial on editing.
Although from a learning perspective I ma not it actually adds much to how you and I would be putting together out projects I am still including it because just found it fascinating!