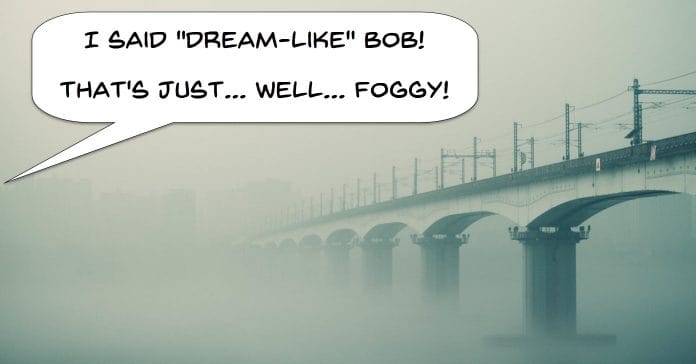 How to Create a DREAMY LOOK in Video
There may be times when you want to add a sort of dreamlike or surreal look to your projects or part of them.
There are a number of ways to achieve this type of effect and there are about a gazillion tutorials online to help you do that!
I have included the video below this week because it covers many of the main ways to do it, all in one video.
There types of effects can be done in camera at the point of shooting and others can be done later when you have the footage in your editing program.
Each one shown creates a different variation on the overall theme of "unreality" but what is important is that you choose a method that gives a result appropriate to what you are trying to achieve.
Yay! Free Stuff!
Over on the ShutterStock site at the moment they are providing some pretty tasty freebies in the form of animations, presets, overlays and all that kind of stuff.
There are even some LUTs for those of you who have editing software that can handle them as well as a few transitions for those of you who feel the 199 gazillion transitions in your software is not quite enough!
Usually this kind of free stuff requires that you signup to their newsletter but in this case not so!
I have been to the site and all you have to do is scroll down and hit the download button and you are on your way.
Additionally the page linked below also has on it a number of tutorials and guides on how to use those assets in your projects.
I also have to give a shout out to the DV-Eye Facebook page for letting me know about this one so I can share it with you this week.
Color Correction VS Color Grading
In keeping with another post that is lurking somewhere around here on the Friday Roundup on the subject of Color, here is a very straightforward run through of the process.
If you have ever gone into the color correction module of your video editor of choice and have been a tad apprehensive about what you found in there, rejoice!
In the video below they cover all the basic settings and what each one does to adjust the color of your videos.
Actually it is exactly the same in image editing software as well.
The Whole Shebang on Color
So let me first of all kick my introduction to the article below with an explanation.
Although I often post links to articles, videos and tutorials on the subject of color grading, color matching and color correction I may very well be the most unskilled person in the world when it comes to doing it myself.
It is by far the most painful and frustrating part of video editing for me and if I am doing it I always have one eye looking over my shoulder trying to see if there is someone around I can fob it off to!
Honestly, I can take any video or image, load it into an editing program, select color grading or correction (doesn't matter which) and within 5 minutes all I can see is black and white.
I am going to claim it is a genetic defect with my eyes and stick with that story in case anyone ever asks.
If however, you are foolish enough (in my eyes) to actually want to engage in this usually horrifying experience then who am I to judge!
Check out the article below for a complete explanation of how color works and what the main terms are that you have to know before you can effectively engage in this ultimately futile activity.
A Little More on HDR and RAW
There are a few popular terms being bandied about at the moment and not just by marketers trying to dazzle you while they take your credit card.
The rise of many of these terms can probably be attributed to the fact that they were previously contained within the world of professional shooting and editing only so they didn't get much traction.
These days the advancements made in the world of consumer level video editing software has brought many of them to the fore.
Two of those terms are RAW and HDR.
I have previously posted about both of these subjects but the reality is that they are quite complex and difficult to truly understand without wading through a sea of terminology.
So this week I was relieved to come across the article linked below which very thoroughly covers both these subjects side by side.
Now don't get your hopes up too high here because this is pretty advanced stuff so there is going to be at least a little pain!
Instagram Announces New IGTV Update
This week Instagram announced a kind of video offshoot or integration to their main platform called IGTV.
They have been making noises about doing something like this for a while now and it appears that this is how they will be moving forward.
Instagram have wanted to get into the video market for a while now and recently updated their service to allow videos of more than five seconds.
They did this through their main platform as well as adding a new feature called "Stories" for that purpose.
This latest move is another step in what is probably their overall strategy to disrupt YouTube especially in the area of "influencers."
Bear in mind that Instagram is owned by Facebook so this looks to be a an orchestrated two-pronged attack on the existing YouTube user base.
And for a slightly different take on the whole IGTV thingy check out this article.
How to Transfer Videos from PC to iPhone (and iPhone to Windows!)
You would think that by now the whole Windows versus Mac Versus Iphone versus Android debacle would have been settled and everyone would just learn to get along.
But no, because at the back of that whole mess are two things which when put together will always end up in a disaster of some kind.
Those things are humans and money.
So rather than go off into an endless (and probably pointless) rant on the state of the human condition… I'll try to get back on track.
One of the results of the aforementioned "debacle" is that transferring files between Mac based devices and Windows (or Android) devices can be a complete pain in the butt.
In the video below there are some straightforward strategies for achieving this (at times) seemingly impossible task.