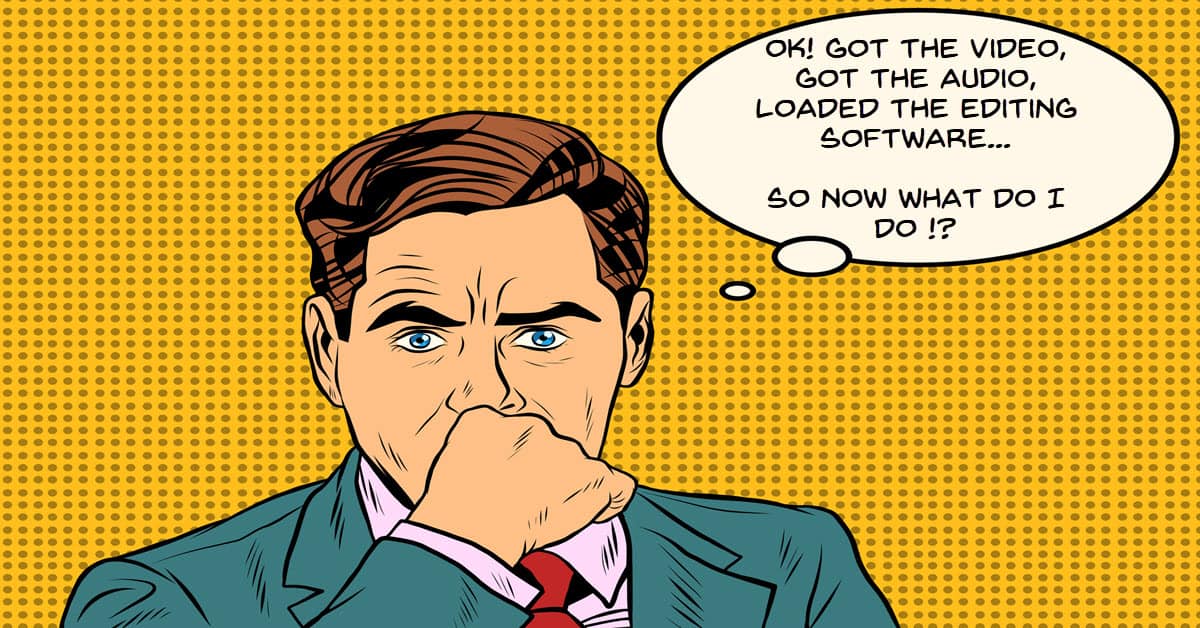 How to Edit Video (Step by Step)
I meant to add this video to the Friday Roundup quite some time ago but somehow it got lost in the pile and I only rediscovered this week.
It goes for about 35 minutes but is especially good for someone looking to editing something together for the first time.
As it says in the title it is "Step by Step" and covers everything in the process with some great tips along the way.
The demonstration is done using Camtasia but the software used takes a backseat to the actual process.
Free Packs for DIY Christmas Projects
These freebies are from Shutterstock so there is no signing up or jumping through hoops necessary to get them!
There are some printable Christmas cards, clip art, sound FX, fonts and images you can download and use in your festive videos.
The 4D Editor: Techniques for Showing the Passage of Time
One of the cool things that you need to get your head wrapped around when it comes to editing is that you are the master of time and space!
In the article linked below there are some great tips, techniques and examples of how you can manipulate time in your own video projects.
How to Shoot a Great Nightlapse – Astrophotography Tutorial
If you are thinking of taking your time lapse projects to the next level then possibly this is the tutorial for you!
The old trick of setting up a camera and leaving the shutter open to get weird and wonderful images of the stars in the night sky is great for stills.
However when it comes to video you can take that kind of shot to the next level.
In order to pull this kind of video project off you are going to need a more advanced camera that will allow for very long exposure times.
Actually that's just the start of it!
You are going to need a bunch of stuff but as you can see in the video below the results can be quite stunning.
Changes to YouTube's Terms of Service
Well as they say, the more things change, the more they stay the same!
YouTube have once again changed their terms of use and as usual the devil is in the details or in this case, the fine print!
The main changes relate to the way Creators are paid and who is getting paid as well.
So if you are already a monetized YouTuber or are thinking of trying to become one, take a look at what the experts have to say on the subject.
How to Upload Videos to YouTube from iPhone & Android
Speaking of YouTube changes this week… somewhere else around here on the Friday Roundup.
I wanted to add this new video as well.
The "best practices" for uploading to YouTube alters over time so it is always a good idea to keep up with the latest and greatest.
It's a dog eat dog world on YouTube and let's face it, there's not enough dog to go around!
This one is aimed at direct uploads from a phone but more importantly shows how to get all the little details right from the outset.
How to Keyframe Camera Movement in Filmora X
This tutorial highlights a recently added feature in Filmora X which is the ability to create a motion path.
It is a great example of taking a feature like motion paths and using it in conjunction with another feature, key frames, to create something special.
One thing that I have to note here is this.
In the example given the process of adding the camera movement involves zooming in on the footage.
That's OK in itself but there are limitations to just how much you can zoom in.
If you are working with 2K or 4K footage and adding it to a 1080p project then you can zoom in a lot without image degradation.
However if you are using 1080p footage in a 1080p project, the amount of zoom you get before the image degrades will be far less.
That doesn't mean you can do it, it just means that you have to be realistic in your expectations.
PowerDirector – Introduce Text with the Title Reveal Mask
This is just a simple demonstration of using a mask in the titling module to have a title reveal itself then move or change to however you want.
How to Make a Custom Video Mask – CyberLink PowerDirector 19
This is another run through showing in more detail how to use the new custom masking tool in PowerDirector 19 or 365.
I have posted a few of these before but it is a feature that I think is best understood by actually seeing the tool used in different ways.
How to Make Proxies in DaVinci Resolve 17
Previously in DaVinci Resolve the problem of editing high resolution videos on computers that were not quite up to the task was covered by two functions.
One was Optimize Media which in itself was a kind of proxy creation process and the other was the Render Cache option.
Render Cache simple meant that the project or part of the project you were working on was rendered to a new file and you continued working from there.
That whole shebang has now been reworked into the single and far more familiar function we all know as proxies.
Simply put, proxies are lower resolution copies of files that you can use to work on which require far less resources than the full resolution originals.
Once you have completed all your work the program then uses the original full resolution files to render the project.
As you would expect from Resolve, the way they have implemented this feature is very smart and easy to use.