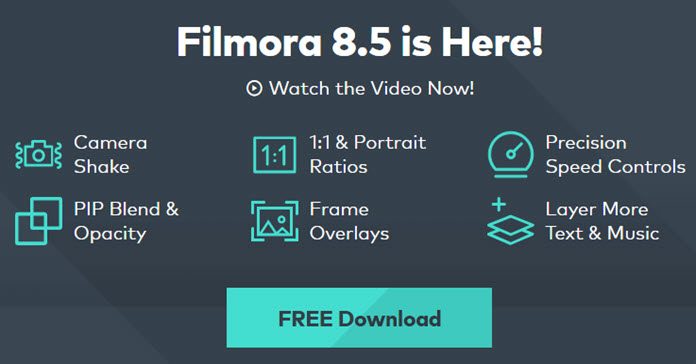 Filmora 8.5 Released
First cab off the rank for this week's roundup is the latest release from my favorite easy to learn and use video editing software Filmora.
The people at Wondershare tend to update the software pretty regularly and seems to be following a six month major update cycle with the occasional smaller one thrown in.
This week's release takes Filmora to version 8.5 and thankfully they are maintaining their philosophy of keeping the software and interface simple and clean.
The tendency with most software for video editing is the almost compulsive addition of new features that ultimately result in some very complicated and daunting user interfaces.
Not so with Filmora.
In this latest version they have added a camera shake effect and have also included two new aspect ratios for different video projects.
9:16 has been add for general vertical videos shot on smartphones or vertically in camera and 1:1 aspect ratio has also been added.
This means that the software allows for fully self contained end to end editing experience when your target output is for any social media service like Instagram etc.
They have added more precise speed control over playback within a project rather than just a few presets, added more transitions and background blurs and also some more sound effects to the audio library.
Opacity and blend modes have been added to working with overlays or Picture-in-Picture as it is commonly known and finally enhancements to the split screen effects modules.
You can see all these in the video below or if you like click here to see the Full Filmora Review.
How to Color Correct Video (The 101 Guide!)
As I mentioned somewhere else in this week's roundup I am the Forrest Gump of color correction and grading so me explaining it to anyone else would be a tad ridiculous.
One trick I do know though is to go to the white balance first because there is good chance you may just get totally lucky with that one!
How to do it is in the video below and regardless of which software you are using they all work pretty much the same.
Say You Wanna Resolution
Severe geek alert and heavy technical jargon warning ahead!
Click if you dare through to the link below for a roundup of the current state of affairs regarding resolutions.
Yes we are at 4K quite commonly these days and 8K is looming on he horizon.
Where will it all end!
If you are interested and have noted the warning above feel free to check it all out, if not then just move along as if nothing happened and you will still be OK.
Intel Developing Their Own GPU
Hmmm… I think I like this recent development.
One of the reasons I include reviews of certain software on the site is because I am quite confident in that software's ability to do what it says on the box.
That doesn't mean I never get people asking questions about why it wont do this or that or why does it not seems to be performing as well as it should.
In the vast majority of these cases and I mean like 95% of the time, the problems people are having are not really connected to the software.
Modern video files can be enormously resource intensive and under-powered or under-performing computers are really the main cause of trouble, not the software.
Companies like CyberLink in particular have tried very hard to address these problems by rewriting their software in an effort to harness every possible resource of any computer the software is loaded on to.
Most commonly this involves tapping into the RAM and processing power on the computers video card and they have done that with great success.
However there has always been a kind of hidden barrier there and that was the fact that nearly all of those video cards have been carrying AMD chips and most of the CPU's of the computer itself would be an Intel chip.
Although theoretically this should not really be a problem it is a factor that has to be dealt with given that these chips are not integrated fully and have differing architecture.
With the announcement by Intel that they are getting into the video processor market we may be seeing hopefully a little bump in performance.
It's All in the Story
The link below this blurb goes to a series of lessons that have been created by Pixar Studios on the Khan Academy website covering all aspects of movie making from an animation point of view.
It really is an amazing course and if you are interested in animation then it is well worth a look.
However this week I am linking to a specific series of lessons relating to the subject of storytelling.
On the face of it this may seem a little advanced or somehow irrelevant to the average amateur movie maker but bear with me, I am going somewhere with this!
One of the first barriers anyone getting into video editing hits is that the action of editing itself can very quickly can become frustrating or boring, and may at times seem like you are at war with the software, your video assets, the computer or the entire project.
There is a very good reason for this and the answer to it lies as usual in the manner in which professional editors approach the task.
There are two key factors involved here the first of which I have mentioned a few times.
That factor is the concept of getting everything organised in your editing software library before you even begin to edit.
This means everything in folders, named with meaningful names and all other "clutter" hidden or gotten out of the way.
The other point undercuts even this and occurs not just at the shooting stage but before the shooting stage.
That point is having a story worked out before you even start.
Now a lot of people kind of flinch at this because they think that because they are shooting a kids party or grandma's 87th birthday there can't be a story.
That is simply not true and comes from the concept that when you are shooting events you are recording those events.
The truth is that when you are shooting an event you should be following a shot list of things you need so that you have all the video you require to REPRESENT that event or those events.
In the case of grandma's 87th birthday you need to imagine before the event, what shots you would need that will convey the story of grandma's birthday.
If you do that then the editing process completely changes in character.
Instead of loading hours of footage and endlessly going through it to eliminate the stuff you don't need you project becomes the opposite.
You go through the footage you have and BUILD the story from what you have shot.
To get a better idea of this you can read this section of the site called Shooting Better Home Videos and then click the link below to get a better understanding of the components of a story.
CyberLink 2017 Nov Webinar
Every couple of months or so CyberLink host a major live webinar on YouTube covering various aspects of their products.
This month they ran a fairly lengthy one given that they have only recently released the latest version of PowerDirector and other associated programs.
The video below covers the subject from the point of view of Director Suite which includes PowerDirector, ColorDirector, PhotoDirector and AudioDirector.
Depth of Field Tutorial
One of the main differences between any amateur video and a more professional one very often comes down to the shooting rather than the editing.
After all the old rule of editing has always been garbage in = garbage out.
Of course there is a whole range of things that separate the amateur from the pro at the shooting stage but one of those things that is often not noticed is depth of field.
The average amateur camera will be operating in auto mode with the auto focus well and truly engaged.
This is fine for when you are desperately trying to just catch anything you can given the circumstances of the shoot but it does add a most definite amateur "feel" to the overall look of the video.
The availability of DSLR's and MILC's at the consumer level means that for many of us we don't actually have to be trapped in that auto-focus world all the time.
If you know how to set it up and how to execute it correctly even a few shots with varying depth of field can add a whole new dimension to your projects.
Using Histograms
OK, so let me be the first to point out to you that when it comes to color correction I am about as sharp as a bowling ball.
It has never been a topic that I have come to grips with other than to make a few very slight adjustments before I lose all perspective.
Generally it only takes me a minute or two before I am so lost I have no idea where I am and no idea where I started and what the difference between the two is.
So, one of the tricks I use is to just mechanically follow the histogram.
Now that serves me perfectly in two ways.
First, it gives me a way of correcting without my own (usually) poor judgement entering in to the equation and secondly because if I say I use the histogram it makes me sound like a genius and on that front, I need all the help I can get.
You too can look like a total genius by clicking the link below and entering the wonderful world of histograms!