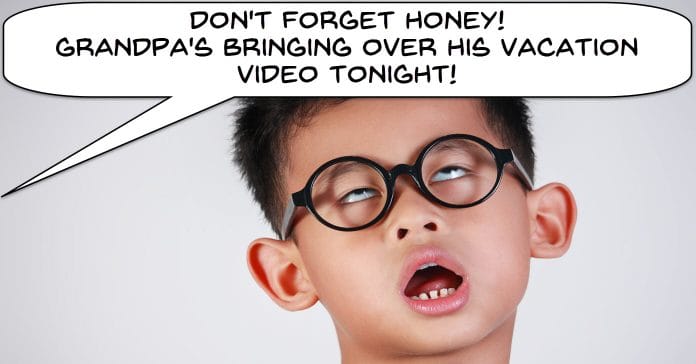 Making it a Story
When I was a kid, very often friends of my parents would come over to our house after they had returned from a holiday somewhere and we were all subjected to the obligatory slideshow.
We had to sit in a darkened room while slide after agonizing slide was clicked and the person showing them would drone on about what we were looking at.
I am not sure if all the adults actually enjoyed the experience but I know that as a kid this was an incredibly painful one!
Cut to today and let's face it, the same thing occurs all over the world.
Of course now it is the obligatory video of the recent holiday and I am not convinced things have improved all that much.
So, in anticipation of the next time you are going to subject your friends or family to a video of your recent travelling adventure, try some of the tips in the article linked below to see of you can visit just that little less pain on the world!
5 Editing and Camera Hacks
Fair warning!
The guy presenting the video below is kind of annoying… OK he is really annoying and I really don't know why we have go with that fake enthusiasm thing when creating a YouTube video… but that may just be me!
Anyway there are some excellent little tips on creating in camera, awesome effects for your videos that do not take too much to set up.
Great Looking Interviews – 2 Minute Film-making Tutorial
Not everyone will be engaging in a static shoot as you would when conducting an interview but if you check the video below you will see it really is quite a simple set up.
Three Point Lighting… again!
I know, there is always yet another article on the dreaded three point lighting set up!
I added this one to the blog post because it has a bunch of very good images as part of it that really show very clearly how light affects an image.
Now I know no-one reading this blog is really going to be setting up a perfect three point light arrangement but having an awareness of lighting and taking the time to note the lighting you have can dramatically improve the quality of your shots.
How to Add 2D Animation to Your Live Action Videos
Most video editors these days come with some simple graphics, the ability to handle transparent masks and for many, the ability to apply motion tracking to those masks.
Put that all together and you can create some pretty cool effects with 2D images or graphics files and some motion tracking to essentially achieve animations within your videos.
Check out the video below for a demo and remember that the type of software used in the demo is irrelevant.
They can all pretty much do the same thing.
PowerDirector – Tips on When to Use the Chapter Track
Years ago there was a big wow factor feature announced in the world of video editing at the consumer level and that feature was the ability to add Chapter points to your timeline when editing.
Doesn't sound all that sexy these days but back then this was a big deal!
The reason for that was that everyone was basically aiming at one type of distribution (playback) format and that format was DVD.
So instead of completing an entire video then loading it into a DVD authoring module to add chapters, titles etc., you could add those chapters as you were working through your editing. Woohoo!
So obviously you can still do that but with the demise of DVD slowly over time that chapter feature would seem to be becoming less and less relevant.
Well maybe not!
Check out the video below for some great tips on using that feature even if you are not going to be burning a DVD.
All About Plugins
Just about every video editing software program these days comes with a bunch of plugins that allow those programs to extend their capabilities.
So what really is a plugin?
Well the easiest way to think of them is as pieces of software that cannot function on their own but are designed to to interact with an existing program to extend that program's capabilities.
For example CyberLink PowerDirector has within its own features the ability to stabilize shaky video.
That module is totally self contained and part of the program.
On top of that PowerDirector comes with a range of plugins from various manufacturers like NewBlue FX.
If you go into the NewBlue FX folder in PowerDirector you will find that one of the plugins available is a video stabilizer.
This is not the CyberLink one, it is a totally separate one but because it is a plugin it appears to be part of PowerDirector.
The NewBlue FX plugin can NOT operate in any way as a standalone program, it has to be integrated into a "host" program like PowerDirector.
So why do we have plugins rather than everything run as part of the program?
There are a many reasons why plugins are advantageous so here are a few.
First, the plugin does not load into your RAM unless it is specifically called for by you.
This means that you are not loading things into RAM with the main program that you don't need and leaves more RAM for you to use.
Secondly, the companies that create these plugins specialize in that activity and their business model is based on delivering high quality products of a specific nature.
If your video editing software maker tried to emulate that research and development they would be spreading their own resources very thinly.
For a complete rundown on what they do and how they work, check the link below.
PART 2: How Does the YouTube Algorithm Work in 2018
This is Part Two of the address Derral Eves delivered on the subject of the current state of the YouTube algorithm.
As I mentioned in my intro to part one last week HERE, the days of just slapping up a video on YouTube and hoping for the best are well and truly over.
If you are at all serious about establishing a presence on YouTube you need to get down into the nitty gritty of what the current state of affairs really is.
STEP #1 for Creating a Successful Video
Very often one of the first things I check out with a video I am considering for the weekly blog post is whether or not it is palatable in the first place!
Each week I come across many, many videos that have good content that I think everyone could benefit from.
However in many cases I just don't add them to the line up for the week.
The reason for this is usually that they are so annoying in their presentation that as a viewer you will never get to the content anyway.
All you will do is sit there watching it getting annoyed!
Most of those videos fall into the same old trap which is that they are attempting to add life and enthusiasm to the video presentation in an effort to make it "entertaining" rather than just making it informative.
In fact if you look at some of the big players in the field of tutorial videos or "How to" videos like Film Riot you will notice something interesting.
Slowly over time their presentation style has gone from a sort of manic fake enthusiasm and trying to be cool to a far more measured and informative approach.
They used to make a lot of videos I would have added to the blog post each week but they were so damn annoying I never did!
These days they have calmed down a bit and are making much better videos.
All of this comes back down to one set of questions that every video maker should be asking themselves BEFORE they decide on content and the style of the video or the style of the presentation.
Those questions are: "Why are you making the video?" and "Who are you making the video for?"
If you get those two things sorted out then the rest falls into place much easier and will result in a more appropriate video that achieves the goal of communication.
If the answer to "why" is that you want to inform undertakers as to the correct procedure for embalming bodies.
And the answer to "who" is other undertakers and undertakers in training then it is become abundantly clear that it would be best to put the clown outfit away and perhaps put on the suit… and a dark one at that!
CyberLink PowerDirector 16 – Video Time Lapse Tutorial
This is just a quick refresher video from Maliek on how to achieve timelapse videos using still images and how to imitate that effect when using video assets.
Video Content Creation Process from Video Idea to Release
If your particular brand of video creation is such that you are producing videos on a regular basis or need to create them within a certain time frame then you need this!
One of the key factors that you will see in any professional video shooting or editing environment is that of organisation.
Pre-production before the actual shoot and edit of any professional video is more than anything, involved in the process of planning down to the last detail every step of the process BEFORE a shot is fired in anger.
If you look at the editing process in isolation you will find that same degree of pre-planning and organisation BEFORE the first clip is added to the timeline.
Pro editors will spend days naming and sorting into folders (bins) every single asset they are going to need to pull the whole edit together and they will not move on the edit until this is done.
In the video below there is an explanation of a free service called Trello that I use and many others use to lay out workflows to make even simple productions into "follow the dots" procedures.