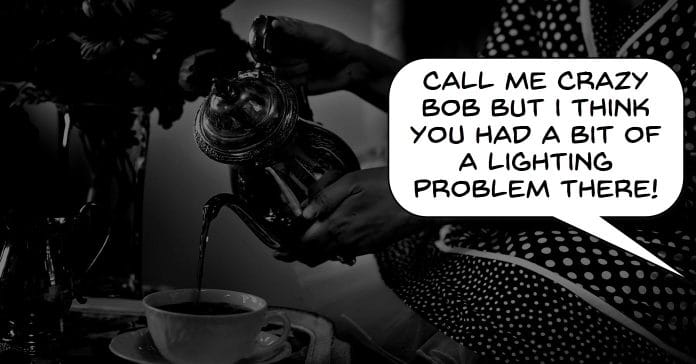 Tips on Using Minimal (Indoor) Light
The bane of almost every amateur video enthusiast is trying to get decent looking footage in an indoor situation when you know the available light is borderline.
Check out the video below to get some excellent tips on taking this situation and turning it to your advantage.
Street Cinematography
The link below goes to a quite comprehensive article on the subject of street photography especially in the sense of working to get candid shots.
There are a number of factors to keep in mind when you are attempting this sort of thing but with practice the results can be stunning.
Now although the article is actually aimed at photography the exact same principles apply to shooting video which is why I have included it this week.
13 Tripod Tips Everyone Should Know
A few weeks back I posted a video showing a few tips and tricks for using a tripod in some rather unusual ways to create interesting shots.
This week I cam across a video on the same subject but from an entirely different perspective.
The video itself covers the subject of tripods but from the point of view of how to use them properly!
Well that's a bit of a surprise!
How Does the YouTube Algorithm Work in 2018??
I think it would be pretty safe to say that the days of just slapping a video up on YouTube and having it get a gazillion views for no reason at all are well and truly over.
YouTube has evolved into quite a sophisticated platform which is solely devoted to giving the viewer what they want and more importantly these days, predicting what the viewer will want.
YouTube is owned by Google and the core business concept of both YouTube and Google is that if you provide the user with what they want, they will will hang around for longer.
And the longer they hang around the greater the opportunity to serve them ads and generate income.
It really is as simple as that.
So, in the modern era of YouTube the only way you can be successful is by understanding how the platform works to achieve its basic goal.
Sure you need good content and you have to understand your audience but unless you know what YouTube is doing you will always struggle to break through.
So in light of that if you are already on YouTube and are trying to get some traction or are thinking about starting a YouTube Channel that is seen by more than your friends and family, check out the video below for the full story.
If at any time throughout the presentation you are thinking to yourself that this is too long or too much information then honestly, YouTube at this point in time may not be for you.
CyberLink PowerDirector 16 – Skin Touch Up Tutorial
This is a particularly good run through of the Skin Touch Up tool inside CyberLink PowerDirector 16.
The tool itself is not actually part of PowerDirector but is a New Blue FX filter that comes included with the program.
If you are not using PowerDirector but your video editing software comes packaged with some of the New Blue FX filters then it may be worth your while to have a look in those FX folders to see if you have it.
Like most correction tools this one does a reasonable job out of the box at the default settings but it really comes into its own when you understand how to adjust it and tailor it to your specific footage.
One of those steps shown in the video is done by entering manually the RGB values of certain areas of the video being worked on.
The tool used to get those values is not part of the PowerDirector setup so a free third party tool is used to do it.
That tool is called Instant Eye Dropper and you can get it HERE.
The only warning I would offer in using touch up tools like this is that it is quite easy to get a little carried away with them so that all the skin tones in your videos look really, really smooth and perfect… just like a plastic doll!
So when you are using them remember to keep your application towards the more conservative end of the scale.
Better YouTube Videos in 2 Minutes!
This is just a quick video covering a few tips and tricks you can achieve mostly "in camera" to make you video pop a little more.
The downside is that you are going to have to learn some of the menu items on your camera and by that I mean the stuff beyond the Auto setting!
Remember the "A" button stands for "Automatic" not "Awesome!
Shooting in Bright Light
As an amateur videographer one of the things you become painfully aware of is the availability of sufficient light in any given situation.
The main problem with cameras at the "consumer" end of the market is that their low light performance drops off pretty dramatically as far as image quality goes.
Remember that the definition of low light is about the same as a normally lit living room.
So when it comes to shooting on a super bright sunny day you would think you have the world at your feet! Not so actually.
There are a few problems caused by very bright light coming from one source in any shooting situation and when that "one source" is a fiercely burning sun, things can go south pretty quickly.
With the sun at your back everyone in the shot is squinting badly, with the sun behind you subject the image gets blown out.
So what's a person to do?
Here are some tips for shooting in very bright sunlight.
Still No Flying Cars!
Earlier in the year I was following along with the news coming out of RED Cameras regarding their in-development smart phone that was going to offer a 3D holographic display of some kind.
Experience has shown us that when RED announce some kind of product with all sorts of revolutionary wizzbang features two things seem to be inevitable.
The first is that despite the naysayers RED will ultimately come up with the goods and we will be amazed.
The second thing is that despite constant updates by RED on the timing of the release of their new wizzbangery, there will be a seemingly endless process of pushing back that release date.
In celebration of that second point RED have (again?) announced the release date of the Hydrogen holographic phone has been pushed back!
Red's Hydrogen Smartphone Suffers Production Setback
Best Way to Make Widescreen Videos in 60 Seconds
This is a just a quick demo of how to take your average footage, make it widescreen and avoid getting black bars.
Bear in mid that the suitability of doing it this way will depend on the original resolution of your footage.
If you are working in 2 or 4K you will be fine but with anything lower than that you "may" see slight degradation in the image quality.
The best way to find out is to run a few experiments.
PowerDirector Newsletter Issue 10
Every once in a while one of the main users over on the PowerDirector forum publishes a newsletter.
I say "every now and then" because although I am sure he started off with a regular publishing schedule in mind…. reality soon set in and that schedule has somewhat gone out the window!
Regardless of that every time he does put one out it is full of great information, tips, tricks and all sorts of stuff not just confined to PowerDirector.
This one covers the subject of video codecs, containers and distribution formats in very great detail so if you are trying to work all of that out this would be a good place to start.
On top of that there are links to all sorts of resources that any video editor would find valuable.