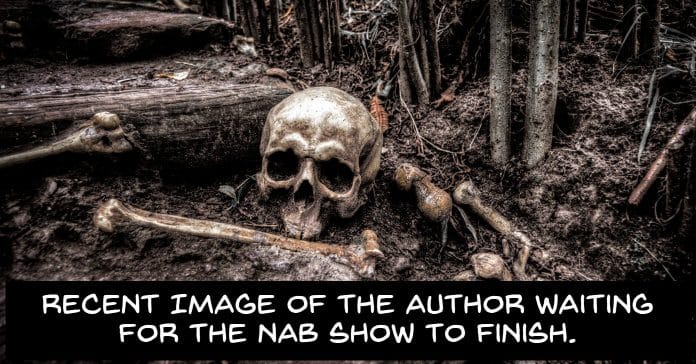 Around this time every year things start to go a little quiet here at the DIY Video Editor and the reason for that is that I shamelessly steal tips, tricks and tutorials from people who know far more than me on the subject.
Sure all the other stuff on this site is my own content but for the Friday Roundup I generally scan the usual suspects and if they do something good I add it to the Roundup.
However this carefully laid plan goes to hell in a basket for the approximately two weeks that the NAB Show is on in Las Vegas.
It is at this time that all my (mainly professional) sources head off to Vegas Baby! Obviously they are all only going for the technical stuff on offer.
So, if this week's post seems a tad light please forgive and bear in mind that my own particular brand of theft actually requires that the occupants be home at the time rather than out of town.
Animated Titles – No Plugins Necessary
A Lot of people I know really get into titles… I just don't get it myself but hey! Each to his or her own!
Most decent video editors these days come with either quite capable titles modules built in to the program or at least use a pro plugin like those from NewBlue to add title functionality.
So regardless of which one you have there is a vast amount of creativity and control you can exercise over your titles in any given project.
On the other if you are like me and don't really fancy the idea of sitting in front of a computer endlessly tweaking every little detail and every little animation of your titles… take heart!
Check the video below for some very, very simple techniques that take a second to do yet will make your titles absolutely pop!
Dreaming of an Editing Format
The article linked below is a discussion on the introduction of the ProRes format being able to now capture in RAW files.
Now of all if that didn't really make much sense just bear with me for a moment because I am going somewhere with this… really!
The RAW format for video files is a format that is basically the "raw" image data coming from the camera sensor which is then stored as a file.
In reality it is not really a video file yet as that raw data then has to be processed in order to create the video.
In most cams that raw data goes to a second chip in the camera that processes the data and usually compresses it into video files.
These are the files you then transfer from your camera to a computer and use for editing.
RAW files have an advantage in that the stress and strain of processing them in camera is avoided and saved for a later time when in a computer, the processing can be done by a far more powerful machine.
The result is files that have not lost data due to the "on the fly" processing in camera and are far more easy to edit and manipulate in software.
The downside is that the files are HUGE!!!
At the other end of the spectrum is you and I.
Most of us are shooting at the consumer end of the market and as such power usage and storage are major concerns affecting our cameras.
To that end our videos are shot, the RAW stream fed directly into the on-camera chips and there are heavily compressed into MP4 files so that the whole thing works seamlessly.
The result is "OK" looking video at an acceptable size that was ABSOLUTELY never designed with editing in mind.
That's right folks, those MP4 files we are all using were never intended to be used as an editing format, it is strictly a distribution format.
The roll-on effect of this is that we are now trying to edit MP4 videos at resolutions like 2K and 4K and are wondering why this is requiring a mountain of computer resources to get done!
The problem at our end of the scale is NOT that the software can't handle it, the problem is that we are at the very outer limits of what an average consumer computer can do at the moment.
So back to the ProRes thingy.
This news indicates that at the top end of the scale this problem of file sizes vs. quality as well as editing formats is at the forefront of what is being developed right now.
What that usually means is that if we give it a year or so at the consumer end of things the capturing format in our cameras will begin to change and that format will hopefully be one designed for editing and not distribution.
Favorite Filmmaking Apps for iPhone & Android
I personally don't get into any editing if I am using a smartphone to shoot footage of any kind.
Similarly I don't really use any particular apps for shooting as well so I am not exactly a font of knowledge when it comes to that kind of thing.
On the other hand Tom Antos is a pro movie maker and even though he does cater to a more advanced market than the home movie maker he quite often posts some pretty interesting stuff.
This week he is covering a few of his favorite Apps that he uses and why he uses them so as it it is coming from a "pro" perspective I think it is worth taking a look at.
How to Shoot and Edit the Whip Pan
So come on, if you don't know what a whip pan is then you have to check this out and learn how to make them for your own projects.
Because they are totally awesome?
Well maybe but the real reason is that at some point in a conversation you will be able to say to everyone listening…"Yes, I quite often use a whip pan as a transition these days."
Let's face it, if ever there was a time to start smoking a pipe, wearing tweed jackets and sporting a natty beret then this would be it.
Quite aside from looking totally cool at social gatherings, whip pans can be used with great effect in a wide variety of projects.
Just bear in mind that I didn't say "ALL" projects there!
Like anything else when it comes to editing, just because you CAN do it, doesn't mean you should!
Float Yourself
This is a pretty cool video tutorial showing how to make images in which you or your subject seems to be floating unnaturally in the image.
Just watch the video to see what I mean rather than try to imagine it using my tortured prose!
The reason I am adding it to the Friday Roundup this week is because as I was watching it I realized the technique can also be used in a video.
Simply put the technique is to take a shot of an empty background or scene using a tripod (very important).
Then without moving the camera take shots of the subject in that same scene.
Finally take all of that and load it into an editor and manipulate it so that the subject seems to be floating in the scene.
Everything described in the video as applied to a still image can be replicated in video editing software using masks and motion paths.
Check it out and maybe give it a try yourself.
Best Video Editing Tips: How To Edit Videos Faster
Even though I come across videos most weeks that cover the subject of editing faster or outlining an editing workflow I always include them.
The reason for that is that there is no actual "correct" or "incorrect"workflow for editing.
You could look at ten pro editors and although most of the basics would look similar there will invariably be differences based on personal choices and the projects being worked on.
So in reality I think I have added a workflow video for about three weeks running now which may seem confusing given their differences.
The way I look at them all and hopefully the way you should probably look at them is as a series of suggestions.
Check out each one and if the work flow looks similar to your great, if not just ask yourself whether it would make more sense to follow it… or not!