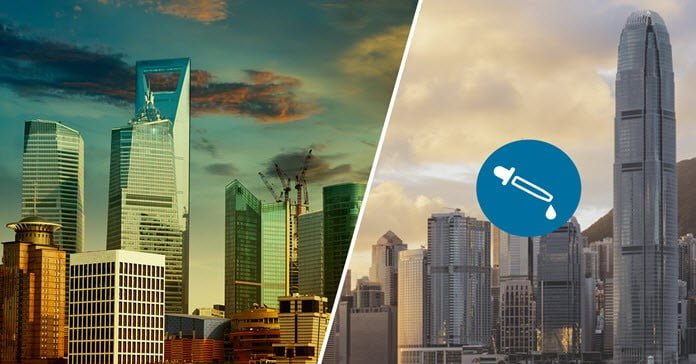 One of the strengths of Magix Movie Edit Pro and their pro editing software Video ProX has always been the color module.
Video ProX always had an enormously powerful professional level color correction and grading tool contained within it and Movie Edit Pro has to some degree, had a simplified version of that module as well.
With the recent attention on color grading and correction Magix have come up with an exceptional new feature in this year's version that I think a lot of people may not have noticed.
The new feature is a tool that comes from Video ProX which allows the user to automatically color match shots.
So imagine you are putting together a video of an event like a wedding (God forbid!) or a birthday or whatever.
You have access to footage from a number of different cams and phones that were at the event.
Because they are all different in some way, every time you cut from one device to another you get a jarring change in the overall color tones of the image.
The only way to fix this usually is to manually color correct every shot so that they all have the same white balance and the same color settings.
To say this is a long and tedious task is to underestimate it completely!
So now in Magix Movie Edit Pro you can take a base shot and then just have the software automatically color match every other shot you are using regardless of where it came from to that base file.
You have now automatically matched all shots from all devices so that the whole thing looks like it was shot on one cam.
Now I am not saying the an automated solution like this in a consumer grade video editor is going to give you perfect results every time!
However even if you still have to go back into the color settings on a clip and just tweak it a little you are still a million miles ahead of where you were before!
How To Legally Download YouTube Videos
The video below is a bit of an attempt to go into the murky world of copyright on YouTube and the question of downloads.
Very often you will see quite successful YouTube videos that contain content that you just know was downloaded from YouTube in the first place.
On top of that it is also obvious that the content itself is totally copyright protected!
Yet if you look at the Terms of Service of YouTube's user agreement you will see that it is quite clear that downloading content off YouTube is forbidden.
So what's the deal here?
Well as per usual in the world of copyright it is like the old question of, "How long is a piece of string?"
There are variables in the mix and there are legal defenses but to get an idea check out the video below for the basics.
More on Codecs and Containers
OK, codecs, containers, files types and on and on, this subject never goes away! Why? Because it is an endless source of confusion to most people as it was for me for a long time.
So in the interests of demystifying the whole shebang here is yet another article on the whole mess that puts it all pretty simply.
Now for most people a barely rudimentary understanding is just about all you will ever need to create video files that do what you want them to do.
BUT! Notice, that was a big but!
If at anytime you hit a snag in your editing or in producing a new file the very first thing anyone helping you will ask with be what type of files, what are the parameters, what codec and on and on.
If all you can say is, "Well it says .avi."
You will then be in a world of back and forth whilst the kindly person trying to help you begins to slowly run out of patience!
At least get your basics right and this article does that.
So What is a Colorist?
So obviously all the cool kids on the block these days have access not just to color correction tools in their video editing software but many have color grading tools as well.
How cool are we!
Well, actually not really all that cool because the sad reality is that many people buy video editing software based on the awesome features on offer but have little to no idea what those features actually do and how to make them do it!
So check out the article linked below to get an idea about what a colorist actually does and how they do it because you know you can do it too if you learn how!
It is also interesting to note that I just realized another development pattern is emerging.
A few years ago you had video editors and screen recorders and never the twain shall meet.
These days screen recorders like Camtasia and ScreenFlow have morphed into full blown video editors whilst video editing software like Magix, PowerDirector and VideoStudio have all added screen recorders as part of their standard kit.
So the new area of morphing?
Color tools.
We now have editing software again like PowerDirector, VideoStudio and Magix adding coloring capabilities and at the other end of the scale we have DaVinci resolve developing itself into a fully blown video editor… interesting.
Lost Time
A long, long time ago in a galaxy for, far away I lived an alternate existence compared to the one I live today.
You see I was once a corporate monkey dressed everyday in my little corporate monkey suit doing my little corporate monkey business.
Actually I was the CEO of a startup telco in Australia at the time when the telecommunications industry was deregulated resulting in a sort of "wild, wild west" of phone and internet services.
As part of the stuff I got as a CEO I had retained on my behalf a legal adviser whose job it was to both guide me through the legalities of corporate life as well as basically stop me from doing stupid stuff.
His name was John and he was an almost retired lawyer who had definitely seen it all.
John hated technology but his biggest hatred was reserved for one piece of computer technology that you may find surprising.
To him the devil was incarnate in the word processor.
Now at the time I was surprised by that because I would have thought that the introduction of the word processor into a legal firm would have been a godsend but John hated them and here's why.
In the old days when he was required to draft contracts this process was a long and drawn out action.
John mainly worked in the area of mining companies and joint mining agreements so the contracts he was formulating were vastly complex.
Because there were no word processors he would have to handwrite the entire contract into draft form or dictate the contents to a secretary.
Once the initial draft was produced he then spent time going over it making changes again, by hand.
This would run into days or even weeks and as he put it, "Most lawyers do their best work in the shower."
In other words the enforced added time caused him to also have time to think over the contract, to imagine scenarios and pretty much cover all the possibilities.
A final draft would then be retyped in full with changes and additions and sent to the concerned parties.
They would provide feedback and slowly over time the contract would emerge completed.
The word processor cut the time taken enormously and as such cut the "thinking time" down until we have today the tendency rush it all through resulting in disputes, disagreements and dissatisfaction because certain things were not envisioned at the time of the contract's writing.
This adding of time into a process is sadly becoming a thing of the past and it is not necessarily a good thing.
The interview linked below highlights this point in the world of filmmaking and Tim Robbins covers it quite well.
One point I think he misses and I think this applies to the creation of any content is that there is nothing like a 24 hour cooling off period to really get a perspective on your own work.
There is a misconception that people have when they enter the world of video or the creation of content of any kind.
We are taught at school to "produce on the fly."
That means we create, edit, polish and output to a final product pretty much all in one go.
However in the professional world this never happens.
Creation is done as a separate and distinct act and generally is simply the act of creation.
After time passes, what was created is then reviewed, edited, re-done, polished or whatever into a final draft.
More time passes.
The final draft is inspected again and often reviewed by another outside source until the final product is agreed upon and then produced.
This goes for a novel, a film or even a a little YouTube video done by a successful YouTuber.