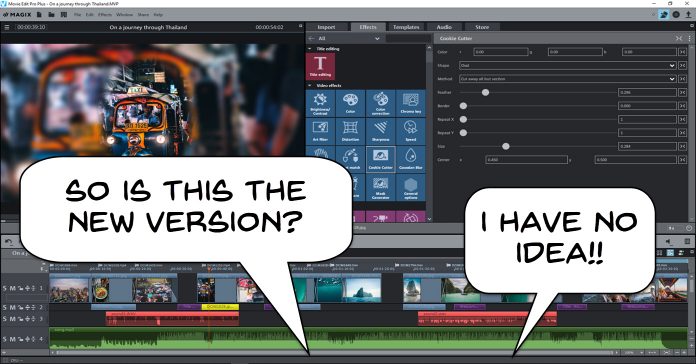 MAGIX Movie Edit Pro Updates
About two years ago German Software manufacturer Magix decided to abandon the yearly update cycle on some of their products.
What that meant was that their consumer level video editing software, Movie Edit Pro and their pro offering, Video Pro X stopped having version updates denoted by a number.
They began a different model based on constant updates delivered automatically as they became available.
This meant that when you purchased their software the program was yours to use forever and as part of the deal any updates for the next year were included.
At the end of that year you would be offered an extension to the updates part of the licence at a reduced price.
If you wanted you could sit out a few years then re-subscribe to the updates from that point forward.
As part of the re-modelling they also dropped the idea of naming the software as being a particular version.
So for example Video Pro X8 was the last time they used a number, since then it has simply been Video Pro X.
If you take a step back on the whole deal it is easy to work out that what they did was actually nothing at all!
The pricing model above is the exact same pricing model as just about any video editing software outside of Adobe who work on a subscription basis only.
From a marketing point of view it always seemed a bit strange to me given that most of the video editing software makers rely on an annual sales boost based on the release of their updated (and re-numbered) version for that year.
Anyway, Magix have just quietly alluded to the fact the current version of Movie Edit Pro is worthy of a new promo video so here it is!
And by the way, my Movie Edit Pro Review is here and my Video Pro X review is here!
Animated Emoji Pack – Filmora Effects
Just in case your life isn't overwhelmed enough by an abundance of emoji action, now you can add them to your video projects as animations!
Yay! It's freebie time!
First of all the video below is rather a pointless demonstration of some of the animated emojis on offer by Filmora.
If you find yourself watching it all the way through to the end, please seek help or reach out to your loved ones.
To get the freebies just click the link below the video and you will be whisked away to free animated emoji heaven BUT! There's a catch! (isn't there always?)
To initiate the download you have to share the link on FaceBook.
Click Here for the Free Animated Emoji Offer
PowerDirector – Tips on Content Management
One of the key differences between an amateur video editor and a pro has nothing at all to do with the actual editing process.
That difference could be simply described as organization.
Before any pro even contemplates adding an asset to a timeline he or she will spend hours if not days engaged in the process of naming, re-naming and organizing video, audio and images into recognizable files in an understandable folder (bin) structure.
It is only then that the first editing steps are taken.
The video below gives some great tips on completing this process and offers a few suggestions as to what could be for you, a workable organisational structure for your projects.
The demo is in CyberLink PowerDirector but the process applies to any video editing project in any video editing software.
AudioDirector – Lengthen (loop) a music clip with audio remix
This is a demo using CyberLink AudioDirector on a trick to lengthen an audio clip of music when it is not quite long enough for your purposes.
Below the AudioDirector video is another one showing the same process in the free WaveEditor program that comes with all versions of CyberLink PowerDirector.
If you are not running any of the CyberLink programs relax!
Just check out the lower video using WaveEditor and you can do exactly the same thing in the free audio editing program Audacity. (Just Google it)
Sound Design is NOT Boring
This is apparently the first in a series of video on the subject of audio and sound design so I will be keeping up with them each week and posting to the Friday Roundup as they become available.
In this first video there are some awesome tips on how to use audio to enhance your videos and exposes a whole bunch of tricks and tips.
Very often within the sound design of professional videos there are a gazillion little bits and pieces of sound added and in places or ways that you would never have thought of.
Resolve 15: The Ultimate Crash Course
Sometime last week DaVinci Resolve 15 officially came out of beta and was released into the wild as the latest official version.
There have been quite a few changes to Resolve since version 14 so if you have been using that one and want to take a look at the new version then the video below is ideal.
Casey goes through the entire interface with great explanations of how it all works.
LENSES: Field of View, Focal Lengths, Sensors and Lens Size Calculations
OK if you are feeling brave and want to take a crack at understanding the relationships between fields of view, lens sizes, focal lengths and sensor sizes then check this out.
My advice is that if you want to understand it, be prepared to stop and re-start the video as you go along making sure you really get it.
Also, be prepared to do this many, many times!
How to Shoot Better for the Edit
This is a recorded live stream video by a pro editor aimed predominantly at other budding pro editors.
Normally I would shy away from a video like this as it can all get a little overwhelming pretty fast!
However in this case the presenter understands he is talking to various levels of budding cinematographers so starts off with some great entry level advice that just about anyone can put into use on an immediate basis.
PowerDirector – Color Match & Lookup Tables
Not really sure why but this week CyberLink uploaded some new videos to their YouTube Channel covering some specific features of PowerDirector that have been there since the release of version 16.
I guess better late than never!
One version ago PowerDirector added a new feature called Color Matching and in version 16 they added the ability to use LUTs as well.
So in the video below they show how you can use either or both features to match footage from different sources or that looks different because of different lighting when shot.
These days it is very common for most of us to have access to footage from a number of different sources so color grading (which is what these features are actually doing) is a great way of reducing those differences so as not to be as jarring to the viewer.
Mixed Assets on the Timeline
I get quite a few questions on a regular basis on the subject of mixing assets on the timeline.
Some programs handle this better than others and the old rule of "Ya gets what ya pays for" applies most definitely in this case.
There however some basic things that you need to understand when it comes to this.
The first of these and probably the most important is frame rate.
If you have videos that have been shot at different frame rates then at some point in time your video editing software is going to have to make them all one common frame rate.
If one clip has been shot at a higher frame rate than the target frame rate of the project then your software will have to "decimate" that footage to get rid of the extra frames and there is a good reason that the technically correct term used is "decimate!"
Conversely if that same clip was shot at a lower frame rate then your editing software is going to have to create extra frames out of the existing frames.
Either way you are going to get a degradation in the video quality and that will usually show itself in how well motion is displayed on the screen.
When it comes to resolution you have only one real choice. You have to produce the final video at the lower resolution and not the higher one. Your software cannot just create extra pixels of resolution from nothing!
Check out the article below for a few more tips on this.
WHY are there Recording Limits on Cameras?
Here's a little history lesson for you all on the subject of recording time limits applied to DSLR and why they ever existed in the first place.
The key take away on this one is that if you do happen to have a DSLR that has a recording time limit is worth checking out the manufacturers website for firmware updates that may have changed that feature.