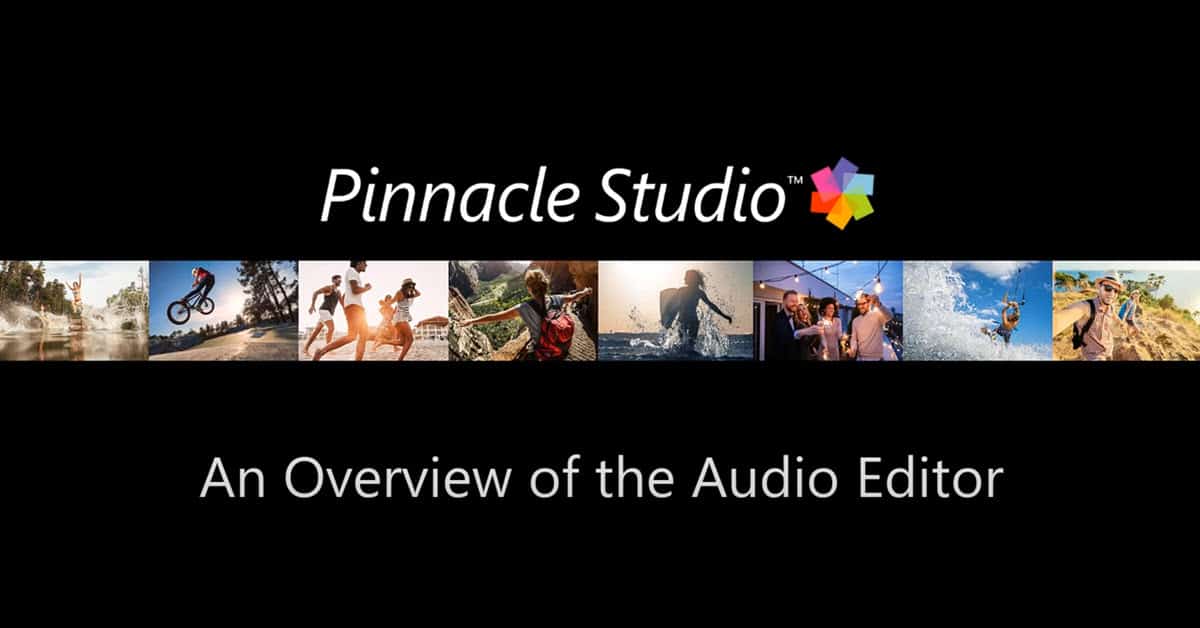 An Overview of the Pinnacle Studio Audio Editor
When it comes to video editing software these days it is very difficult to separate and evaluate them against each other.
For example if you are trying to judge PowerDirector and Pinnacle Studio against each other on the basis of features you are probably not really going to get anywhere.
Feature for feature they come out about the same.
One particularly effective way of working out the difference is by judging them under the heading of control.
In other words, yes they both have a particular module or feature module but which one offers the greater number of features inside that module or feature and which one offers the ability to exercise greater control.
It is at that point the separation between the two becomes apparent.
Check the video below to see what I mean… Pinnacle is a beast!
---
10 Tips for Better Editing
A common misconception when it comes to editing is that the entire process from start to finish is… well… editing!
Actually a lot of what you see in "editing" tutorials is actually what is called post production.
That's all the effects, audio stuff and everything else.
Editing is actually just deciding on what clips to add and cutting them together in a sequence that show what you want or tells the story you want.
So in light of that here is an excellent editing tutorial by a very good young video maker that just covers editing and is well worth taking a look at.
---
PowerDirector – How to Use Keyframes with Special Effect Controls
You know kids back in the bad old days we didn't have no dang keyframes!
In fact it wasn't until about 7 or so years ago that keyframing made its way into consumer level video editors and even then it was very limited.
Things have certainly changed since then and these days you can keyframe just about anything!
So my advice currently is that whenever you are creating titles, adjusting audio, making masks… anything!
Take a quick look around the interface of whatever editor you are using and check to see if keyframing is available for that activity.
If it is then have a little think and play to see if you could use keyframes to improve your video project.
---
Filmora X Fog Effect, Removing Audio From Video, Bagel Drop!? – You Ask We Answer Ep 22
Number 22 in the series of Q&A videos from Filmora which have been a little irregular over the past year and a half for obvious reasons.
In this one they go a little deeper into one of their earlier effects videos and cover a few other things in the process.
---
How to Make a YouTube Channel Art
More often than not the tutorials I have seen on creating channel art for YouTube Channels use Canva and to be honest that's a pretty simple way to go.
If for any reason you don't like using Canva or have had trouble using it then maybe you could try this one.
It use a service called Snappa which is similar to Canva and gives equally good results.
---
Free Video Overlays for Premiere Pro, After Effects, Final Cut Pro, and More
This is a collection page for a bunch of resources for some free video overlays.
On the page they say the overlays are for Premiere Pro, After Effects, DaVinci Resolve etc. but don't be put off by that.
If your editing software has "Blend Modes" then you are probably good to go to use these.
Download a few, try them out and see what you think… can't beat the price!
---
Super Clean Mask Text Reveal – CyberLink PowerDirector 20/365
This is a good tutorial on using masks to create the effect of text appearing from behind an object on the screen.
---
Why Your YouTube Channel Isn't Growing
OK so as is usually the case with Daniel's live-streams this one goes for about an hour and forty minutes!
As you can imagine it is full of the good stuff so if you are looking for some tips to get your YouTube activities off life support then this is the place to be… just be prepared to be it it for the long haul.
---
How to Add Countdown Timers on Videos in Filmora X
This is a just a simple "tips" video for Filmora showing a few quick ways to add timers or countdown timers to a video.
---
How to Create a Cinematic Title for Video in Filmora X
This is a good tutorial video done in Filmora on creating cinematic looking titles.
At the same time it is a good walkthrough of the titling module as goes into the Advanced features as well.
The key usually with titles is to keep it all relatively conservative and don't go hog wild just because you can!
---
Blender Crash Course – Beginner's Guide to Using Blender
Casey Faris usually posts videos on using DaVinci Resolve but this week he is starting a new series introducing Blender.
If you are unfamiliar with Blender it is a free open source 3D platform that comes with a ton of features and functionality.
It is basically a pro grade piece of kit but if you have ever taken a look at the interface then you would know it is quite daunting!
So if you are interested in maybe getting into some 3D work then take a look at this and see what you think.
You can check out Blender HERE
---
Boring Location? – How to Make Any Setting Cinematic
This is a short but very effective tutorial on how to "look" at a space you will be shooting in and working out how to make it look its best.
One point I have to draw attention to is that in the video you will see the presenter checking out the space she will be shooting in with a camera or mobile device.
The difference between how a room or space looks when you are just looking at it and when you look at it on a screen is always quite dramatic.
So remember, use your device to "look" at the room, not your eyes!
---
---