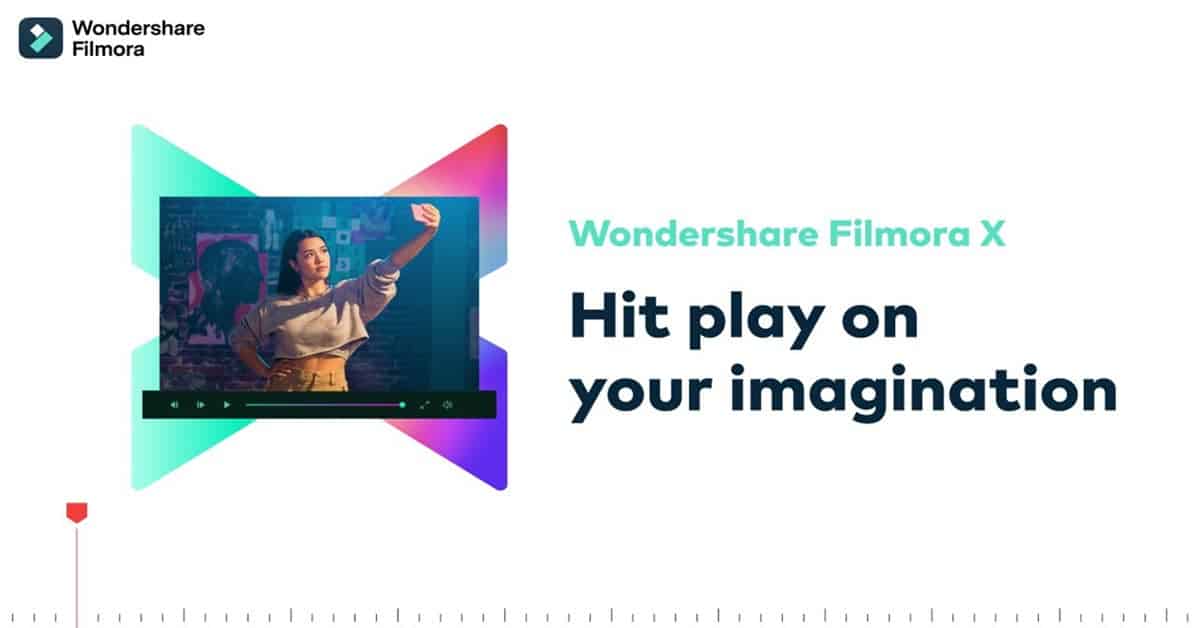 Wondershare Filmora X Upgrade – Motion Tracking, Keyframing & More
The major news for this week was the announcement by Wondershare that their video editing software Filmora9 has been updated.
Filmora9 was launched back in December 2018 and has undergone steady development since then.
I have been using the software myself since about version 7 which is quite some time now.
The reason I use Filmora is that it has always been a great simple or easy to use video editing solution especially for "down and dirty" projects that don't require advanced features.
Over the years their user base has been requesting more and more features as they have become more experienced in the editing process.
Whilst Filmora have been trying their best to add those features they have also had to keep in mind that the software itself sells as a simple solution, not an advanced editor or post production tool.
Their main concern has always been that once you add more complicated features two things inevitably occur.
First, by virtue of the increasing number of features there has to be access to those features and as such the interface can get pretty cluttered pretty fast!
The second problem was that adding advanced features meant that the software demanded greater resources on the part of the computer running it to handle the extra work.
With Filmora X that dilemma seems to have been resolved with most of the features being asked for added to the program without compromising speed or usability.
I have taken Filmora X for a test drive and I am happy to report the interface is still as straightforward and the overall performance remains as bright and snappy as it always was.
I will be updating my Filmora Review this week but in the meantime here's bit of what's new.
Motion Tracking
An Intuitive automatic tracking solution perfect for beginners and intermediate editors. Just isolate the target and the software will do the rest.
Keyframing
Apply one-click pre-sets for an easier keyframe experience or just animate manually.
Editable pre-sets make this the easiest keyframing experience around.
Color Matching
Save time by applying color correction settings across multiple clips at once.
Take color settings from one clip and then apply them to a batch of clips with ease.
Audio Ducking
Quickly fade your music so your dialogue stands out. It only takes one click to fade one audio track into another!
Keyboard Shortcut Customization: Edit faster using hotkey commands with the ability to map your own.
Announcement Video
Motion Tracking Announcement and Tutorial
Filmora X Motion Tracking Example
The New Wondershare Filmora X – New Features
This is Daniel Batal's run through of the new Filmora X features with a few examples of how they work and can be put to use.
Music Editing 101: The Editor as Composer – Music Editing Mastery
The link below goes to a free three part tutorial series on the subject of editing with music.
Now fair warning here, this series is aimed at budding professional editors so although it is not super advanced, it is somewhat technical.
The reason I am referring to it this week is that within the series there are some great tips on using music in projects as well as an excellent overview of the function of music in any project.
PowerDirector 19 – Introduction to the Use of Hold Keyframes
The most recent update of PowerDirector introduced a new type of keyframing to the program which I don't think anyone else at this level has.
The new keyframes are called "Hold" keyframes with the existing and most commonly found keyframes being referred to as "linear."
Linear keyframes are the ones we are all most familiar with and behave in a particular way.
Basically they act as a start and end point and in the intervening space the values being set are adjusted over time.
That's great for many situations but there may be time when you want values to "snap" or instantly change.
With a linear keyframe that meant you had to add a second keyframe adjacent to the last one and set the values there.
Although that works perfectly well it is clunky and time consuming.
On the other hand a Hold Keyframe is designed to "hold" the values rather than slowly change them over time.
The video below is a good demonstration of this in action.
How To Make A Super Bass Pump Effect – CyberLink PowerDirector 18/19
This is a simple tutorial on adding a "jump" effect to a video on the beat to give it that bass pump effect.
It is done in PowerDirector but really any software can do this.
Here are the key points.
It is easier if you can mark the timeline in some way to show the points where the beat is occurring.
This makes adding the "effect" part of the process easier and more accurate.
Lots of editors these days have beat detection capabilities and most offer a manual or automatic way to mark the beats.
If you don't have that then you are going to have to "eyeball" it but usually the wave form of the audio will make it relatively easy to see.
Another possibility is if you can add chapter markers to your timeline.
Chapter markers are usually used to mark chapters in your project for later when you want to burn a disc of some sort.
In this case you can just use the chapter marker tool to mark the beats, do your edit then remove them before you render the new file.
Also it is not mandatory that you use the exact same effect you see in the video.
There are lots of different effects you can use to get that "jump" thing happening.
Create a Scene by Using Masks and Blending Tools
A simple demonstration of using Masks and the Blending tools to build up a scene within PowerDirector 19.
PowerDirector 19 – Copy Transition
In PowerDirector you can set in the program preferences a default transition such as a fade so that if you overlap two adjoining clips on the timeline that fade transition is automatically added.
If you have done a bunch of work then realize there is another transition you want to use on all the clips then there is a workaround for that which you can see in the video below.
How I Made this Easy Cereal Commercial at Home
Some great tips in this one on shooting creatively without having a whole studio worth of fancy equipment.
Animated Arrows in DaVinci Resolve 16
A pretty simple tutorial in Resolve this week from Casey Faris, this time on how to add an animated graphic element (an arrow) to your footage.