What Does Movie Studio Have to Offer?
Any Magix Movie Studio review (like this one!) runs the risk of just going on and on in an effort to cover the vast range of features the software offers.
So buckle up, grab your beverage of choice and let's get into it.
Movie Studio Features at a Glance
The software has two systems for importing your media either through a wizard based system or manually.
Through the interface you can preview files before you hit the go button to import so you don't end up with a bunch of stuff you didn't really need.
Once you have everything located in the program's library you can then arrange or rearrange everything to suit your work flow.
Although library customization doesn't sound like the sexiest of features trust me, once you start editing it is vital that you can access your assets quickly and easily.
As I mentioned on the previous page the interface is well laid out and pretty easy to understand and most importantly does not try to show you everything all at once.
This keeps the general appearance uncluttered with access to the full features tucked conveniently away behind icons or the menus system until you actually need them.
The timeline offers up to 99 tracks for editing (more on the number of tracks here) and does not differentiate between different types of tracks.
You can just add any kind of asset whether it be a video, audio or image to a track and work with it.
This feature adds enormously to the generally uncluttered feel of the software especially when you are getting to a point in your project where you have a lot of things loaded into it.
Mixed Assets on the Timeline
One feature of Movie Studio that should be noted here is the ability to mix assets on the timeline.
Most editing programs these days allow you to add footage from different sources which may be in some way mismatched.
The big question on this is how well they can handle doing it and very often it is just easier to process all your assets to one common file format to get the job done painlessly.
Magix Movie Studio is probably one of the best around for dealing with this and the reason for it is a little hidden under the hood rather than out where you can see it.
The big brother of this program is called Video Pro X and is Magix' professional level editing program.
At that level of software it is expected that mixed assets on the timeline can be handled as a matter of course.
At the consumer level not so much!
I very much suspect that this portion of Magix Movie Studio actually comes from the pro level program resulting in a far smoother experience with mixed video files.
Storyboards
The program offers an alternate Story Board view of the your project which is great for beginning a project giving you a more general view of what you have added or need to add.
With that done you can then switch back to the timeline view to engage in more precise editing actions.
The software also offers a Multi-cam editing feature which allows you to edit footage from up to 4 cameras simultaneously.
The footage is automatically synchronized using the audio track which makes editing events that have been recorded by a number of camera much easier.
Screen Recorder
There is a screen recording feature in MAGIX Movie Studio Platinum and Suite as well which allows you to create tutorials and screen casts quickly and easily.
Either the entire computer screen or a portion of it can be recorded and the resulting file loads automatically into a new project or can be added to an existing one by choice.
Effects, Transitions, Filters & Templates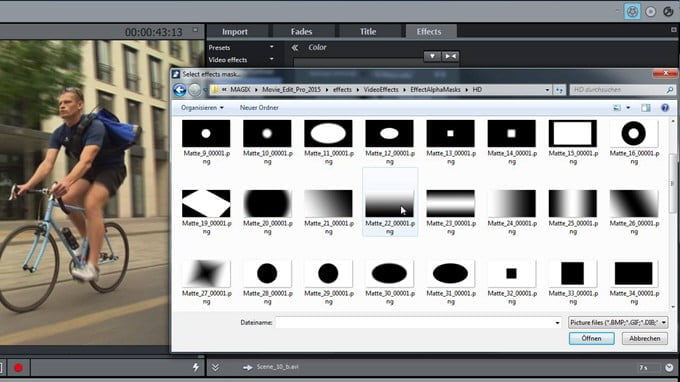 OK this section could go on forever so I'll just note some of them.
Needless to say there is a whole bunch of stuff going on here!
Movie Studio comes with a bewildering array of special video filters and effects both native to the program itself or offered through third party plugins like those from NewBlue.
Hundreds of transitions many of which are fully customizable and can be individually saved as new transitions if you feel you don't have enough!
You get lots of DVD and Blu-ray menu templates as well as a bunch of movie templates you can use to create quick projects based on a theme.
One of the better features of the program is the attention to control they have added.
With a single click of the mouse button you can instantly zoom in on an effect or an object you have added to the timeline and have it expand to full screen size.
You can then make your adjustment, click the mouse again and have it return to normal view to check your work.
Slow motion sequences can be created with smooth transitions using intermediate frames which results in transitions that remain smooth and seamless even when the footage is playing very slowly.
Color Correction
This has always been a strong point for Magix and this year is no different.
Two Levels of Dealing with Color in
Movie Studio
The first is what they call Primary Color Correction and is the type of color correction most video editing software offers these days.
It can be used to correct color casts in videos in an overall sense, change the "look" of the video, reset the white balance and other actions like that.
It is pretty easy to use and very effective.
The second level of handling color is what they call Secondary Color Correction and at this point they are more accurately describing color grading and special effects achieved through the manipulation of color.
With in the Secondary Color Correction module you can change individual colors to adjust skin tones or for example, make your video black and white with the exception of a single color to achieve a color pass effect, such as the one in the movie Sin City.
Movie Studio also offers a fully loaded green screen or blue screen effect module that also has quite a good anti-spill filter that allows green screen footage that may not be quite as sharp as it needs to be to be still usable.
Object Tracking
There has been a substantial overhaul of this feature with a "pin object" choice added.
Whilst fully automated object tracking is still not with us the new module offers at least a hint of that with the ability to mark an object, have it tracked and then add a mask or image or effect to that point as it tracks.
Beat-based editing
Part of the effort to appease the GoPro crowd beat-based editing lets you automatically or manually synchronize music and image edits.
Effect Transitions
A new set of transitions (not that we really need them but that's just me!) based on a new kind of system for creating them based on blurring.
Wireless Project Transfer
Using the free APP that comes with the software you can wirelessly transfer files and projects between your mobile device and your editing computer via WLAN.
3D
Yes it has 3D. I am not fan of 3D in general yet so… yes it handles 3D very well.
Audio
Audio is another area where Movie Studio has always been very strong and this is mainly due to Magix starting off in life many years ago as an audio software company.
It offers a wide selection of high-quality instruments and tools for dubbing, mixing and audio restoration and when compared to other programs it really stands out.
You can read a little more on the state of audio tools in editing software here.
There is a soundtrack maker for automatic dubbing and a real-time audio mixer for detailed audio editing using a whole range of special effects including the ability to mix and balance for 5.1 surround sound.
External effects can also be added through the VST plug-in interface as well as a great set of correction tools for removing unwanted noise from either your video or audio tracks.
It has a handy audio leveling feature that can be used at the end of a project to make sure that the volume throughout remains constant.
This is a vital feature if you are using video and audio assets from different sources due to them invariably having been recorded at different volume levels.
Media Output
The newly introduced export wizard displays the most common export options and by choosing one you are immediately taken into the process only having to fill in information or make further selections based on that output.
Most of these require very little as they have already been optimized with preset parameters to suit that particular format.
Of course at any point in the process you can step in and take control if there is anything you want to change to suit your own needs.
For example if you want to upload to YouTube or Vimeo then the best quality file type for those services is automatically selected and the final render of the file can be uploaded as part of the finishing process.
On the other hand if you want to burn a disc such as a DVD or Blu-ray then you are taken through a series of steps that although selects the file format automatically, stops at the menu stage to give you a chance to personalize that section of the process.
Animated Travel Routes
Creating a travel route or a map to show your journey on video is another rather complex task when using most movie making software.
Magix Movie Studio 2024 comes with an inbuilt module for this purpose enabling you to add maps easily.
Once you have your map added you can then trace your journey across a map with an animated line.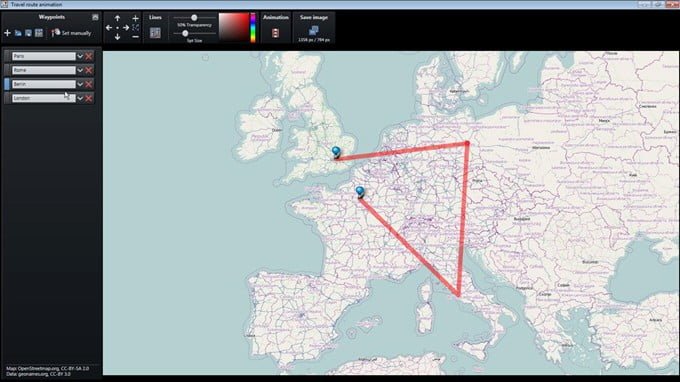 Final Thoughts
The earlier iterations of Movie Studio came roaring out of the blocks with features way beyond what anyone else at the time were offering.
Unfortunately at that time the software suffered from stability problems caused by the program just not being up to delivering all that promise.
Happily over the past 7 or 8 years the Magix company have taken their attention off the addition of features and focused on addressing those usability problems and they have done it with great success.
In Magix Movie Studio, Magix have clearly caught up on the housekeeping and come up with a product that fulfills the promise they have been showing for a number of years.
With this latest version they have found a balance between the drive for innovation and new features and what the whole point of the software is really: video editing for the average person.
Magix Movie Studio is now without a doubt one of the best in the market, loaded with excellent features and functions all in a package that is both stable and useable.