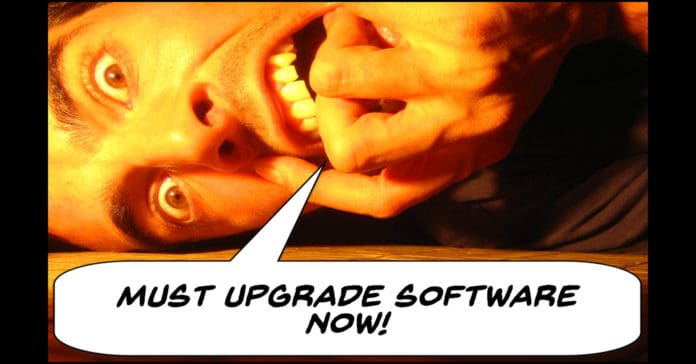 Avengers Infinity War Disappearing Effect – Filmora9 Tutorial
One thing that has never really changed over the years I have been running this website is the tendency for people to want that "next big thing" or that "new shiny object."
For a lot of people there is this idea that if they can't immediately see a way to do something in the software they have, the answer must be that the software can't do it so they need new software.
90% of the time this is simply not true! OK, full disclosure here… I actually made up that 90% figure… but it seems like a lot to me!
Anyway most of the time the inability to do something in one particular brand of software almost never comes down to whether or not the software can do it.
It usually comes down to the user of that software not knowing HOW to do it. So as usual this week I was going to add this video because it shows a cool effect.
But then I started watching it and it really brings home that point on endlessly upgrading software.
If you go through it step by step yes you can create a cool effect.
BUT! Just take a look at what you can do if you really learn the software and really learn its features to the point of applying them in totally different ways.
Let's face it, this effect is being done in Filmora9 and Filmora is one of the simplest editor out there!
Upscaling the First 1896 Lumiere Brothers Film recordings to Full Colour 4K
There is one development within the world of video editing software that I have been paying close attention to for a few years now… with little to no hope!
When I first started playing around with video it was back in the day when at the consumer level the only video format available was standard definition.
Back then everyone was basically recording to tape and the file on those tapes were in the DV.avi format in a 4:3 aspect ratio.
So like probably millions of others around the world I have a bunch of these old video tapes and files.
My hope has been that at some point there would be progress made on being able to upscale those videos to higher resolutions.
Now I am not delusional! I know that there are many, many technical reasons why this is a forbidding task for any software company wanting to solve the problem.
Up until this week there has been no real hope in sight… but as I said, that was up until this week!
A company called Topaz Labs has been working on software to upscale image for a while now and this week they released a version of their software that can be used to upscale video.
Now before anyone (me basically) gets too excited by this there are some downsides.
The first is that the software runs at over $100 so you would want to have a good reason to get it.
The second is that this software uses A.I. technology to work out how to "fill in the gaps" when it is up scaling an existing piece of footage.
The result of that is that when you are using the software it will max out your CPU regardless of how big or nasty yours is!
On my machine I turn it on and the CPU instantly goes to 100% and does not move!
To give you an idea, at 12:00 on Thursday I started an up-scaling project that was barely 10 seconds long.
The software informed me that it would take about 14mins to complete.
It is now 8 hours later and it is telling me I only have another 9mins to go!
So if you need something like this, have a beast of a computer and about a hundred bucks to spare, take a look!
Why Filmmakers Should Worry About Infrared Light
Last week (or the week before, seriously, I can't remember this stuff) I posted a video covering the basics of ND filters.
Essentially the deal is that if you are shooting in very bright conditions there is a possibility that you shots are going to get washed out because of that excess of light.
The answer to that is ND Filters that (theoretically) doing nothing to that existing light other than just cut it down.
As is the case with most things video, the story does not actually end there!
If you want to dive a little deeper into the subject then the video below is a great place to start.
It covers ND Filters as well as the effect Infrared light has on modern camera sensors and how the whole shebang comes together.
How to Edit a Music Video: Aspect Ratio and First Cut
This is Part 6 of the series done by the guys at Filmora as they go step by step through the process of creating a music video.
This one is particularly interesting because it show the editing process from an absolute cold start through to the completion of the first draft.
Fix Background Noise With The Audio Equalizer! – Filmora9
If you are like most people then at some point in time you may have stumbled across the Graphic Equalizer in the audio tools of your video editing software.
And also if you are like most people you have stared at it for a while, had an inkling that it was something you probably should or could use… but then quickly noped the hell outta there!
Most Graphic Equalizers are set up pretty much the same and look very similar as well. So if you want to find out what it actually does and how you can use it in your projects then check out the video below.
Chromatic Aberration Effect – Filmora9
This is a pretty straightforward tutorial done in Filmora9 which can be replicated on most other video editing software programs.
The effect itself creates a look that is similar to when you look at a 3D movie without the 3D glasses.
It create sort of halo effect of primary colors around the objects in the video.
One of the main reasons I have added this video for this week is not so much because it is some kind of wild and innovative new effect!
I have included it because the tutorial offer some good advice on when and where to use something like this.
Effects like these should be used strictly following the old rule of, "Just because you can, doesn't mean you should!"
How to Remove the Background from a Video in PowerDirector 18
This is a pretty good run through on using a bunch of controls within PowerDirector to change the background that the subject appears in.
If your footage has been shot in front of a green screen then this process is pretty simple!
But if your subject in just in a normal situation then all is not lost!
There are actually tools you can use to isolate your subject, key out that background and get a pretty good effect.
PowerDirector 18 – Shoot and Edit a Masking Transition
I have had a few requests recently on how to do the Mask Transition so I thought I would add a tutorial in the blog for this week.
This way if anyone searches for it, the result should come up a little more easily.
As usual the software used here is unimportant.
As long as you have masking capabilities in your eding software, you should be good to go.
The only thing I would add to all of this is that the opening example the guy shows looks a bit rough and the reason for that is not the technique being shown.
It is because he has used handheld and somewhat shaky footage to use in his example so the effect does not look so good.
However the actual method of creating the transition is solid.
How to Make the Inception Effect – CyberLink PowerDirector 18
I posted a tutorial a few weeks back on creating the "Inception" effect where the scene is question has a kind of top to bottom mirroring going on.
That one was OK but was more focused on the shooting of the footage rather than the actual effect being achieved.
So this week I have another version of that effect only this time being done in CyberLink PowerDirector.
As is the case with most of these reasonably simple effects, the actual brand of the software is kind of irrelevant.