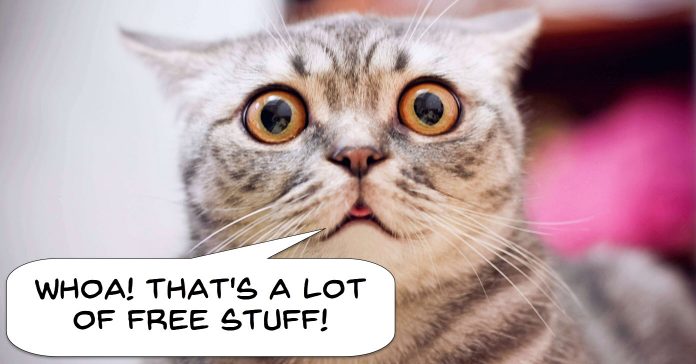 Yay! Freebies!
Once a year the guys at Shutterstock (royalty free stock images, footage etc.) in conjunction with PremiumBeat (think music for videos), do a week long giveaway promotion.
Generally it is a mixed bag of video and audio assets including lens flares, textures and elements, sound effects and on and on.
They have basically wrapped up the "giveaway week" for his year and have pulled all the links together on the one page.
The page is linked below BUT! PLEASE READ THIS BIT!
That page has about five links on it and each one takes you to another page with that particular download available… no sign-up just a straight downloadable asset.
However if you then scroll further down each page, on most of them you will find yet another link to even more free stuff so happy hunting!
How to Make a Shot List
This is a quick sixty second video on how to plan a shot list and I have included it this week because it is a very important action that applies to any video project.
First of all let's get rid of the idea that if you are not shooting something that doesn't have a script like a party then you don't need a shot list.
This is a completely false idea which if carried out, means that when you get to editing you are at the mercy of whatever footage you have.
The footage will then be determining what the final video looks like and in most cases it will be less than what you may have wanted.
Obviously when you are going to be videoing grandma's 90th birthday party you are not going to have a script nor are you going to be setting up scenes and shots then videoing them!
However there are going to be shots that are key to getting what you need to represent that party accurately and in an entertaining or engaging manner.
THOSE are the ones you add to your shot list.
So you can then wander about taking random shots of the action that you think you may be able to use while at the same time being aware of those shot you need to pull it all together.
Horror Sound Design: How to Edit Audio Effects for Film
Another video from the guys at Filmora this week and this is a really good one!
Over the past few weeks I have been posting tutorials and assets on the subject of sound design.
While most new video makers are going to be aware of audio as a general subject they tend to think of it as things like music in the background or at least some kind of sound that reflects what is being seen on the screen.
Things like voices being able to be heard and understood, the sound of a busy street etc.
Sound Design on the other hand is the concept of adding sounds (not just sound effects) that add to the atmosphere of what is being shown and do not always have as their source of inspiration, an event directly displayed on the screen.
A sort of creepy sound or music building in the background of a night scene that suggests something bad is going to happen is an example of sound design.
It is an aspect of making videos that is often overlooked mainly because when we as video makers are looking at videos for ideas of what to do or how to do things we miss those background effects… which is exactly what the sound designer intended!
So for a little more on sound design and some good practical examples check out the video below.
YouTube Studio Setup, Walk-through and Explanation,
The two videos below are a couple of great examples of how to set up for regular production of videos taking it from the initial studio setup through to a fully uploaded video.
One of the keys to success on YouTube or any online video posting website that applies across the board is the concept of regular content creation.
If you check out any of the more successful YouTubers or Instagrammers (Yeah! They are real words!) one thing outside of the content stands out.
They ALL regularly create content frequently and on a schedule which they never deviate from.
If you are at all interested in this field or are struggling to gain traction online with your videos then you may need to address this point.
Leading from that is the fact that the only way any of these people manage to get that content created and uploaded on time and on schedule is by being set up to do it.
In these videos you are going see quite a reasonably professional setup and that's because Kevin (The Basic Filmmaker) is also a pro video producer but by his standards it is still rather pared down!
So don't look at these videos with the idea that you need all of those bits and pieces to make things work for you.
The point is that you need to have all your ducks in a row when it comes to shooting and editing your videos so you don't waste time and effort setting up and tearing down over and over again.
How to Setup, Shoot, Edit, Render and Post a Video in 20 Minutes!
Zoom Effects, Animated Text + How to do J and L cuts in Filmora!
The guys at Filmora regularly post videos offering solutions, answers and "how to's" for their users.
These are actually a pretty good source of information on editing in general as most of the things covered apply to just about any editing situation with any brand of video editor.
In the video below they cover how to execute a smooth zoom in and zoom out, how to add animations to text and how to do J Cuts and L Cuts.
Yes they are all demonstrated in Filmora but the principles are the same for any video editing software.
PowerDirector – Tips On Using The Equalizer
Cleaning up voice tracks in any video editing software or even audio editing software will invariably (or it should!) lead you to the Equalizer settings.
For most people things at this point begin to go a bit hazy with that bunch of knobs and dials and sliders sitting there screaming at you that you have no idea what you are doing!
The reality is that using the Equalizer in most cases does not require a degree in audio engineering and in fact there are only a few things you really need to know to get a better result.
Check out the video below for some tips on using the Graphic Equalizer to improve your voice over quality.
As usual this one shows the steps in CyberLink PowerDirector but the terminology is exactly the same no matter what software you are using.
CyberLink 2018 October Webinar – PowerDirector 17 and PhotoDirector 10
If you have recently purchased or upgraded to the new PowerDirector 17 version you may be aware that there have as usual been some changes and upgrades to a number of that program's features.
One of the best ways I know of to get your head around those changes or learn those new features is to check out CyberLink's once per month webinars.
In these webinars some of the senior tech guys from CyberLink get online and run through what's new and more importantly things that other users have been experiencing difficulties with.
The video below covers both the new PowerDirector version as well as the new version of PhotoDirector as well as a few bits on ColorDirector.
The part of the webinar that specifically deals with PowerDirector begins at the 17:19 mark of the video.
Mask Designer Tutorial in Cyberlink PowerDirector
The key to adding or applying a number of advanced effects in any video editing software is the ability to effectively create and manipulate masks.
It is a subject that a lot of people gloss over until they hit some kind of effect they are going for and realize it involves using masks.
At that point they have to go through the entire learning curve of using them easily.
So, in light of that maybe you might want to lift your mask game a little and discover a whole world of possibilities that become available when you can create them and use them with ease.
The video below goes into detail on using the mask designer in CyberLink PowerDirector but in reality there is not much difference between that one and any other found in comparable video editing software programs.
PowerDirector – Scene Detection Tutorial
The video below is a detailed run through of the new Scene Detection feature in CyberLink PowerDirector 17.
Scene detection features have been around for quite a while in most video editing software so I was a little surprised to find that PowerDirector had only just introduced it.
Probably the reason for that is that I rarely use scene detection and just didn't notice it was missing in the first place.
Anyway, the main reason any of us would really need to use a module like this is fairly specific but when you do have that situation arise this feature is a great time saver.
Scene detection was originally introduced in a general sense back in the day of most video being captured to .dv tapes.
Usually when you imported the contents of a tape you either ended up with one enormous video file or a bunch of video files that had been split up according to file size.
That meant you had to spend a rather lengthy amount of time stepping through the footage and manually splitting it all up into scenes.
Scene detection eradicated that step in the process by doing it automatically.
It could be done while the tape contents were being transferred or done later using the resulting imported files.
These days the only time scene detection would really be necessary is if you have acquired a video file or files that contain numerous scenes that are all part of that one file.
In this case using scene detection is sort of like using a machete to cut through jungle.
You can quickly hack your way through, separate out all the individual scenes and get on with editing.
---
---