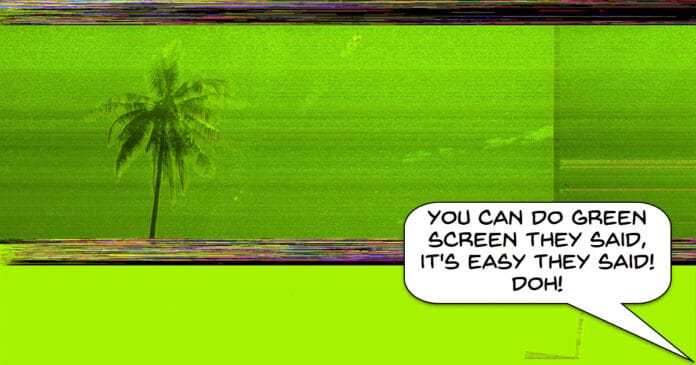 How to Green Screen (6 Easy Steps)
This is another fairly quick video on the subject of how to achieve a decent green screen effect.
I always add these videos because they tend to have at least one great little tip to help improve your results.
Green screen itself is 90% shooting and 10% post production so its always worth checking out someone else's take on it.
A long time ago I posted what I think to be just about the most complete and definitive tutorial on all things green screen from soup to nuts.
You can click here for the Ultimate Green Screen Tutorial Video the post is about half way down the page.
IsoBuster 4.6 with NTFS, USBC-SD-Corruption Fix and Speed Improvements
First up I am not going to pretend that I have the slightest clue about what the headline of the article means.
I just know it is an update and that's good enough for me!
My absolute "go to" program for when it comes to data recovery has always been Isobuster and you can see my use of it for Optical Disc Recovery here.
However since I began using it many years ago it has undergone constant updates and development.
These days it can handle data recovery not just from optical discs like DVD and Blu-ray.
It can be used for hard drives, solid state drives and all manner of memory cards.
The best part is that for many very simple tasks the free version will get the job done and it is only for more advanced stuff that you need to purchase a license.
This week the program was updated again and you can read all about those updates here.
50% off CCleaner Professional Offer
Just before publishing today I received a notification from another non-video software tool that I personally use and that's Ccleaner.
Generally speaking the free version of Ccleaner is enough to keep your computer nice and tidy and allows you to clean the registry as well.
That registry cleaner can be a life saver at time when your video editing software is playing up and you can't seem to track down the cause.
I have used the "pro" version for a few years now because it just runs in the background rather than me having to remember to run it.
Anyway, at the moment they are running a 50% off sale for the pro license and that will remain valid through to July 4Th.
You can check it out here: Ccleaner Offer.
Best Timelapse GOPRO Ever
If you have a GoPro then you will know that timelapse is not that camera's strong point.
However recently they announced access to a new set of features that you can add to certain GoPro's by using an App.
Check out the video for the technical details.
How To Color Correct Like A PRO
This is a color correction tutorial done by a professional but presented in a way that anyone can understand.
The key here is that what John says in the video about these color controls being universal is absolutely true.
He does the demo in Premiere I think but nearly all video editing software these days will have all or most of the same features.
The only feature that some of you may not have is the "Scopes" module in your editing software.
I know Pinnacle Studio has it and I think Movie Edit Pro and Movie Studio also may have them but I am not certain of this.
The point is that even if you don't have Scopes available you can still apply all the other adjustments in most editing software.
How To Start Doubling Your Channel's Watch Time
A key metric that YouTube uses to evaluate how important your channel is on the platform is "watch time."
Watch time is not how long people watch an individual video they may have uploaded.
Watch time is how long that person stays on YouTube watching your content.
It makes sense that you always should add videos that are related to your other videos so that you can increase your watch time.
Check out what Tim Schmoyer says on the subject.
What is the Best Time to Upload on YouTube
The timing of your uploads to YouTube is actually quite an important point to keep in mind if you are trying to build an audience.
If you can time it so that you upload when your existing audience is already on the service you can increase your chances of them seeing that new content or having it presented to them by YouTube.
These days with YouTube success is not a matter of a few major actions, it's all the little details that contribute to success.
Filmmaker reacts to Hollywood Camera Tricks
OK nothing to learn here folks!
This is just one of a series of a regular videos that I always include when they get posted to YouTube.
It's just a walk through of some of the coolest videos with effects that are kicking around at the moment and are great fun to watch.
How to Remove & Replace Sample Clips – CyberLink PowerDirector 18
Every time you open CyberLink PowerDirector it automatically starts a new project just like every other video editor on the market.
Part of that start up process is populating the default library window with a bunch of sample assets that come with the program.
From memory I think there are a couple of images, a few 2D video clips and I think a 3D clip of some description.
Anyway it all starts up pretty fast but yes, there is a little wait involved and that wait is usually for those samples to load up.
Personally I keep these samples in that library because I often use them when helping people debug problems they may be having.
However you may never need them and as such may want to get rid of them or at least get them out of the library.
In the video below you can see how to do that.
Wipe It Down Mirror Effect in Filmora9
The effect shown in this video is quite an important one to get into your bag of tricks.
On the surface it looks kind of simple and sure, the example they give is OK but!
If you can work this one out then you have just learned how to do what is called a "wipe transition."
That transition can be used in many many situations to create really cool, non-distractive transitions in your projects.
Quick Cloning Effect in Filmora9
The clone effect is pretty easy to pull off in just about any video editing software that offers masking or even just overlays with transparency.
It is usually just a matter of placing one clip on top of the other then making only half or so of each visible so that they look like one clip.
There are however a few points that you have to pay attention to so that the effect really works seamlessly.
First of these is having some kind of stabilization of the camera in place.
If the camera moves during the shooting then even small changes will be obvious.
The second is that if you are going to have the "clones" interact with each other then it is vital that you work out the eye lines before you get into the shoot.
If one clone is looking at the top of the other clone's head or off to some other part of the room it will not look right.
So as is the case with most effects like this, a little time spent getting the shots right will give you a much better result in the end.
Filmora9 LIVE Training
Daniel Batal is probably one of the best content creators around when it comes to learning and using Filmora9 and Filmora Pro outside of the Filmora channel itself.
About every month or so he does a live streaming event covering a whole range of subjects usually based on audience questions.
He has just posted a new one this month and as usual there is a ton of great information and advice on how to get the most out of Filmora video editing programs.
How to Transfer Videos from iPhone to PC (and Windows to iPhone)
This is an updated version of an earlier video on the same subject.
Over the years the Apple to Windows or Windows to Apple problem has persisted and this was made worse by the introduction of the Android and iPhone universes!
Fortunately there are enough smart people in the world to take on these problems and for the most part the solutions are pretty simple.