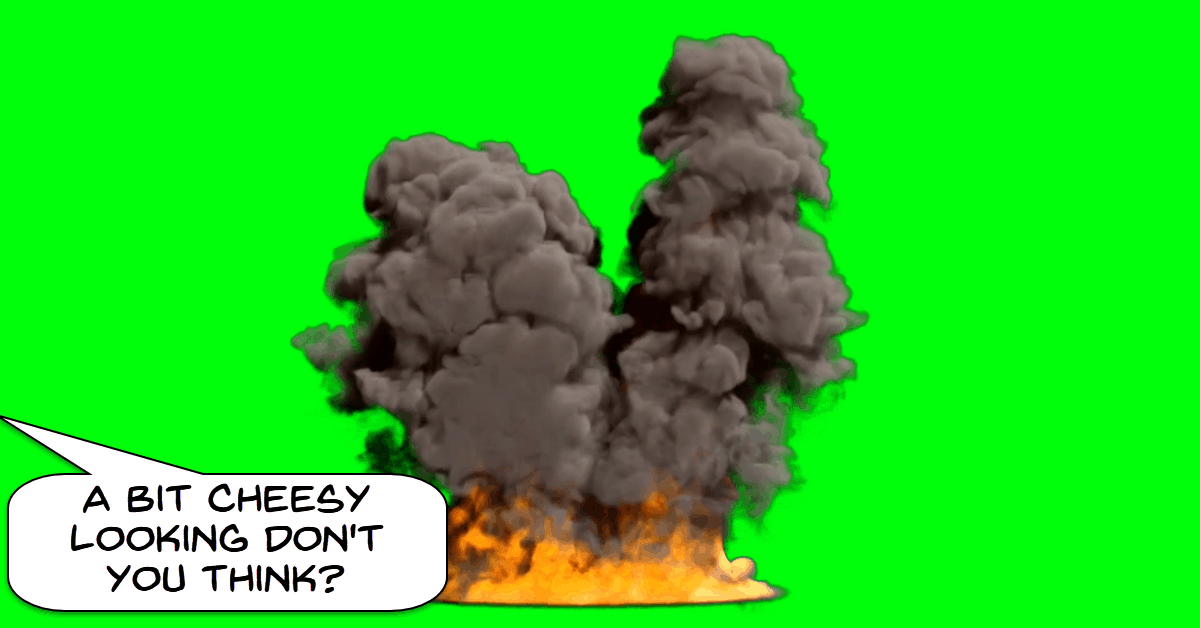 The 3 Most Common Green Screen Questions Beginners Ask
So the usual marketing guff about green screen is that because your video editing software is capable of carrying out the technical actions your success is guaranteed!
That is so far from the truth it is not funny.
The reality is that badly shot green screen footage dumped into any software that can do green screen will result in bad looking footage.
The old rule of garbage in equals garbage out still applies.
The video below covers a few of the usual green screen mistakes people make and will help you to get a much better key and better results.
If you want the full rundown on exactly what it takes then check the video underneath that one.
It is still my "go to" reference on all things green screen even though it was posted 6 years ago. In that video Kevin the Basic Filmmaker covers everything you ever needed to know and probably some stuff you didn't realize you needed to know on green screen.
---
---
How to Make your Videos more Cinematic
This is a great tutorial on the subject of capturing a more cinematic look in your videos.
It has some excellent "use now" kind of tips but more importantly some ideas for subject areas that you can use to further your knowledge.
For example he section on using seamless transitions shows how effective they can be and is a good subject for you to study further and increase your skill set.
---
5 Secrets to Shoot a Pro Interview
This is an excellent tutorial from the guys at Cinecom this week on the subject of interviews.
Now it may not necessarily be that you are going to be actually shooting an interview so bear with me here!
The tips they are outlining in the video go way further than just interview and are presented from a very practical viewpoint.
This is especially true for the equipment they suggest using, none of which involves any sort of hight end (expensive) solutions.
---
Chroma Key Text Effects – Wondershare Filmora X Tutorial
Speaking of green screen, this is a cool little effect you can create using chroma key to create an interesting text effect.
---
How To Speed Up and Slow Down a Video
This is a pretty straightforward tutorial showing how to adjust video speed in Filmora.
You can either change the speed by a percentage or change it by changing the playback time.
All video editors can this so it's no really no big deal.
The feature that Filmora does lack in this area is the ability to "speed ramp" or "time shift and make adjustments within a clip.
The difference is that with time shifting or speed ramping the speed increases or decreases incrementally until the desired playback speed occurs.
This can occur within a clip rather than for the entirety of it and results in a far smoother effect.
In Filmora whatever you choose as far as speed goes it is applied to the entire clip.
One way to work around this is to make a cut in the clip every 10 or so frames and individually change the speed of each micro clip you just created.
It's a bit fiddly but achieves the same effect.
---
How to Edit Like Zach King – CyberLink PowerDirector 19
I have added similar videos to this one before covering exactly the same Zach King effect executed in different software.
In fact if you do a search on this site you will find a few of them.
The effect itself is the old table tennis balls bouncing into a frying pan and turning into fried eggs one…. a classic!
So I have included this one this week because of two main reasons.
First of all it shows how to do the editing part in a different video editor and how it all works basically the same way.
Secondly it highlights the fact that in most of these effects the editing software is "almost" irrelevant.
Sure you need the software to finish the job but the meat and potatoes of the whole shebang is in the set up and shooting.
---
PowerDirector – Additional Action Camera Tools to Use with Time Shift
Most fully loaded video editing software like PowerDirector has a bunch of stuff presented right up front that you can use for your editing projects.
That's all great but it isn't until your start digging into some of the menus that you begin to find the little gems, the awesome features that make you think, "Gee, I didn't know it could do that!"
The video below covers the Time Shift feature that is hidden inside the Action Cam module in PowerDirector.
---
10 Basic Tips for Editing Your Next Viral TikTok Video
All those crazy kids are posting short videos on the TikTok these days so far be it for me to kill the buzz.
Here's all you need to know on how to do it.
---
---
Best Video Editing Apps for Android – 2021
Most of the video work I do requires fully fledged video editing software running on a fairly well endowed desktop computer.
The reason for that comes down to the size and nature of the files I am dealing with and the more resource intensive jobs I am doing.
As a result of that I don't generally deal with video editing Apps that run on mobile devices.
I certainly see their position in the market but for me those Apps lack features and the phones themselves lack the power I need.
So to those of you who are editing on your phones you may want to check out this video which is a pretty good rundown on the current state of the market when it comes to editing Apps for Android.
---
How Do You Get a Brand Deal?
Another marathon livestream from Daniel Batal this week this time on the subject of Brand Deals.
A Brand Deal is a financial arrangement between a YouTube Channel owner and the brand in exchange for promotion, advertising or some other consideration.
One of the difficulties in running a YouTube channel is finding ways to monetize that activity outside of the usual YouTube monetization model.
After all you have to get yourself up to some pretty good view numbers before YouTube will pay you anything and even then it doesn't amount to much at the lower levels.
Brand deals can be a great way to bridge that gap and bring in a little cash to pay the rent!
---