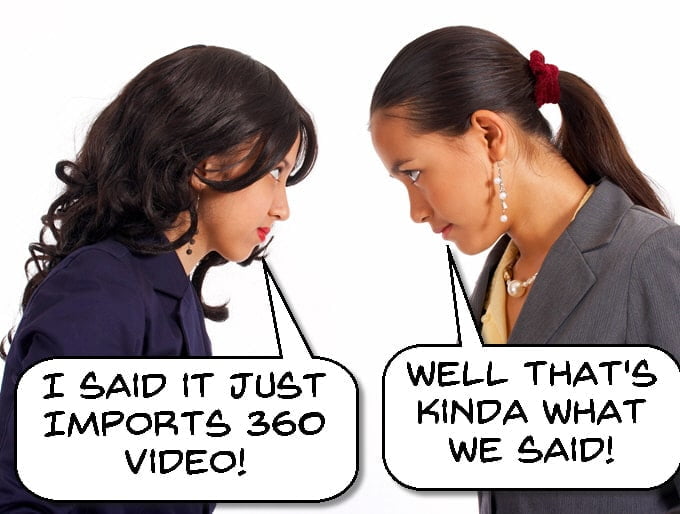 Magix Movie Edit Pro – 360° Close but No Cigar
I received a couple of comments this week and last on a subject that I think bears a little bit of a blurb.
The original comment(s) were pertaining to the the claim made by Magix for their release of Movie Edit Pro 2016.
On their website they say:
"NEW! 360° Editing

Perfectly arranged from every angle:

Movie Edit Pro 2016 Premium is the first editing program to support 360° footage.

Whether alone in the wild or in the middle of a crowd at a festival – specify the section in which the action is taking place and add it to your video."
From what they say there one gets the impression that they are offering 360° editing right?
Wrong!
What they are actually offering is the ability in the software to import video from a 360° degree project or video and then use that imported video in your usual editing workflow.
What they are not offering is the ability to import, editing and subsequently produce a 360° video file.
I have to admit when I saw this feature the first time I was pretty surprised that they had managed to achieve a full 360° video workflow in a consumer grade editing program.
However Magix have had a reputation over the years for releasing features that are on the bleeding edge of technology so who was I to argue.
In fact now knowing that the software does not produce 360° degree video files and then going back to reread the claim they make I guess I have to admit they didn't actually say that… BUT!
I also think that somewhere between the technical department of Magix and the marketing department the language of how the feature was described has been… shall we say, enhanced?
I can just see a bunch of geeky programmers at Magix wringing their hands and saying that they never said it could do that!
On of the commenters that wrote to me described this as being very similar to a "bait and switch."
To me I think that's a little harsh.
From my experience with video editing software companies I have found that generally they well understand the concept of keeping their users onside and loyal to them.
My take on this is that Magix added a new feature that no-one else at that level has, the marketing department saw it as a unique selling proposition and presented in a way that didn't really explain the limitations of it.
Image Inserts with ZOOM
A new tutorial this week from PDtoots which is a welcome return from that user.
Haven't had anything from him for a while now and I was thinking maybe PDtoots had gone into retirement.
Anyway the tutorial shown below goes into the subject of image overlays.
Now I think we can all agree that just slapping an image on the overlay track and resizing it so you can still see the video behind is a pretty straightforward task.
However it also gives a pretty bland outcome.
Adding motion to the image itself like a zoom or pan and zoom can add some interest.
However as PDtoots points out in the tutorial that has a few things you need to be aware of when trying it out so check out the video for the full show.
How to Remove Vocals from a Song Using Audacity
I came across an awesome clip this week on using Audacity to remove the voice from a music track.
Now before you get too excited let me just explain that the technique described in the video may not work for all audio tracks but given that it is a free solution who's complaining.
If you are not familiar with Audacity let me just explain a little about it.
Audacity is a free open source audio editing program that has been around for a while now and is being actively developed currently.
It may not be the prettiest software on the shelf but it lacks very little when it comes to power.
If you are interested in taking a look at it you can download it HERE for free.
In fact to get more power and features in an audio editing program you pretty much have to immediately go to the top of the heap and pay professional rates for something better.
While I am issuing warnings here I might as well mention the guy that presents the video as well.
The video comes from a guy called Mike Russell who offers courses online for budding radio DJs.
As part of his marketing efforts he also puts up some good tutorials on audio basics.
Now the warning part is that within 2 seconds of listening to him you are going to be distracted by his "radio voice."
I mean really, the guy has some serious radio voice issues going on there but don't worry too much about that. Just watch the clip and maybe of you are trying to get a vocal out of a track you have, this may work.
Slideshow and Theme Templates Tutorial
For anyone wanting to establish a regular pattern of posting videos to a YouTube Channel or even someone wanting to create a kind of "branding" for their videos this tutorial is a must.
Enclosing your video projects inside an opening sequence and a closing or ending sequence is a long established way of getting you audience to "know" they are watching your videos.
Every TV program in existence will have a long or short intro sequence that plays prior to the actual content and it will play every time.
Even shows like Seinfeld that always opened with establishment shots that varied every time always had that funky bass line playing over it so you immediately knew, you were watching the start of Seinfeld.
Making these kind of opening or closing sequences over and over is a huge waste of time and quite tedious when you could just create them once and then simply add them at the start and the beginning of each project.
In fact most of the modern video editors these days have some kind of template arrangement within them that allows you to do this and believe me it is well worth the time.
The tutorial below goes into that particular feature in PowerDirector from CyberLink but most of the others have this as well.
Keep in mind that dedicating an afternoon or an evening to the creation of sequences like this will save hours in the long run.
The same goes for creating slideshows especially when the contents of the show are going to be different each time but you still want to establish with the viewer that it is your slideshow.
This can be used effectively for onscreen presentations that were created in Powerpoint as well as for live action video demonstrating something using screen recordings.
A Time Lapse Video Tutorial
I have posted a couple of tutorials on how to both shoot specifically for time lase video as well as the subsequent steps of adding the shots or footage to an editing program and proceeding from there.
The reason I am linking to yet another of these tutorials is that because this can be a complex activity in some ways each editing program tends to deal with it in a different way.
So this week's tutorial pertains to Corel VideoStudio and its particular quirks and foibles when it comes to time lapse.
As a word of warning here there is a video at the top of the page outlining the procedure and I would strongly recommend you NOT watch it.
It was produced for VideoStudio Pro X5 which is three versions back now.
Although most of the interface and procedure is pretty much the same it is hands down one of the most godawful videos videos I have seen a professional company make!
I mean really?
You are a video editing software company Corel!
If you are going to make videos then you should at least make good ones!
Anyway, you are not doomed to watching the video to get the information on offer because it is all laid out in text form below the embedded video with nice clear images that won't hurt your eyes and ears like the video!