I wanted to devote most of this week's Friday Roundup to a particular development that unfolded during the week in the field of video cameras.
The development in question was over at Blackmagic Design which is a developer and manufacturer of high end cinema quality digital cameras that are incredibly small.
If you have ever taken a stroll around this site or even just taken a look at the menu structure you will see that although I cover lots of video stuff I never cover cameras or camcorders.
The reason for this is that keeping up with developments in that area for me alone is near to impossible with the major producers releasing new cams at an alarming rate. In fact the pace of development in this area over the past 6 or 7 years has been truly breathtaking.
I sometimes get asked questions about what particular brand or model of camcorder a person should get and to be honest I generally have no idea!
In fact my current camcorder is woefully out of date and the thought of re-entering the camcorder review fray to make a decision is probably the real reason I haven't bothered!
Well… maybe that and the fact that I would have to run the purchase past my wife first.
It seems like not a week goes by that I hear of some product that has surpassed the existing standards of what can be achieved by a camcorder or still cam in recording video and no sooner than I think I might get it than suddenly something bigger and better comes along.
Well this week something way bigger and way better came along that I think will change the entire landscape of what a consumer level videographer can expect to get within his or her price range.
The product in question pictured below and is called the Blackmagic Pocket Cinema Camera.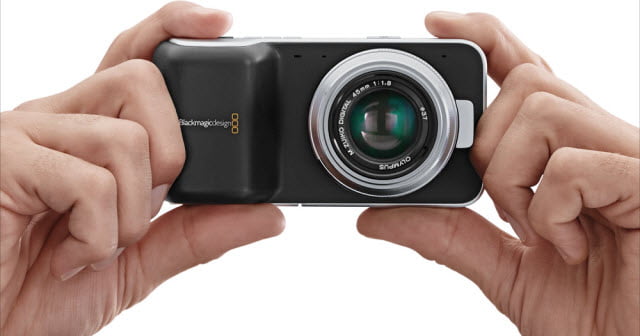 So What's the Big Deal?
For years at the consumer level the big players like Sony, Canon etc. have been dictating the speed at which high end developments filter their way down to the average user.
Although this has been occurring, as I mentioned before, at a rate of knots the truth is that they have been throttling back on those releases to fit their profit driven schedules.
I have no real problem with that per se. They are commercial enterprises and have to turn a profit to keep going.
However every once in a while a rowdy young upstart enters the arena and decided to simply ignore what everyone else is doing and, for want of a better term, drops a huge turd on their cozy little arrangement!
This is exactly what Blackmagic have done… only it doesn't smell like a turd! It smells just fine!
They have created and are about to release and ship in July of this year a 4K resolution consumer level video camera that will most likely take shots that would rival any pro-level video camera for just under $1000.00.
There is no need to go into all the actual features here but from where I am sitting that little cam looks absolutely gobsmacking!
If you are about to invest in a video cam or are thinking of upgrading I would strongly recommend holding off until this baby ships and some reviews come in.
It is also interesting to note that the major editing software producers have been adding the ability to deal with 4K resolution clips for a year now.
With this new cam it looks like consumer level editors will finally be able to see if they work!
Click Here to See the Full Specs of the Blackmagic Pocket Cinema Camera
Other News This Week
A new video tutorial from PDToots on applying the Word Mask Effect in PowerDirector
"Speaking of gyro-stabilizers, it's very rare that I look at a demo video of new gear with my jaw all the way on the floor, but after watching one for the new handheld stabilizing system called the MōVi, I simply couldn't help myself."
Another in the series from WebvideoCrew on the state of customer service at YouTube
"YouTube Customer Service: Social Media Advertising Part III. Today, there are literally hundreds of places where you can upload and share your company and product videos. However, regardless of how many video-sharing sites appear, only one reign supreme—YouTube."
YouTube Introduces the lowest of low-res formats for viewing
"What Is This 144p Stuff, YouTube?  It seems a little counter-intuitive I suppose, but YouTube has just introduced a low 144p resolution into certain videos in the past few days. Truly, 144p is an absolute "last resort" when it comes to watching video, or a first resort for those who have slow internet connection speeds. It looks pretty awful in a world used to watching things in HD, but it also looks pretty awful to people who watched video online in 1999."
How to Link YouTube and Google+ Pages, Multi-Admin Management Now Possible
Essential Guides for Getting Started in Camtasia & Snagit
This weeks resources: