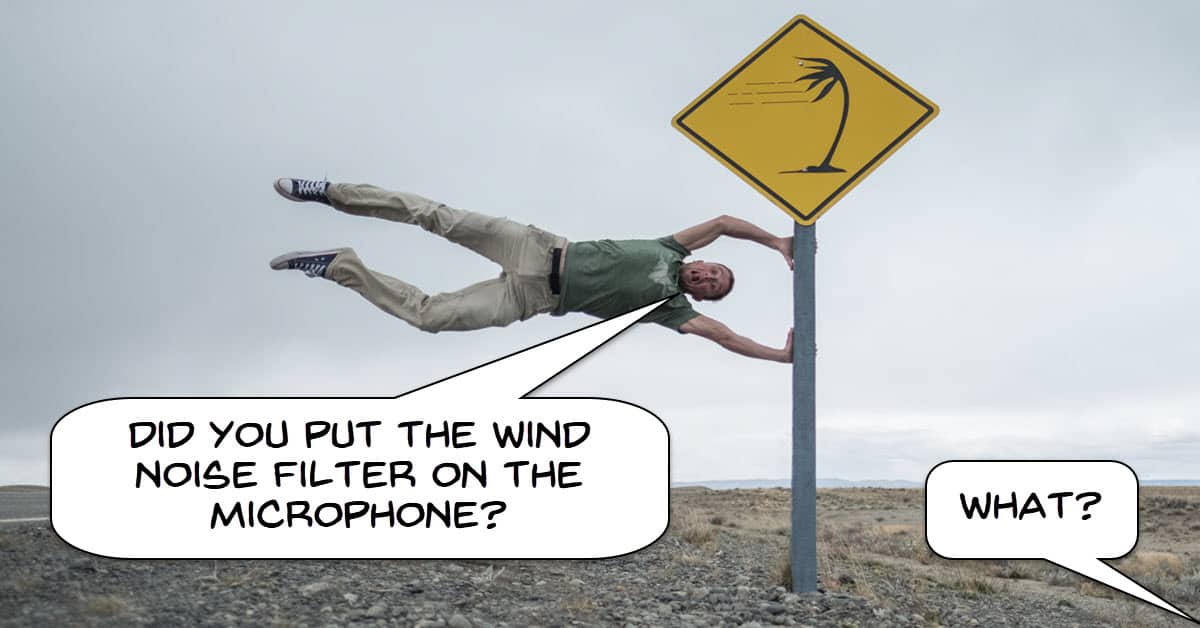 How to Improve the Audio Quality of a Built-in Camera Microphone
It is quite well known that the audio quality you are going to get from an inbuilt microphone on a camera or even a smart phone is going to be low.
However that often has to be accepted as a trade off when you have nothing else to work with.
In the video below you can see some tips for at least getting the best quality you can out out of one of these on-board mics.
At one point he mentions taping a lens cleaner over the mic if you are outdoors to cut down wind noise.
This is probably fine on days when there is next to no wind but won't really achieve much on a windy day.
Onboard mics are very, very susceptible to picking up wind noise.
To really handle that problem check out this post here on a D.I.Y. Wind Noise Solution that you can make for yourself for next to nothing.
---
10 On-Camera Tips – How to Look & Sound Better
Good ol' Kev over at the Basic Filmmaker tends to go a little too professional at times for me to include him in the Friday Roundup.
However this week as is his habit he put out a more basic video covering one of my pet hates… being in front of the camera.
Some great tips and advice here on getting that monkey off your back!
---
Film At Home! EASY Hacks and DIY Tips
A few hacks here you can use at home to achieve a better lighting setup.
It shows how to make easy flags, spots and diffusers from stuff you probably already have laying around the house.
---
PowerDirector – Create an Open or Shut Video Transition with a Mask
This is a slightly more advanced tutorial on using masks to reveal videos within in this case, a titling sequence.
Even if you don't really have the need for a title like this the technique is well worth watching and learning.
There are many other ways to use sequences like this.
---
5 Green Screen Tricks You Should Know – CyberLink PowerDirector 19
This is actually a little "roundup" video from PowerDirector University this week.
Maliek quickly covers three green screen effects he has previously released tutorials for.
If you want to learn more about each one just click through to the video on YouTube and he has placed links in the description.
---
How to Make a Stop-Motion Video: 7 Easy Steps
This is a quite comprehensive article over on the Movavi blog on the subject of Stop Motion videos.
I think it covers the basics of the subject quite well and should be enough to get you going successfully if that what you want to do.
These is only one element missing and is the one that keeps me from doing anything like this… patience!
---
Best Free Timelapse Software 2021
This is a brief rundown on the current state of dedicated and basically free Time Lapse software.
Most of the free options come with a few caveats mainly based on output size based on either resolution or the number of images you can process.
Consumer grade video editing software generally has some kind of Time Lapse solution already so you may want to check your own brand first.
Just one final point on his recommendation for DaVinci Resolve.
Whilst I fully agree with Resolve being an awesome piece of software even at the free level just bear in mind it requires a hefty computer setup to run it efficiently.
---
Parallax Effect – Filmmaking Tutorial
An excellent explanation and tutorial on creating and using the Parallax Effect when shooting videos.
---
5 Editing Mistakes YouTubers Do That Annoy Me
This is from a guy who as far as his own YouTube Channel goes, is very new.
However on a professional level he is seriously well credentialed.
He is the content editor for Logan Paul and has been editing Logan's content for quite a while now.
Now regardless as to whether you like Logan Paul or not the truth is that his content is put together very well.
I have only added two of his videos over that past few weeks but they are absolutely jammed packed with great tips for tightening up your edits.
Well worth watching and following.
---
How To Grow on YouTube with Roberto Blake – Q&A
The realities of starting up and running a YouTube Channel successfully have dramatically changed over time.
A long time ago all you pretty much had to do was to post some videos and you were up and running!
These days that is not going to cut it!
Like most activities on the internet it has grown and with that growth has come the need to be professional about it.
If you are looking at YouTube as a hobby then that's perfectly OK.
But it is only OK if you are expecting the kind of attention and returns that you would expect from a hobby!
If your expectations are higher than that then the degree to which you meet those expectations will depend on how professionally you approach the task.
---