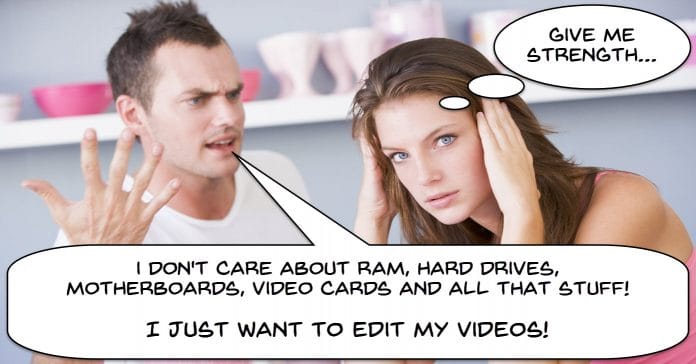 Buying a PC for Video Editing: What You Need to Know!
On a pretty regular basis I get a lot of questions on this site regarding suitable specs for a computer editing videos.
Just as often I get requests for help in debugging editing problems which in turn invariably lead us back to the same subject of specs for an editing computer!
Factually speaking in almost every case I come across of a user complaining that their video editing software is failing, glitching or doing something weird, the answer to the problem comes down to computer resources and not necessarily the software itself.
Given the vast range of computer specs and alternatives that are on the market these days it would be impossible for me to be able to recommend one computer or even one type of computer.
The reality is that in trying to work out what kind of computer to get or what component specifications you need there is nothing that will help you better than understanding how they all fit together.
There are five things you need to consider and understand how each one can be judged individually and as part of the whole setup.
They are RAM, Storage (hard drives or solid state drives), CPU, Video Card and Motherboard.
For a complete explanation of each one and how it affects your editing experience check out the video below.
However before you do that there is one "non-negotiable" in all of this given we are now firmly in the age of high definition and highly compressed files.
That point is having a 64bit operating system.
Up until now 32bit was still being treated by software makers as a legitimate consideration but as of now all that is going to change.
As we move into 4K and even 8K video availability at the consumer end of the market it is going to become more and more unfeasible to expect these systems to handle the load.
64bit is the way of the future and although there will be support for 32bit for another year or two the writing is on the wall.
This week Nvidia announced on their website HERE that they would be phasing out driver support for 32bit systems.
That is the first statement of its kind I have read so far from any software company but you can be sure there will be more to come.
How Sound Can Ruin or Save a Film
I quite commonly add content in the Friday Roundup on the subject of audio for video and probably just as often use that tired old quote that the most important part of video is audio.
These days most of the better video editing software solutions have quite good ability to allow you to exercise exceptional control over your audio tracks.
So given that fact, there is no excuse!
This week I came across a video by a pro filmmaker, Tom Antos who also does a lot of teaching as well.
The video below will give you some idea of the importance that he and all professionals place on the audio of there films as well as being an interesting insight into all the hows and whys of editing audio in a video project.
A Little on Closed Captions
Probably one of the most overlooked points to consider when you are uploading to YouTube or similar services is that of closed captions.
To a lot of people they may seem like something "good to do" but not essential.
Now quite aside from making your videos more accessible to hearing impaired viewers there is another unseen advantage to taking the time to add them.
Despite most of the common search engines having made enormous advances in their ability to intelligently understand online content, the one thing none of them can do is watch a video and know what it is all about.
Bear in mind that when we are talking about major search engines YouTube's search algorithm is squarely located within that group.
The only way YouTube or any other search engine can determine the contents of a video is by "reading" the title, the description and the tags that are attached to it.
Given the millions and millions of videos sitting on YouTube at the moment and the thousands being uploaded every hour it is simply impossible for them to have humans check every video and report what it consists of.
One of the biggest boosts you can give to any video is to have the contents transcribed and formed into closed captions because the search engines CAN read those.
Just as an aside here, the difference between Closed Captions and Subtitles is very small.
Closed Captions contain extra information specifically aimed at the hearing impaired so they do not only have the dialogue displayed on the screen but also audible "events" such as [Sound of door closing.] or [Wind howling outside] so as to provide a more complete viewing experience.
On the other hand subtitles simply display any dialogue as it is happening.
So now we understand the importance here's the bad news!
When you upload to YouTube they will automatically create a Closed Caption file using their voice recognition software.
99.9999% of the time it will be complete rubbish and understandable by no-one!
In order to do your own you will have to transcribe your video manually, create a text file of that transcript and upload it to YouTube. Then have YouTube re-run the voice recognition program using your transcript as a reference and then finally you will have to watch the video again to check it is all OK.
It is a time consuming step and although well worth the effort, not really what most of us signed up for!
You can see my full instructions for Closed Caption here.
Or you could click the link below (not affiliated in any way) and check out a new service that offers to do the whole shebang for $1 per minute, which I think is an awesome deal!
Tarting up Your Time Lapses!
So if you are looking to lift your time-lapse game then the article linked below may be what you are looking for!
If you already have the basics of creating a fixed point time-lapse down pat then there are two ways you can lift them to a higher level.
The first is to turn them into hyper-lapses by changing the position of the camera as you are capturing and the second one is by adjusting the focal length of focus points as that movement is occurring.
Rather than listen to me babble on about it it incoherently, just click the link below for a run through of the procedure.
Don't worry about the fact that the clip on the page is a poorly veiled ad for all the equipment being used, just get the information you need!
A Little Glitch Over at Pinnacle!
Oops! It looks like the guys over at Pinnacle have slipped up a bit!
Recently they released an update and patch for Pinnacle Studio 21 as part of their general updating and bug squashing routine.
At the time I downloaded it and installed and was surprised to find that I suddenly had access to a new Color Match module!
This is the same kind of function that PowerDirector and Magix offer in their products.
Basically it takes a color profile of one clip and allows you to apply it to other clips in your projects like a sort of down and dirty color grading tool.
It is actually a huge time saver and in the Magix and CyberLink products, works very well.
I was also kind of surprised that Pinnacle has released the new module without at least a bit of a fanfare announcement or some kind of communication.
Anyway I tried to use it and quite soon all hell broke loose with the module being as glitchy as all get out!
I didn't really give it much thought at the time and figured it was another example of a half baked idea being released to wow the masses.
Well it turns out I was only partially correct in that assumption.
Yes it was a half baked module but no, it wasn't released to wow the masses.
In fact it wasn't supposed to be released in any way shape or form because they knew it was still half baked!
Pinnacle have acknowledged the error and explained what happened in the link below.
However there should be no prizes for guessing what their next big release will be!
How To Make a GiF Animation!
OK, so a couple of months back I wanted to create a GIF for the site to head up one of my Friday Roundups.
I found a great little piece of video and was all set to go when I discovered things were not going to go as easily as I had imagined!
I kind of assumed this would be a bit of a no-brainer so opened up my usual video editor, dumped the file on the timeline, trimmed it to the little section I wanted and went to export it.
Problem was, there was no output format for GIFs!
I looked all over the place inside the interface but no, no GIFs for you today!
Fortunately my computer has no shortage of alternate video editing software so I went to the next… and then the next… and then the next and none of them offered GIF as an output format!.
I was pretty surprised by that!
So in the end and as a last report I opened up Filmora thinking that if those fancy schmancy other ones can't do it then it would be doubtful Filmora could. Not so!
Sure enough there it was in plain view in the Export section offering full control over the output.
Anyway, check the video below for a simple run through on creating GIFs in Filmora.
---
---