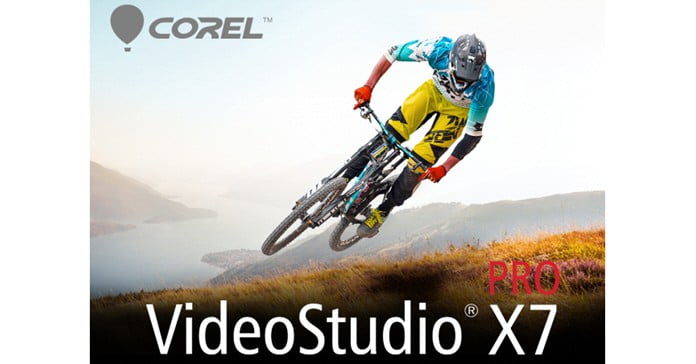 Well it's the first of this years updates to the better video editing software choices and so we kick off with Corel's VideoStudio.
Last year VideoStudio Pro X6 was my number two choice at the consumer end of the market with it's position at number two only coming down really to niggly little points.
I will get to a full review of this new release which takes us to version X7, next week but in the meantime here is a brief overview of what's new and what they have improved.
* Since writing this post I have completed the full VideoStudio review and you can see it by clicking HERE or on the link in the left menu.
64-bit Rebuild
First up the most important new feature is that the software has been entirely rebuilt on 64-bit architecture.
Although from a marketing point of view this may not exactly scream sex appeal the benefits are enormous.
Using this architecture allows the program to access the full compliment of RAM available on any computer as well as adding performance and stability enhancement.
Redesigned Interface
They have reworked the user interface (which was OK anyway) with a sharper, cleaner look and have made objects, folders etc. easier to distinguish with a brighter color scheme while at the same time giving the library a cleaner look.
The Share work-space has been reorganized to allow for more intuitive and more customizable sharing and in the Edit work-space, the timeline has been made easier to use.
Smart Render
The Smart Render capabilities now extend to Ultra HD (4K) files which in a nutshell can inspect a given project, analyse the contents and come up with the optimum rendering solution based on output requirements.
Easy Editing
Finally! They have trashed the module based, semi-automatic project creation feature and replaced it with a feature they call Corel FastFlick.
This is essentially what the previous one was supposed to do but now it actually works by providing a simple three step wizard based project creation module.
Custom Naming for Video
Hallelujah and Praise Be to the Gods of Editing!
Man this took years to get done!
One of the greatest annoyances of VideoStudio was that when you import files it would give those files the most nonsensical, numerical files names known to mankind. Can you tell this used to really annoy me?
Anyway, once you had all these files imported into a library, trying to work out which was which was impossible and the only way to deal with it was to inspect each file individually to see what it was.
It was an organizational disaster that made editing a complete headache.
So now they have fixed to so you can name files as they imported and in a way that gives you a clue as to what they are or where they were captured.
Anyway there is lots more to discuss on Corel VideoStudio Pro X7 which I will cover in depth next week in a full review.
In the meantime here is a video from Corel outlining the new version:
What's New in Corel VideoStudio X7
Other News and Stuff
Lighting Tutorials
As per usual another great lighting tutorial from VideoMaker and in this one they make a particularly good point regarding HD video.
Whilst we can all sit back and marvel at the quality of a well shot HD video the truth is that HD has the unfortunate habit of accenting the bad points just as effectively as the good!
It makes it increasingly important to be able to arrange your shots effectively given the resources you have available.
Infinite Black Backgrounds
OK so a pretty common style of special effects shooting that we see all the time is green screen.
And of course the key to green screen is the lighting so that you can accurately key out the green later in post production.
There is another effect you can create that is a little more technical but a whole lot more interesting and that is creating an infinite black background.
The main character or subject is clearly visible against an all black backdrop that suggests an infinite depth to the shot.
Take a look at this tutorial and maybe have a play with the concepts involved to see what you end up with.
Are You Looking at My Titles?
Pro titles are called "pro" because they just look different.
Ever noticed how you can get the exact same font on to one of your projects and still somehow you don't get that "pro" look?
Well the devil is in the details so read on!
6K Video Now?
6K? Really?
Just when you thought the whole 4K thingy was going to lead to all sorts of learning headaches, apparently we are now going to get it worse!
OK, this is a cinema standard camera being discussed but you know this will eventually filter down to us at the bottom of the food chain!