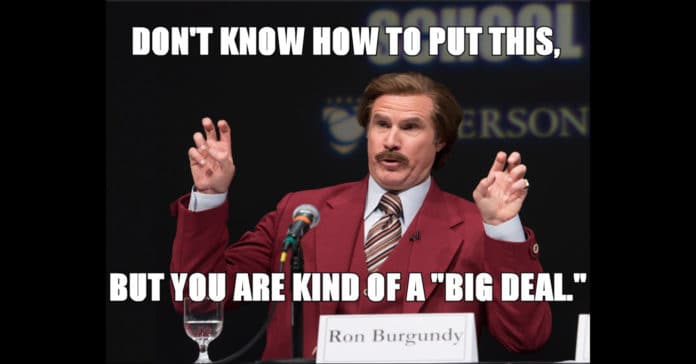 You Are a Big Deal! (YouTube Academy Course Excerpt)
One of the easiest way to get discouraged about engaging in just about any activity is the false idea that "it has been done before."
This is particularly relevant to the idea of starting or working on a YouTube Channel of your own but can be applied in a much broader sense.
The idea that a platform that has over 1.5 Billion users and growing is somehow "over saturated" with whatever it is that you want to do is ridiculous!
So if you have been toying with the idea that you may want to start a YouTube Channel then check this video out for a reality check.
If you already have a YouTube presence and you want to build it or lift it up to a higher level then I would strongly recommend you check out Kevin's course on doing that.
He is the real deal.
Tips to Effectively Speed Ramp Your Videos
This is a tutorial that is essentially carried out using Premiere Pro however as is the case with most effects, the software is irrelevant.
The main reason I have included this one is because it is more of a tutorial on when or why to use the effect rather than how to do it.
For anyone uncertain about what Speed Ramping actually is here's a little explanation.
Speed Ramping is sometimes also referred to as Time Remapping and it is that effect most of you have probably seen in the movie The Matrix.
It is when the action of a clip or sequence is slowed down or sped up during the clip or sequence for dramatic effect.
So in the Matrix you often saw it used when a bullet was fired at someone and the video was playing at normal speed.
Then the action is dramatically slowed down while the person being shot at dodges the bullet.
Then the action returns to normal pace.
Some software has the ability to do this as a specific feature usually contained within a dedicated module or section of the user interface.
However just because your particular software does not appear to have that does not mean you can't do it.
To carry out a speed ramp effect you need to have the ability to slow down or speed up clips and preferably the ability to use keyframes in conjunction with changes in playback speed.
Even if you only have the ability to adjust playback speed you can still do it by simply cutting the clip into sections then applying speed changes to each of the clips.
Color Correction For Beginners – Basic Color Grading Concepts
This is an awesome video from Casey Faris on a subject that to many people is a complete mystery.
As a little background here Casey is the person I go to whenever I want to know anything about DaVinci Resolve.
He has a huge YouTube Channel full of tutorials on that software and his videos are of an excellent quality when it comes to teaching.
The most important part of this video is not necessarily what he is doing in Resolve.
Most software will have at least some of the features shown if not all.
The important part is his excellent explanations on the why of things and most importantly when you should just leave things alone!
Deepfake Tutorial: A Beginners Guide (using DeepFace Lab)
This is a complete, end-to-end run through of creating a deepfake video.
For those of you living under a rock or who have just emerged, a Deepfake video is a video where one person's face has been superimposed over another person in a video clip.
You can see some great examples here.
Anyway it is time consuming, complex and labor intensive but the results can be pretty awesome or pretty weird depending on what you are going for!
Apart form actually knowing what to do it also requires specialist software but the good news is that if you go to the video below all the resources you will need can be found there… and its all free!
Watch the video, see what you think and maybe try your own deepfake.
Translate Text In Video – Filmora9 Tutorial
Although the title of this one lays it out as a "Filmora9" tutorial, that's not strictly what is going on here.
More than anything it is a quite thorough run through of using the Google Translate service to add titles and captions to your projects in other languages.
Each brand of software you may come across will have a slightly different look to how you achieve this but the concepts are universal and of course, Google Translate is not platform dependent.
PowerDirector – Keep Subject in Color – All Else B&W with Motion
This is the follow up video to the one I posted last week on the subject of retaining a main character or main subject in color while everything else goes to black and white.
In the original tutorial the target was to get the background to go to black and white as the video ended and also as a still frame.
In this video the object is to have the pretty much the same thing happening but not as a single still frame at the end.
This time the subject is retained in color while the background is black and white through the video in its entirety.
It is done in CyberLink Color Director but in reality if you watch the video you will see that most editing software can pull this off.
DIY Camera Slider vs. Professional Camera Slider
A great way to get some interesting shot when you are in a relatively controlled environment is by using a slider.
The reason it adds interest to those shots is because of the camera movement but of course we all know that moving the camera handheld can give you rather mixed results.
That's why the pro's use sliders. On the other hand going out and buying a slider is probably not really worth the money if it is something you are not going to be using all the time.
One way to to have your slider and eat it too is to use regular household objects to achieve the same effect.
Check out the video below for a few suggestions on how to substitute a few things you have around the house to mimic the effect of a slider.