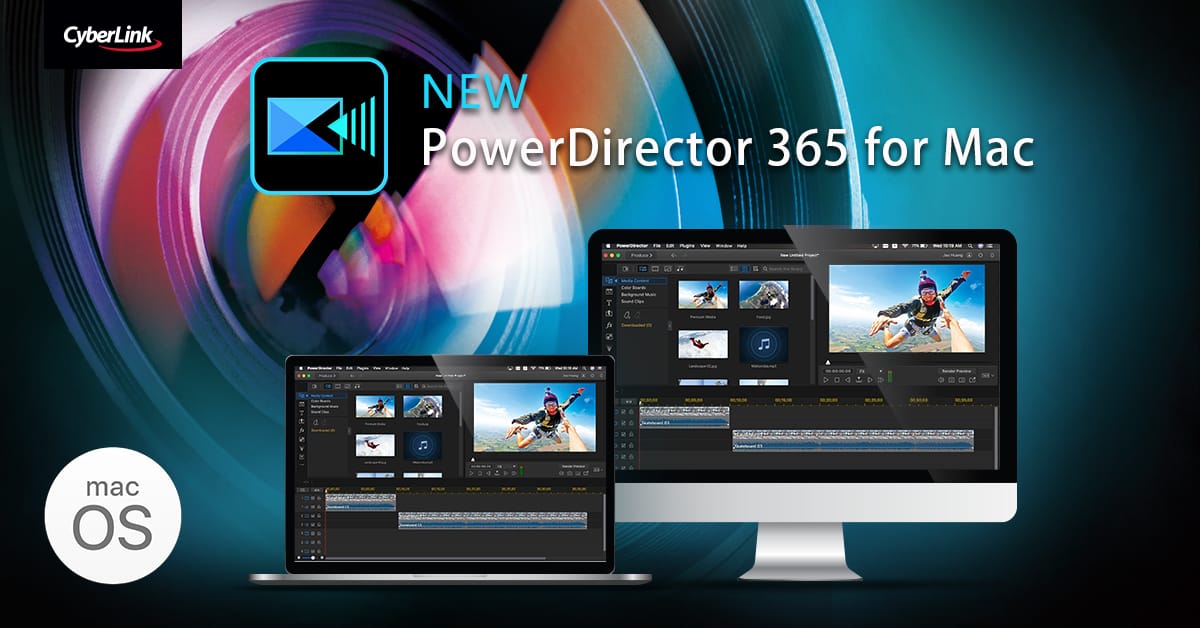 CyberLink Launches PowerDirector 365 for MacOS
So the big news out of CyberLink this week was the release of their flagship video editing solution PowerDirector, in a version for Mac.
So far this only seems to be for the PowerDirector 365 subscription version and not the standalone perpetual license one.
And of course we have to have the obligatory wizzbang promo video from the marketing department!
Adobe Stock Launches 70k+ Free Assets
I meant to add this a week or so back but like many things at my house it seems to have slipped down the back of the sofa.
So, better late than never!
Adobe have for some time now been operating an online resource library for various assets such as images, stock footage etc.
As is Adobe's habit, access to those assets has always been on a paid basis and as is Adobe's other habit the prices have been… adventurous?
Anyway they have finally come to the party and decided to chill out a bit and make quite a large chunk of those assets free for everyone to use.
The quote from Adobe reads as follows:
"The free assets are sourced from the world class Adobe Stock collection and come with the same commercial licenses as our paid assets. Customers licensing free content from Adobe Stock can use this content in their personal, business, or commercial projects."
To take advantage of this resource just go to this link here Free Stock Stuff and just do a search.
Make sure you have "Free" chosen as a filter to the left of the search box and you are good to go.
Practical Tips for Filming on the Beach
There are some very specific problems and opportunities presented to you when you happen to be shooting video by the water especially at beaches.
Very often you may feel inspired by what you see at the beach but when it comes to capturing footage the results can often be a little disappointing.
There are some simple reasons for that and there are solutions just as simple in dealing with those specific problems.
Are Tutorials Making Your Videos Worse?
I was particularly interested in this video Zach Ramelan posted this week because it drew attention to a sort of "good news bad news" scenario playing out at the moment.
Right now if you are looking to learn how to edit or shoot videos there are probably hundred of thousands of video tutorials on YouTube alone that you can watch.
So the good news is definitely that there is no shortage of resources available to anyone on the subject these days.
The "bad news" is a problem in two parts.
The first is that none of those tutorials are organized in any sensible way especially from the point of view of providing some kind of gradient approach to learning in a complete sense.
It is just a bunch of randomly uploaded videos more or less related to the subjects of editing videos or shooting them.
This lack of structure makes the chances of becoming lost or overwhelmed quite real if not inevitable.
The second part of the problem is that those videos are an open invitation to endlessly just watch videos about making videos!
So, how do we make sense of it?
The best advice I can give is to structure your learning process from the beginning.
Isolate what the basic skills and tasks are for creating videos and only watch videos related to that.
Once you have watched a video, replicate what was taught in that video and do it a few times until you really know it.
Only when you have become competent in carrying out that task or applying that skill do you move to the next one.
Once your basics are in go wider in the subject but at all times repeat that pattern of watching then replicating.
Different Aspect Ratios
An interesting article this week on the subject of different aspect ratios which is rather timely given the current state of play.
Many years ago at the amateur level the only real choice was 4:3.
That may not have been the best looking aspect ratio around but having only one to choose from really simplified things!
Eventually widescreen was introduced at 16:9 and for years the rule was that you always shoot in widescreen.
These days the landscape (OK I am aware of the pun there!) has changed dramatically with 16:9, 1:1, 9:16 and even 21:9 available at all levels of video production.
The article linked below gives a good overview of how each of those aspect ratios will affect the final output and what the viewer will see on the screen but there is one key takeaway.
Any time you are going to be producing at a different aspect ratio than what you used to shoot with will dramatically influence how the shots look.
If it is at all possible you should try to shoot at the target aspect ratio or at least with that aspect ratio in mind.
3 Tips for Editing a Vlog
Although Casey set out in this video to confine himself to skills specific to Vlogs I think most of what he says here applies to video making in general.
Well worth watching.
Filmora X Map Animation with Moving Plane
A while back Daniel Battal uploaded a video tutorial done in Filmora 9 on how to create a travel map.
The tutorial itself was perfectly fine but he was restricted to some degree by a missing feature at that time which was keyframing or at least the specific keyframing needed.
Since then more advanced keyframing has been added to the newer version Filmora X.
So to complete the whole thing Daniel has reworked that original video to show how to create the map animation whilst adding a little airplane to the travel route to make it all look a whole lot better.
PowerDirector – Make a Lower Third with the Backdrop Tool in the Title Designer
As is the case with most video editing software these days when it comes to achieving various effects there is usually more than one way to skin a cat.
In this tutorial you can learn how to create effective lower thirds by using the Backdrop tool rather than the usual Titling Module.
5 Easy Tips to Change Color in Your Video – PowerDirector
Holey Moley CyberLink seem to have decided to engage some humans in the process of creating some "How to" video on their YouTube channel… woohoo!
Even I can follow along with this one and do the steps described!
Basically it is a run through of some of the color tools in PowerDirector and gives a pretty good overview with examples of the sort of stuff you can do.
Best YouTube Render Settings in Resolve 17
This is an interesting experiment done by Casey Faris in DaVinci Resolve trying to work out the best render settings for a video destined for YouTube.
This is not necessarily confined to people only using Resolve as it contains some great general information on how to upload to YouTube and retain the best possible quality.