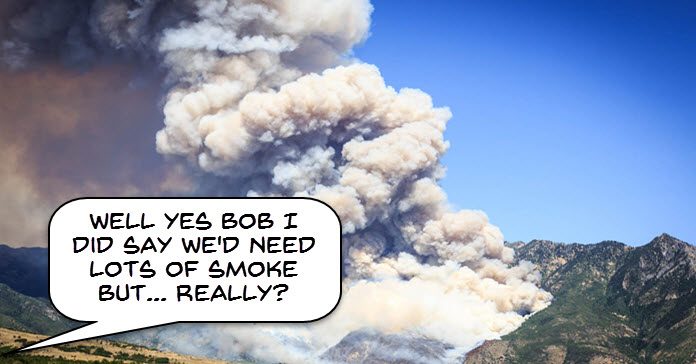 Simple DIY Smoke for Videos and Photos
So this is a simple little technique to sock away in your bag of tricks for effects.
It is an easy way to create a smoke effect in your projects without having to resort to hiring an industrial grade smoke machine or resorting to cheesy pre-packaged effects in your video editor.
Meaning Behind Camera Movement
When professional video cameramen, directors or editors are adding camera movement to a scene or shot they are (hopefully) doing for a reason.
They understand that certain camera movements will add to or change the audience perception of the action and that it will have an emotional or psychological effect on the viewer.
On the other hand, very often when you or I are adding camera movement to a shot or scene it is most likely because we are trying desperately to keep up with the subject or at least keep it all in the frame!
That's the reason why very often at an amateur level a shot or scene, whilst faithfully conveying the action, somehow seems to just "not sit right" when played back.
Mismatches between movement and action or subject matter work at a very basic level to make what the viewer is watching seem somehow wrong or uncomfortable.
Now the advantage the pro always has is that he or she works in an environment that is usually subject to a very high level of control.
Whereas you and I are usually shooting in situations where the word control has absolutely no meaning at all!
So as is the case with a lot of the pro level videos or tips I include in the Friday Roundup each week the one below is here because I think we are all going to go out and directly use it.
It is included on the basis that at least having an understanding of what camera movement does to a shot will give you a little more insight into shooting and editing at a higher level.
Timelapse Tutorial
Came across this rather simple technique for creating a timelapse video from Filmora this week.
Now it is important to note that the technique being shown here is a very simplified way of getting the video done.
Essentially it is just using the playback speed function in the editing software to dramatically speed up the footage taken to make it look like a time lapse video.
The imitation of this technique is that whatever you are shooting to make the timelapse has to start and finish within the time the camera can continuously record.
If your camera can only record for 10 minutes continuously before running out of memory or for some other technical reason then that's going to be the time limit in which the action has to occur.
Of course this really isn't "true" time lapse but for short events it certainly does the job.
A "true" time lapse is when you set the camera up to take still photos or short video bursts over an extended period of time.
This can be hours or day or even weeks.
To accomplish that kind of project is an entirely different matter.
The Versatile Use Of Central Framing
In another part of this week's post there is reference to a short and very informative video on using the rule of thirds to shoot more interesting footage.
In that part of the post I mention that the rule of thirds, even though it is referred to as such is not really a rule.
It's more a guideline or perspective on how to frame shots in a way that keeps the viewer engaged.
However just like the english language, for every rule there is an exception and in this case we have a concept called "central framing."
As you have probably worked out by the name, it is the concept of using very centralised positioning of the subject to enhance each shot in a particular way.
Rather than have me bang on about it you can understand it better by checking out the video below.
Or, you could watch every Wes Anderson movie ever made to see how it works!
The Rule of Thirds in 5 minutes – Creating More Dynamic Framing
One of the most important and basic rules or concepts in the field of shooting video is the rule of thirds.
You can see my post on it here to get a clearer picture of it but essentially it is the idea of placing the subject you are shooting off from the absolute dead center of the frame.
It is a concept that predates videos, movies and even photography and has it roots in Renaissance art.
There are mountains of information on it and how it works and how it can be used but I think the video below sums it up very concisely and gives some great examples.
YouTube Playlists: The Most Underutilized Feature on YouTube
Quite some time ago I put together a series of posts on how to effectively get your videos posted onto YouTube in a way that would maximize your chances of garnering an audience.
All in all it's about six pages long and covers everything from creating a Channel and optimizing it through to some advanced techniques for getting your videos in front of an audience.
You can check that series out here: Getting Your Videos Online.
One point I made in those videos was about the creation of playlists and it is interesting for me to note that many YouTube users either remain unaware of this feature or perhaps unaware of its power.
So, what's the deal with Playlists? Glad you asked!
When you create a channel on YouTube it is easiest to imagine it as being a conventional website with the main channel page being the front page of the website.
Now if you just keep adding videos to that channel like most people do then it works the same as a website.
Just an endless stream of videos being added one after another.
However if you look at a conventional website you will notice that it is not done that way.
A website will have a Homepage that kind of lays out the topic of the site then it will have a series of Categories which are like subdivisions of the main topic.
In the world of YouTube, Playlists serve this exact function.
So why is this important.
Well the answer to that lies in the basic problem YouTube has in organizing itself.
YouTube software can't "watch" videos and work out what they are about and they certainly can't employ humans to do that given the amount of video being uploaded on a daily basis!
What they have to do is rely enormously on the uploader marking that video clearly with titles and descriptions that convey what the contents of the video are.
Another way to do this is by the user grouping videos of a similar subject together and clearly saying to YouTube, "Here are a bunch of videos on this subject."
YouTube loves that you do that for them and will reward you having done it. How do you do it? Playlists.
What's Foley Anyway?
Have you ever sat there after a movie watching the seemingly endless credits roll by thinking to yourself, "What the hell are are all those people doing?"
OK, maybe that just me.
Anyway I always used to look at the jobs people do and for the most part could imagine what it was… except for one.
Foley Artist.
So in the interests of completeness here's a link to a video showing exactly what a foley artist does!
Back to Basics
One of the things I tend to forget when I am relentlessly searching the internets for interesting stuff to post about is a grip on the basics.or the fundamentals.
Week after week I get subjected to more and more advanced information in more and more specialized areas.
Now for me that's great because I am interested in those things and already have a natural geek tendency.
However the actual point of this website is to cut through all that and isolate the information that is useful to the less experienced editor or shooter or the absolute newbie.
So just to make sure I am staying true to the course the following article is just that, a restatement of the absolute basics of creating video.
It is a simple and straightforward list of things you need and things to do in that process.
Just as a sidenote though, they recommend Camtasia or Adobe Creative Suite as suggestions for editing software.
I think that is total overkill and for someone that would find the article useful a simpler editing solution would be far better.