When it comes to CD, DVD, Blu-ray and game disc repair my weapon of choice is to use a software solution to try and recover the data from the disc first without getting into interfering with the surface of the disc.
Results from a physical intervention on the surface of a plastic disc made of poly-carbonate can be… umm… variable!
However there are times when it may be necessary for you to repair the surface of the disc before you can access the data so in the interests of completeness, on this page I have listed some disc repair machines that I have found are up to the task.
Before I get to my recommendations there are a few points to be made.
I arrived at these choices by researching just about every site known to mankind regarding CD, Game Disc, DVD or Blu-ray disc repair machines…
OK the whole "known to mankind" part of that sentence may not be true but by the time I finished it sure felt like it!
Either way it was a LOT!
What emerged is that there are roughly three levels of disc repair machines, cheap, a little pricey… and whoa! That's expensive!
The very expensive ones are for commercial use so I am assuming you are not needing one of these although for about U.S. $2000 you can get a really nice disc repair machine!
I have provided product links to each disc repair machine below through Amazon.com.
The reason for this is that I generally don't refer much to hard goods on this site.
I understand that there may be other sites selling the same products and maybe they are cheaper.
Personally I go with Amazon.com because they are established, are responsive to customers and they have the systems in place to get the job done.
I cannot in all honesty recommend some "el cheapo" site that I have no confidence in or knowledge of.
Disc Repair Machines
#1 JFJ Easy Pro Universal CD/DVD Repair Machine
JFJ Easy Pro comes in at #1.
Of all the mid-range CD DVD disc repair machines on the market this one easily came in with the greatest number of positive reactions on all the sites I checked and almost no negative reactions.
There were also a number of semi-commercial users represented who gave this full marks which speaks well for the machine's durability and reliability.
It is priced at around the $130 mark and although it managed to attract a couple of negative comments, just how valid those comments are is hard to say.
All the manufacturers of these machines openly admit there is just so much machines like these can achieve depending on how severe the scratching is.
Both the #1 and #2 choices are good machines it's just that the JFJ Easy Pro represents on average, slightly better value and marginally less negative votes.
Click Here to See the JFJ Easy Pro Disc Repair Machine
#1 Simotech DVD Repair Machine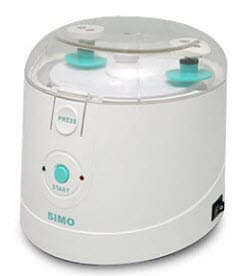 Apart from looking strangely like R2D2 from Star Wars this one is widely acknowledged as the second top choice at around $130.00 or so.
I have it lower on the scale than the one above for a couple of reasons.
First of these is that the availability of the machine has begun to be a tad unreliable.
I have had a number of people report to me at times that the machine was out of stock or had a long waiting time.
As far as reported performance goes is didn't really differ much from the JFJ Easy Pro and the only way to separate them was that the Simotech attracted a couple more negative comments.
Again, that really doesn't mean much unless to get to see the original discs but hey!
I needed to find something to separate them!
Click Here to See the Full Specs of the Simotech CD DVD Scratch Repair Machine
#3 SkipDr CD/DVD Repair and Cleaning System
Finally at #3 a cheap and cheerful for the home user!
The reports and reviews on this one are mixed but still in favor of the product.
Given that it is only about $35.00 I don't think it would be fair to compare it the two above.
By most reports it will handle most light scratches quite effectively and in conjunction with good disc reading software will probably get you out of trouble on most occasions.
That just about sums up the market in this kind of CD DVD repair machine.
I guess the real choice would have to be a personal decision as to what kind of investment you want to make to recover your damaged discs and how often you would use one of these machines.
Click Here to See the SkipDr CD/DVD Repair and Cleaning System