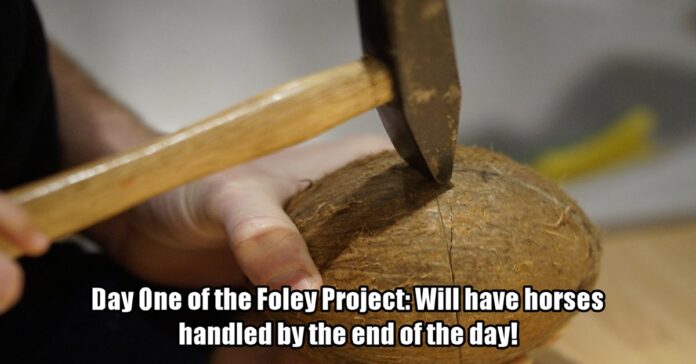 Make Sound Effects For Your Videos
One of the main reasons pro videos and films appear the way they do is because of the audio aspect of the production.
I have covered this many times before and it really is a fundamental to effective video making.
One of he main aspects to pro sound is a subject called "Foley."
Foley is the action of pre-recording sounds that you would expect to hear when you are viewing something onscreen.
The reason we have foley is because when many scenes are being shot the actual sounds of things happening other than the dialogue are very often not captured very well.
For example the sound of someone walking across a floor in a scene.
Although the actor's shoes may be making sound, the recorded version may not actually be particularly good or even suitable for the situation.
To deal with that the Foley department will recreate a number of different "foot steps" sounds from which the director can then choose the one most appropriate.
That sound is then edited into the scene.
The same goes for a million other tiny little things going on in any given scene.
Jars being opened, doors opening and closing, cars driving along gravel roads, the list goes on and on.
Check out the video below for a run through of how you can create and use your own Foley.
Other resources for Foley here.
5 Overlooked Tips for VFX
If you take a look at your average consumer level video editing software currently and compare it to a version from ten years ago the differences are like night and day.
The area in which there is probably the most difference could generally be described as special effects.
I have had old pro's from the film era tell me they are absolutely gobsmacked at what the average editor can do these days with sub $100 software on a home computer.
However the problem with that is that it builds an expectation that all you have to do is slap on that effect or tweak those knobs and dials and Hollywood magic will ensue!
The reality is that having access to an effect does not automatically means that you are going to create it and sell it to the audience.
The devil has always been and will continue to be… in the details!
Check out the video below and you may begin to understand how to really polish those effects and sell them to your audience.
How Quentin Tarantino Makes Violence So Much Fun
In another post this week I mention the effect audio has on audience perception accompanied by a video tutorial on creating you own sound effects or foley.
So the video below does not go into how to add music or sound effects to manipulate audience perception.
What it does offer are awesome examples of how Quentin Tarantino does this to perfection.
The Best Ways to Show Text Messages on Screen
Quite often these days you may find it necessary to display emails or text messages from a phone on to your video project.
There are quite a few ways to skin that cat each with their own pro's and con's.
Check out the video below to see what they are.
Nike "You Cant Stop Us" Ad Split Screen Effect Tutorial
Recently Nike put out a split screen video/Ad that was… well… astounding.
If you haven't seen it then go search for it on YouTube because it is well worth the time to watch it
Anyway, the video below is a walk-through of how they achieved the effect in the ad and at the end of the day two things are obvious.
First, the editing itself in the ad was super simple and just about anyone on any video editing software could have done it.
Secondly, to actually do it, all you would have to do would be to sit through thousands and thousands of hours of video with the sole purpose of finding two sequences that matched so that you could make two seconds of video… lather, rinse, repeat over and over an over and over!
3 Zach King Inspired Editing Tricks
OK so what appears to be happening of late is that almost an entire industry seems to be growing up around the deconstruction and re-creation of Zach King effects videos!
This is about the third or fourth week in a row where I have come across at least someone analyzing one or more of his videos.
At the end of the day of course the originals are great and I quite like to get a look behind the curtain to see how they can be done.
Reverse Video Clips, Custom Aspect Ratios, Ring Lights and More – Filmora Q&A
This is the monthly (approximately!) Q&A session from the guys at Filmora.
There are a few good tips in here on using ring lights and why, setting custom aspect ratios and more.
If you are a Filmora user then these Q&A sessions are well worth checking out and even if you don't use Filmora they usually have some interesting stuff in them.
PowerDirector – Enhance a Title with a Shape and a Transition
This is a simple tutorial on the subject of titling this time in PowerDirector.
It is another example of stepping outside the box and using existing features for purposes they may not have been originally intended.
How to Make A Unique DVD Menu Background – CyberLink PowerDirector 18
This is a run through of some of the internal features and settings of the DVD Menu module in PowerDirector.
Like most things in video editing software, once you start to dig below the surface and whole new world of control will appear.
And if you are having any kind of trouble with DVDs or other optical discs you can check out my guides to DVD Recovery here.
Quick Animated Titles in Resolve – Click-In Animation Fusion Tutorial
This is quite a good tutorial on using the Titling module in DaVinci Resolve.
More than anything it is an in-depth look at using the graphics features of the program in concert with key-framing to create effective titles simply.